Of all the many available choices of accommodation in Finland, perhaps the most exotic are those destinations where visitors can spend a night in a room fashioned from snow and ice; or in the more luxurious, and warmer, glass igloos available in so many new igloo villages. Indeed, both options have proven to be among the most popular in winter as can be seen by the increase in the number of beds available, which has been growing steadily since the very first Snow Hotel and Igloo Hotel opened. These beds are predominantly located in Finnish Lapland, where the external temperatures can drop below -30º Celsius. However cold it is outside, visitors can be assured that their beds are snug and warm, soft reindeer skins (in some of the accommodations) under thick and comfy sleeping bags see to that, and the room temperatures are kept between 0ºC and -5ºC, thanks to the insulating properties of snow. A hot berry drink at bedtime, and in the morning a visit to the sauna, are usually features of these overnight stays.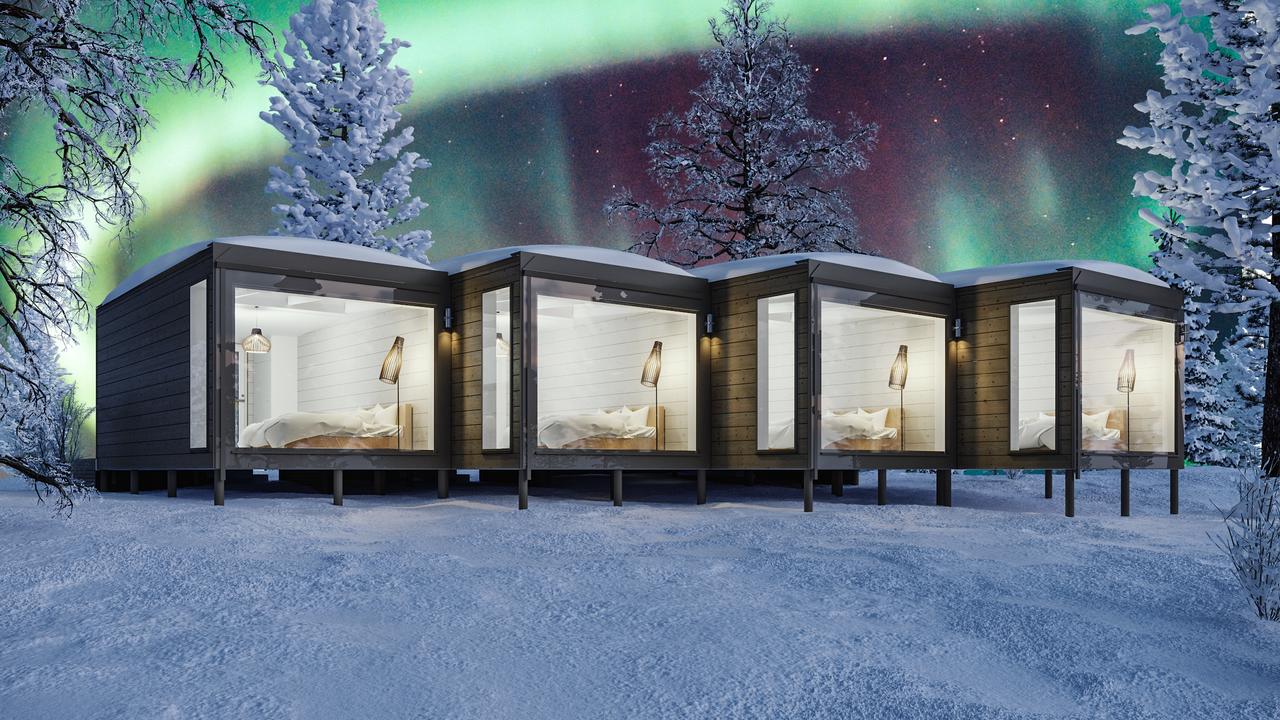 Traditionally, Finland's alternative accommodations tended to be located in and around Finnish Lapland, but today you don't need to travel that far north to enjoy an aurora-themed holiday. The most southerly destination is Lomakeskus Revontuli located in Hankasalmi, in Finnish Lakeland, who offer Sky Aurora and Deluxe Glass Igloos among its range of choices. On the west coast near Vaasa, Kalle's Inn Glass Houses' are situated at the edge of the Kvarken UNESCO World Heritage, providing guests with uninterrupted views of the sea, the sky and the rocky islands from the warmth and comfort of their bed. Further north on the southernmost fell in Finland, adjacent to the Syöte National Park that is named after the fell, Hotel Iso-Syöte gets a mention because in addition to their panoramic scenic suites they also provide an actual snow igloo for guests to sleep in. The nearby Kuuru Tunturilaakso, next to Syöte Ski Resort, invites their guests to experience Finnish nature and the beauty of the Northern Lights in their glass-roofed luxury Suites which have been built by local companies and decorated by Finnish top designers.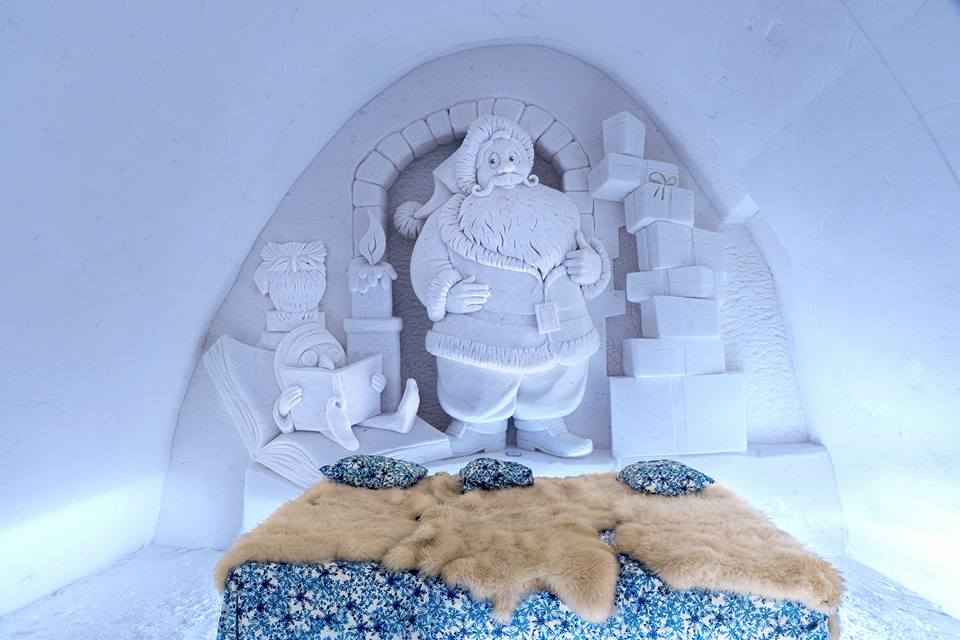 One of the most impressive of Finland's snow attractions, and one of the very first, is the Kemi SnowHotel, which sits in the midst of the town's biggest winter attraction, LumiLinna – the Kemi SnowCastle. This Snow Hotel is a beautifully designed and illuminated ice hotel which features 18 regular rooms, two family rooms that hold up to five people, and a delightful honeymoon suite. It is the only one in Finland that is located south of the Arctic Circle, although still in Finnish Lapland. The vast LumiLinna complex also features an Ice Bar, a Snow Restaurant, and a Snow Chapel where unique weddings are held. The grounds of LumiLinna are effectively one large winter playground for children, and the numerous ice-sculptures will charm child and adult alike. For those who fancy a really special experience then a visit to the snow sauna is recommended. Although there are no regular saunas on the premises, the Snow Hotel arranges transport to one of the town's other hotels every morning for that. For those that prefer a luxurious arrangement, there are now luxurious Seaside Glass Villas next to LumiLinna, with incredible views over the sea, in winter and summer. To discover more of what's on offer in Kemi beside LumiLinna visit our Kemi Travel & Tourism Guide.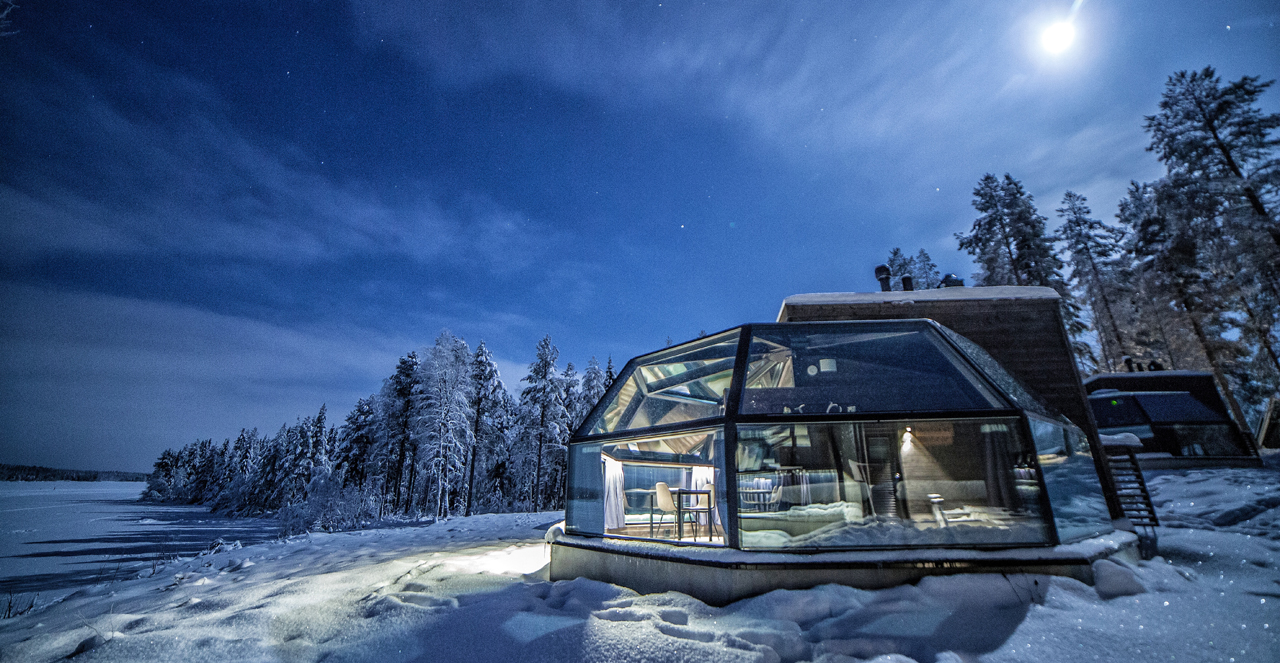 The next set of alternative accommodations are clustered around Ranua, famous its Wildlife Park which is the most northern zoo in the world. Arctic Fox Igloos are located on the naturally beautiful, peaceful shores of the lake Ranuanjärvi, far from any city light pollution. Each igloo offers an unobstructed view to the far-reaching open lake, and the northern skies, where the Northern Lights may be seen on cloudless nights. In addition to a glass-walled bedroom, each of the Arctic Fox Igloos is also equipped with a private sauna! Arctic Guesthouse Ranua provides accommodation in a traditional B&B Guesthouse since the 1940's, or in one of their 10 fully mobile and floating AuroraHut glass igloos. Hotel Ilveslinna also offers an Igloo-style cabin with glass dome, located near Hotel Ilveslinna, with a sauna, log-wood furniture and stone fireplace. Northeast of Ranua, in Kuusamo, Magical Pond is a quality igloo village where you can experience the atmosphere of silence, pure nature, and the Arctic night in peace under the shelter of a modern igloo. Not far from there, by the shore of lake Rukajärvi, Iisakki's Winter Village is built every year entirely of snow. It opens around the New Year every year and offers accommodation in snow igloos as well as in brand new igloos in the Glass Village.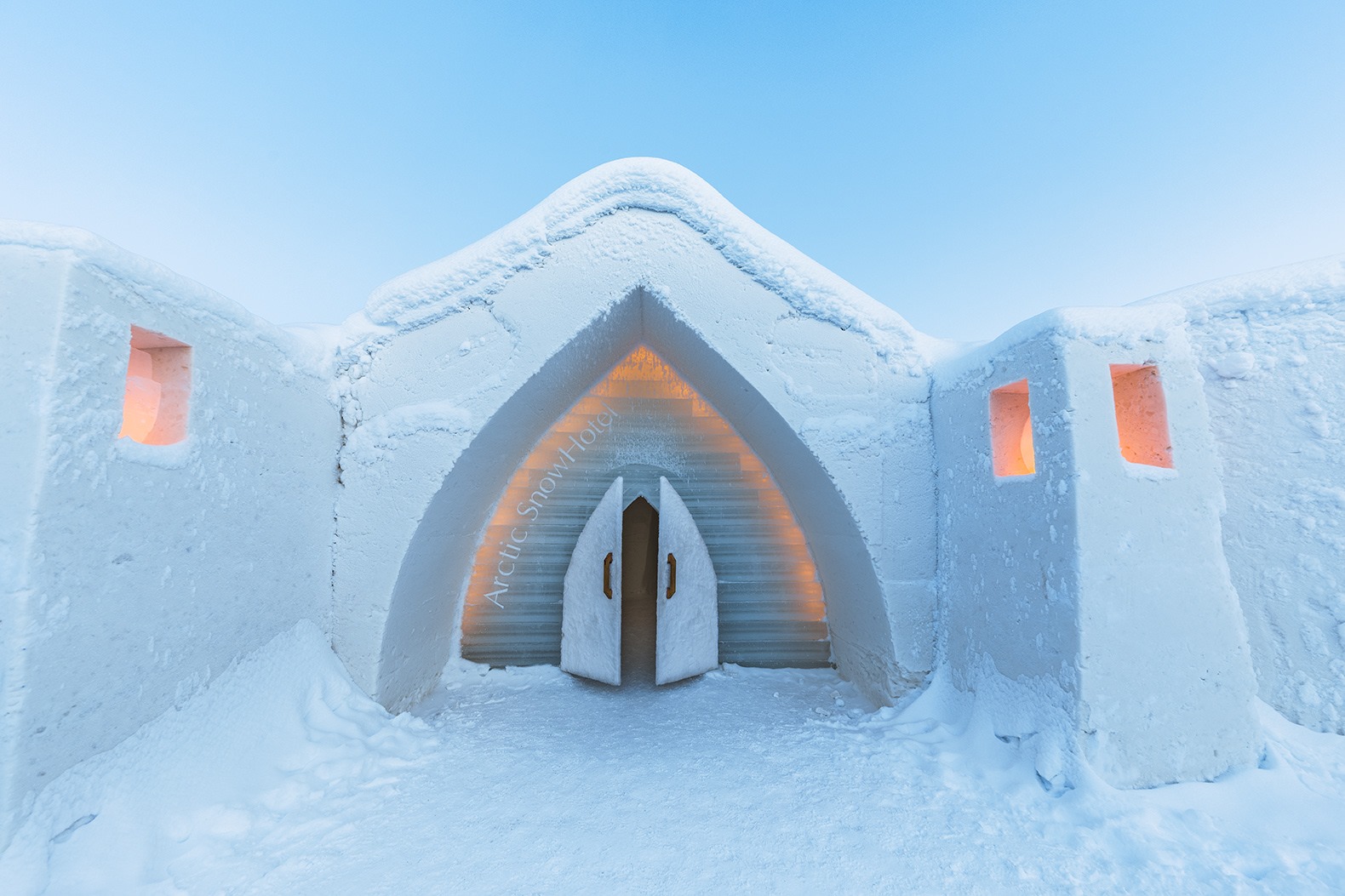 Suitably for a city designated as the capital of Finnish Lapland, Rovaniemi has half a dozen snow hotels and alternative accommodations to choose from. Close by the Ounasvaara Ski Resort the Snowland Restaurant is one of the world's largest igloo restaurants, in addition to serving meals the venue is also used for Ice Discos, weddings, and private parties. Part of SantaPark Arctic World near Santa Claus Village, the Arctic Treehouse Hotel offers guests a brand new way to experience the Arctic Circle and the beauty of the Northern Lights in the nest like atmosphere of their thoughtfully designed suites. Also located by Santa Claus Village, Santa's Igloos Arctic Circle have a selection of 29 luxurious glass igloos to choose from. Glass Resort is nestled in a peaceful corner of Santa Claus Village right on the Arctic Circle, eight kilometres north of Rovaniemi city centre. There are 24 Premium Glass Apartments with private Hot Spring outdoor hot tub and Sauna. A little further from Rovaniemi, the Apukka Resort builds a variety of ice buildings every winter, as well as providing accommodation in private rooms and apartments, and special aurora cabins, as well as offering original aurora activities just north of the Arctic Circle. Further north, just 25km outside the capital of Finnish Lapland, Rovaniemi, lies the Arctic SnowHotel which sleeps 70 guests and is one of the largest in the Nordic region. Within the grounds of the Arctic SnowHotel you'll also find an Ice Bar, where drinks are actually served in ice rather than with ice, an Ice Chapel for weddings, and other non-ice hospitality buildings. The Igloo Hotel that opened in 2014 is now is comprised of 39 glass igloos with 127 beds.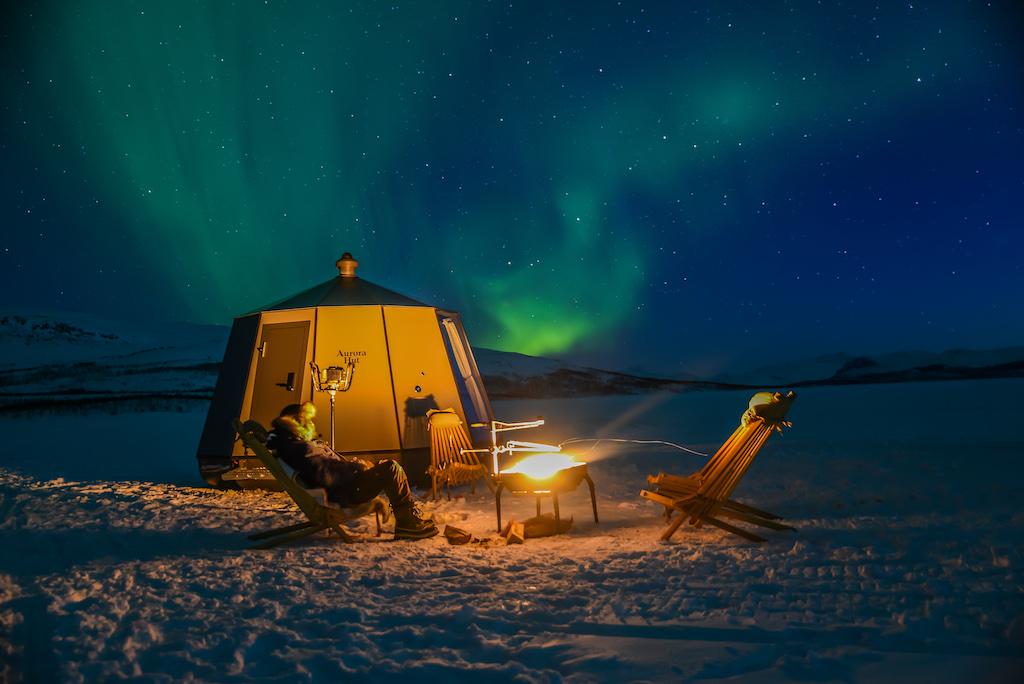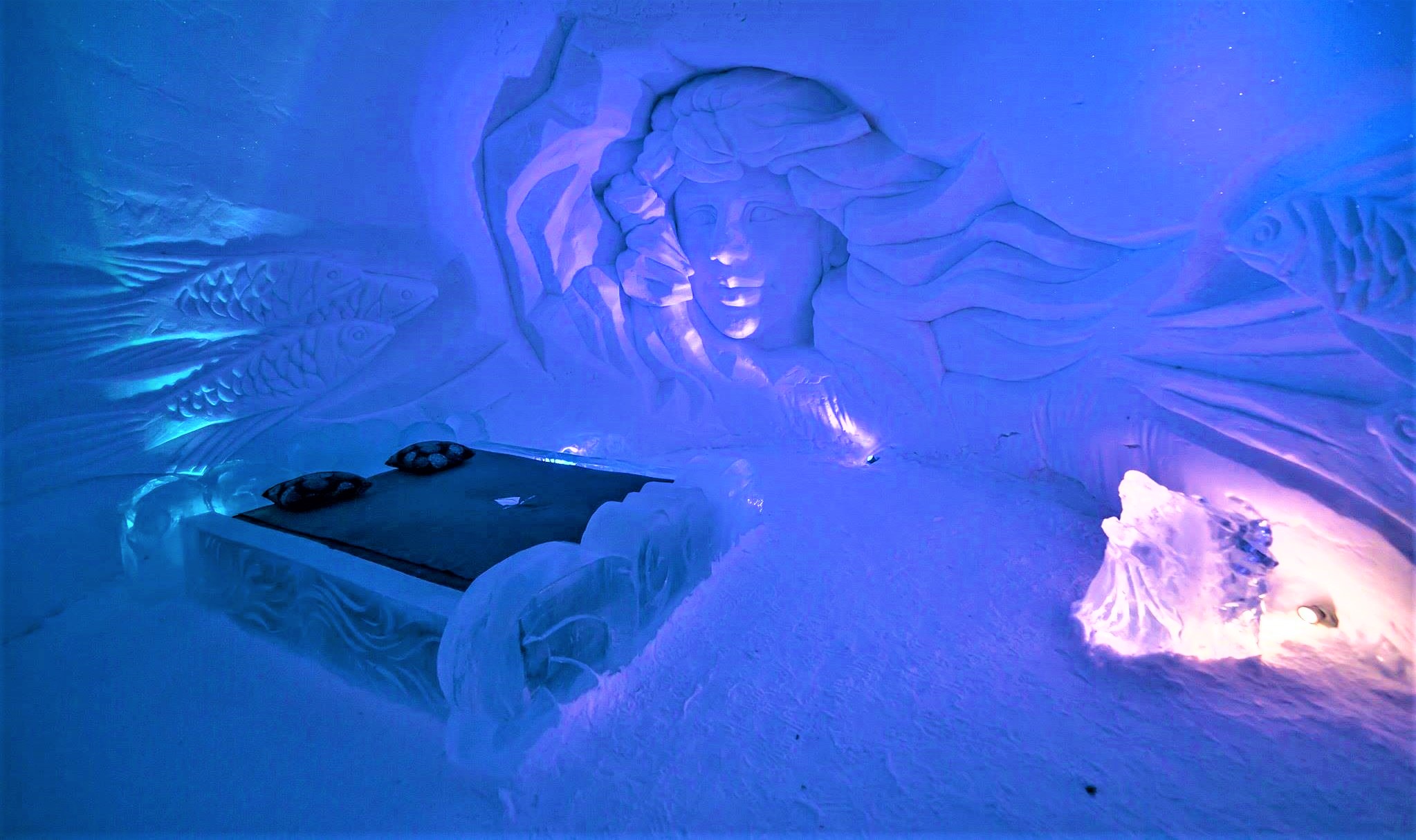 Further north again, in fact almost 200km above the Arctic Circle lies the picturesque Lapland Hotels SnowVillage Finland in Lainio, which is a little under 30km from Kittilä, and near to the excellent ski resorts of Levi and Ylläs. The SnowVillage also features a wonderful SnowHotel, with a selection of suites for two or four. There are also log cabins for those who prefer warmth and comfort. In addition to their popular ice bar and snow restaurant there is also a Snow Chapel, with detailed ice sculpting that is always well worth seeing. Arctic Skylight Lodge is tucked away in a pictoresque river valley, just a few kilometers outside of Äkäslompolo, spread out over the hill rolling down to Kukaslompolo are the 10 luxurious glass cabins, offering cinematic views of the river valley and the surrounding nature. The Golden Crown Levi Igloos are located at an altitude of 340 metres around the slopes of Utsuvaara, 10 kilometres from the resort town of Levi, offering accommodation in a choice of premium or superior glass igloos, or in the Northern Lights Luxury House, a stunning holiday villa whose large windows create a stage for the amazing performances of northern nature. Made from over 10,000 m² of ice and snow, Luvattumaa – the Levi Ice Gallery & Snow Hotel is located 7 km from central Levi and 30 minutes' drive from Kittilä Airport. There is a wide selection of snow rooms in various sizes, decorated individually with ice sculptures, snow reliefs and lights.
Operated by Hullu Poro Hotel, there are 11 Aurora Pyramids situated at the Tonttula Elves villa Hideaway in Köngäs village, only 10 minutes drive away from the centre of Levi Ski Resort. Each Aurora Pyramid (30 m2) has a bedroom with panorama window and double bed, desktop and bar chairs, armchair (with an extra bed), TV, small kitchenette and WC/shower. The Aurora Cabins at the Northern Lights Village in Levi are a magical way to experience the wintry star-filled sky and the Northern Lights, while lying comfortably in the warm bed. The laser-heated glass-roof opens up into the northern sky, directly above the bed. Northern Lights Ranch is a unique restaurant, accommodation and activity facility located in Finnish Lapland, 15 km from Levi Ski Resort and 30 km from Kittilä airport. It combines tranquility, pure air and beautiful nature into an Arctic experience which is rare to come by. Hotel Jeris and Arctic Sauna World are located on the shores of Lake Jerisjärvi next to Keimiötunturi fell. Pallas-Ylläs National Park and cross-country skiing tracks are located just next to the hotel. The hotel also provides accommodation in luxurious Aurora Domes.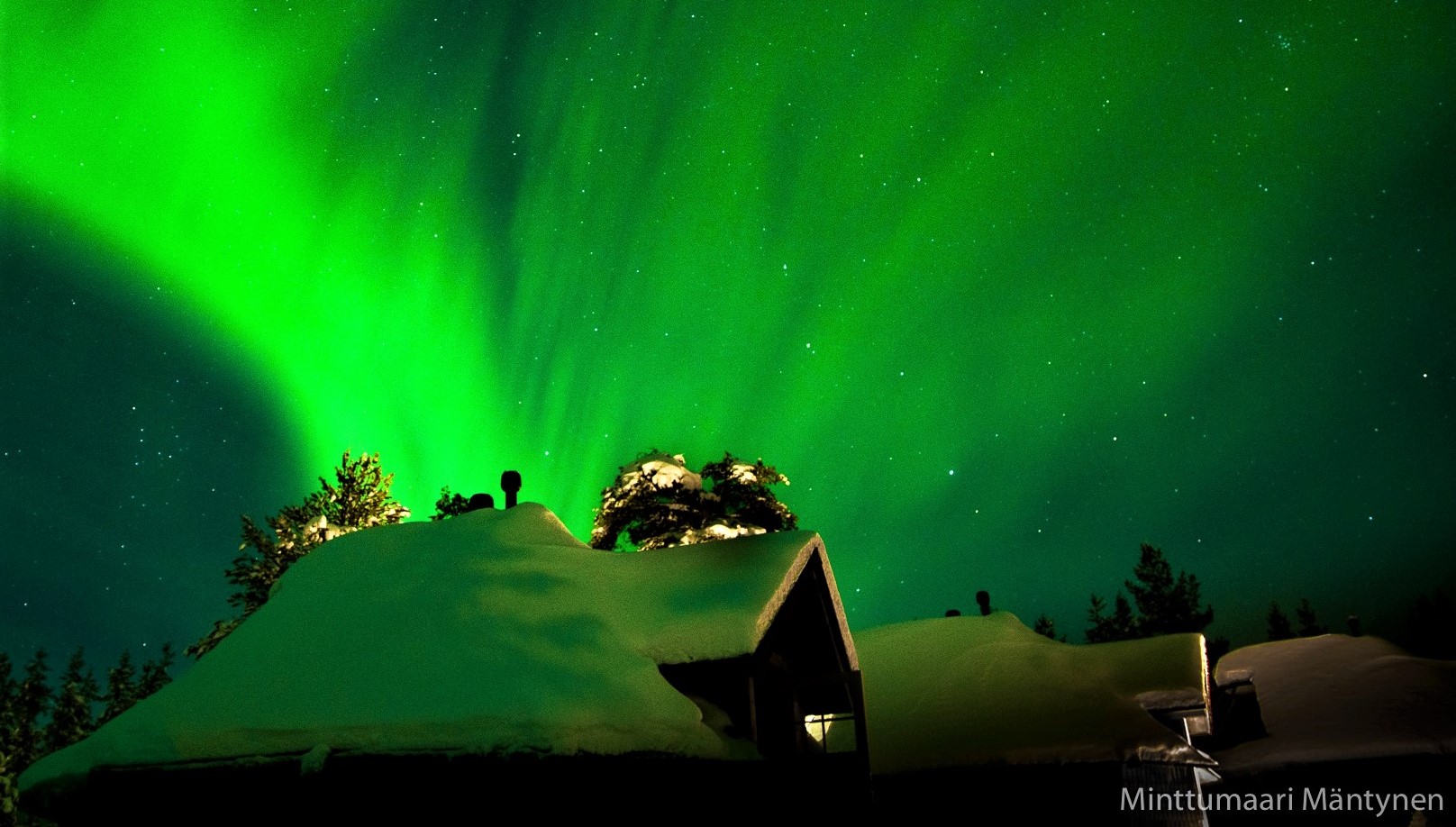 Further north in the Saariselkä region, Muotka Wilderness Lodge offers cozy accommodation in a range hotel rooms and suites, Aurora Cabins, and Panorama Log Cabins. Inspired by the enchanting nature of Lapland, all rooms are decorated with natural, harmonic colours. Situated between Urho Kekkonen National Park and the Hammastunturi Wilderness Area, and a little south of the village of Saariselka, lies the delightful Kakslauttanen Arctic Resort, the original Igloo Village in Finnish Lapland. Despite being 250km north of the Arctic Circle, Kakslauttanen Arctic Resort is easily accessible as it is just 35km south of Ivalo airport. The Aurora Cabins at the Northern Lights Village Saariselkä are a magical way to experience the wintry star-filled sky and the Northern Lights, while lying comfortably in the warm bed. The laser-heated glass-roof opens up into the northern sky, directly above the king size bed. Star Arctic Hotel is located on the top of the Kaunispää Mountain "Beauty Hill" of Saariselkä. The glass roofs of their Aurora Cabins face north, where the northern lights appear more frequently. Equipped with a private WC facility, equipment and shower.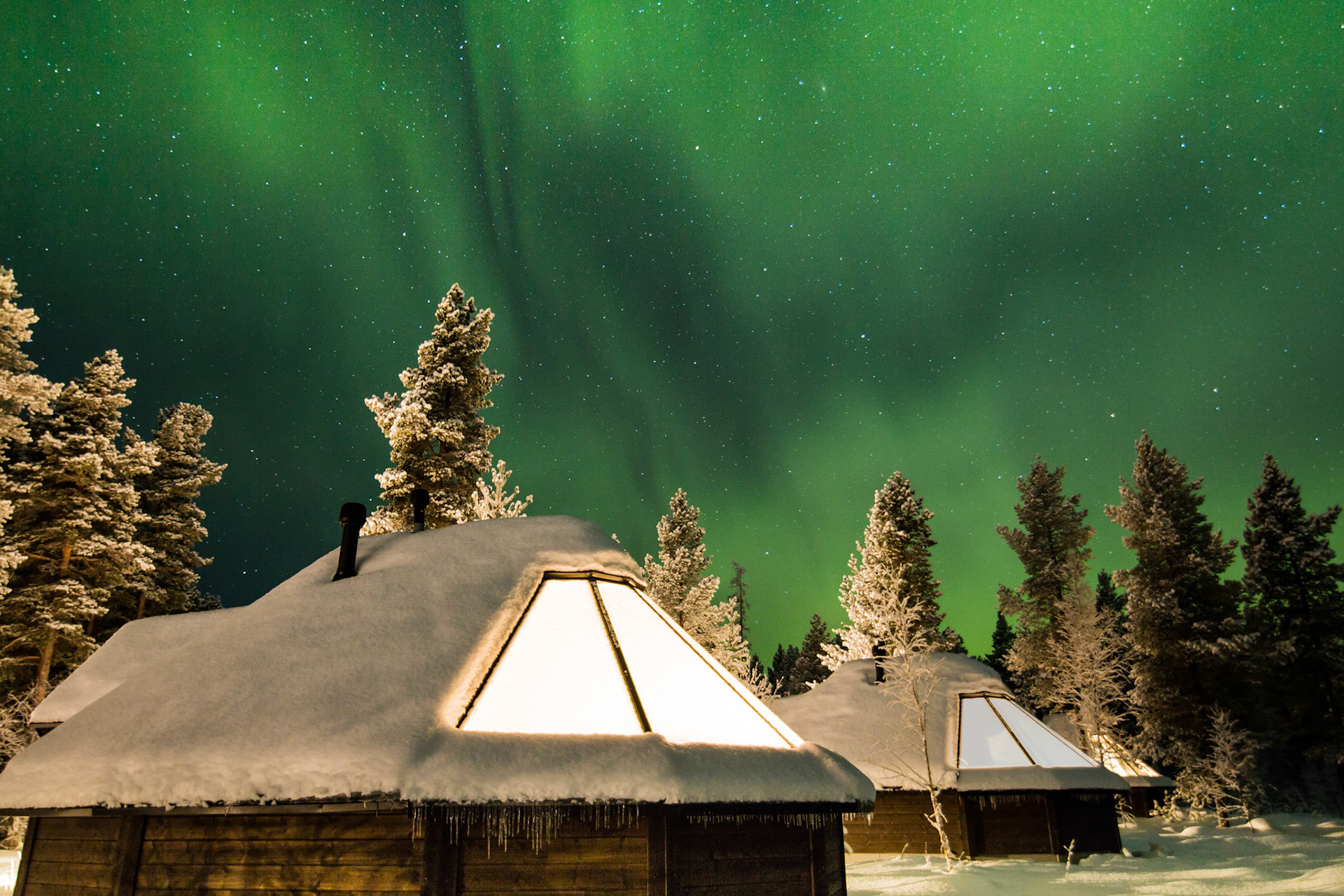 Aurora Village Ivalo is an exclusive high quality Northern Lights resort, located in the forests of Inari, with 28 Aurora Glass Cabins, a unique cozy Lappish restaurant and a range of wonderful winter activities. Wilderness Hotel Nellim offers cozy hotel rooms, spacious suites and rustic log cabins in various price ranges. You can also choose to spend your night under the night sky in our famous Aurora Bubbles or Aurora Kotas. Wilderness Hotel Inari is located in the beautiful arctic wilderness by the shores of Lake Inari, offering breathtaking views and an ideal location for aurora viewing – accommodation in 12 Aurora Cabins, 40 wilderness rooms, and 8 log cabins. Finally, the most remote destination of all must be Arctic Land Adventure in Kilpisjärvi, which offers guests an unforgettable combination of nature, silence and luxury. Their exclusive accommodation in 4 high quality Glass Igloos is combined with 'live like a local' Reindeer Ranch visit and traditional Lappish food experience.
To see a comprehensive list of all alternative accommodations in Finland, visit our Snow Hotels, Glass Igloos, and Aurora Accommodation page. To discover more about the many other attractions of Lapland, visit our Lapland Travel & Tourism Guide.