Of all the many available choices of accommodation in Finland, perhaps the most exotic are the many places where visitors can spend a night in a room fashioned from snow and ice; or in the more luxurious, and warmer, glass igloos available in so many new igloo villages. Indeed, both options have proven to be one of the winter's most popular as can be seen by the increase in the number of beds available, which has been growing steadily since the very first Snow Hotel and Igloo Hotel opened. These beds are predominantly located in Finnish Lapland, where the external temperatures can drop below -30º Celsius. However cold it is outside, visitors can be assured that their beds are snug and warm, soft reindeer skins (in some of the accommodations) under thick and comfy sleeping bags see to that, and the room temperatures are kept between 0ºC and -5ºC, thanks to the insulating properties of snow. A hot berry drink at bedtime, and in the morning a visit to the sauna, are usually features of these overnight stays.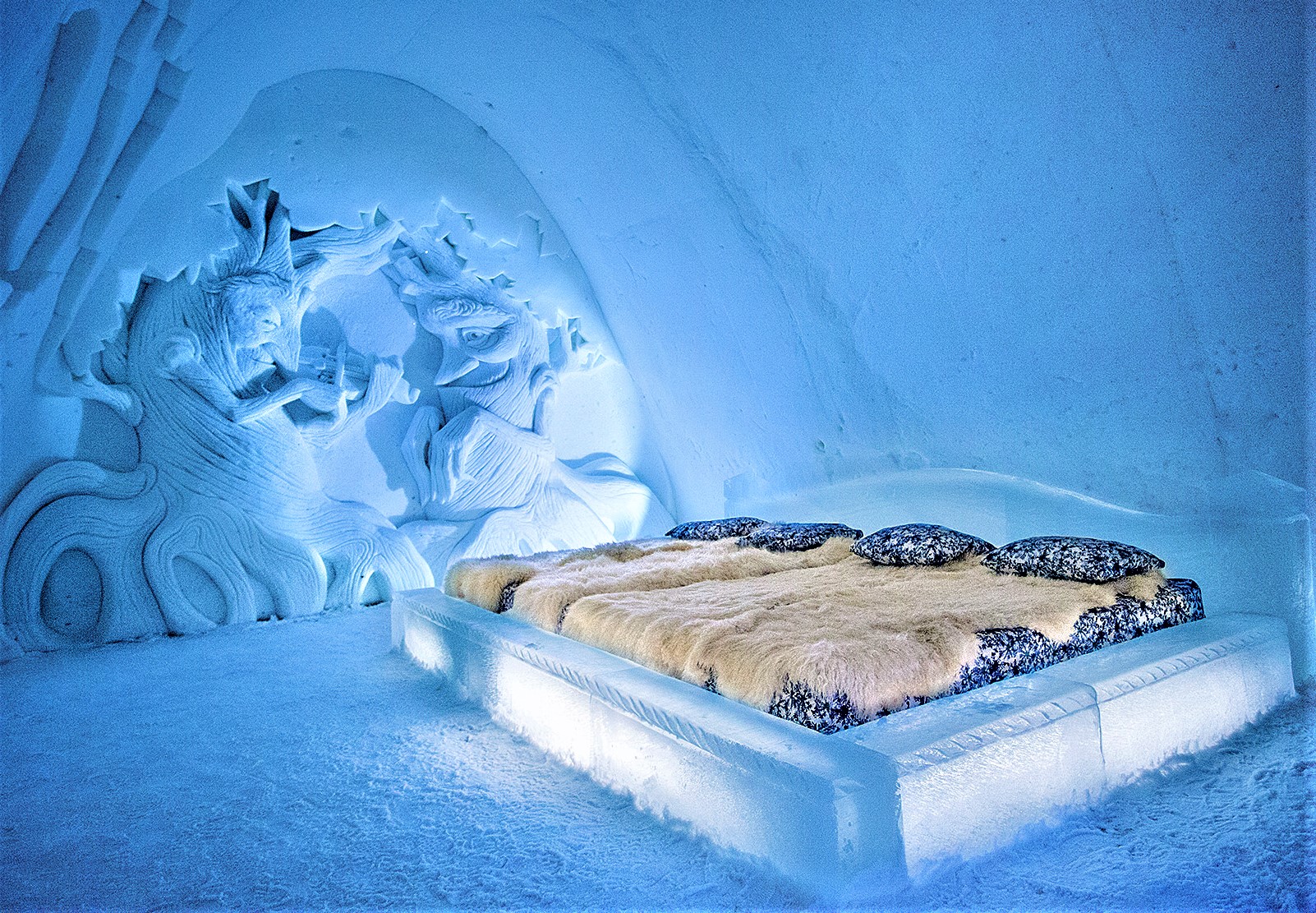 One of the most impressive of these, and one of the very first, is the Kemi SnowHotel, which sits in the midst of the town's biggest winter attraction, LumiLinna – the Kemi SnowCastle. This Snow Hotel is a beautifully designed and illuminated ice hotel which features 18 regular rooms, two family rooms that hold up to five people, and a delightful honeymoon suite. It is the only one in Finland that is located south of the Arctic Circle, although still in Finnish Lapland. The vast LumiLinna complex also features an Ice Bar, a Snow Restaurant, and a Snow Chapel where unique weddings are held. The grounds of LumiLinna are effectively one large winter playground for children, and the numerous ice-sculptures will charm child and adult alike. For those who fancy a really special experience then a visit to the snow sauna is recommended. Although there are no regular saunas on the premises, the Snow Hotel arranges transport to one of the town's other hotels every morning for that. For those that prefer a luxurious arrangement, there are now luxurious Seaside Glass Villas next to LumiLinna, with incredible views over the sea, in winter and summer. To discover more of what's on offer in Kemi beside LumiLinna visit our Kemi Travel & Tourism Guide.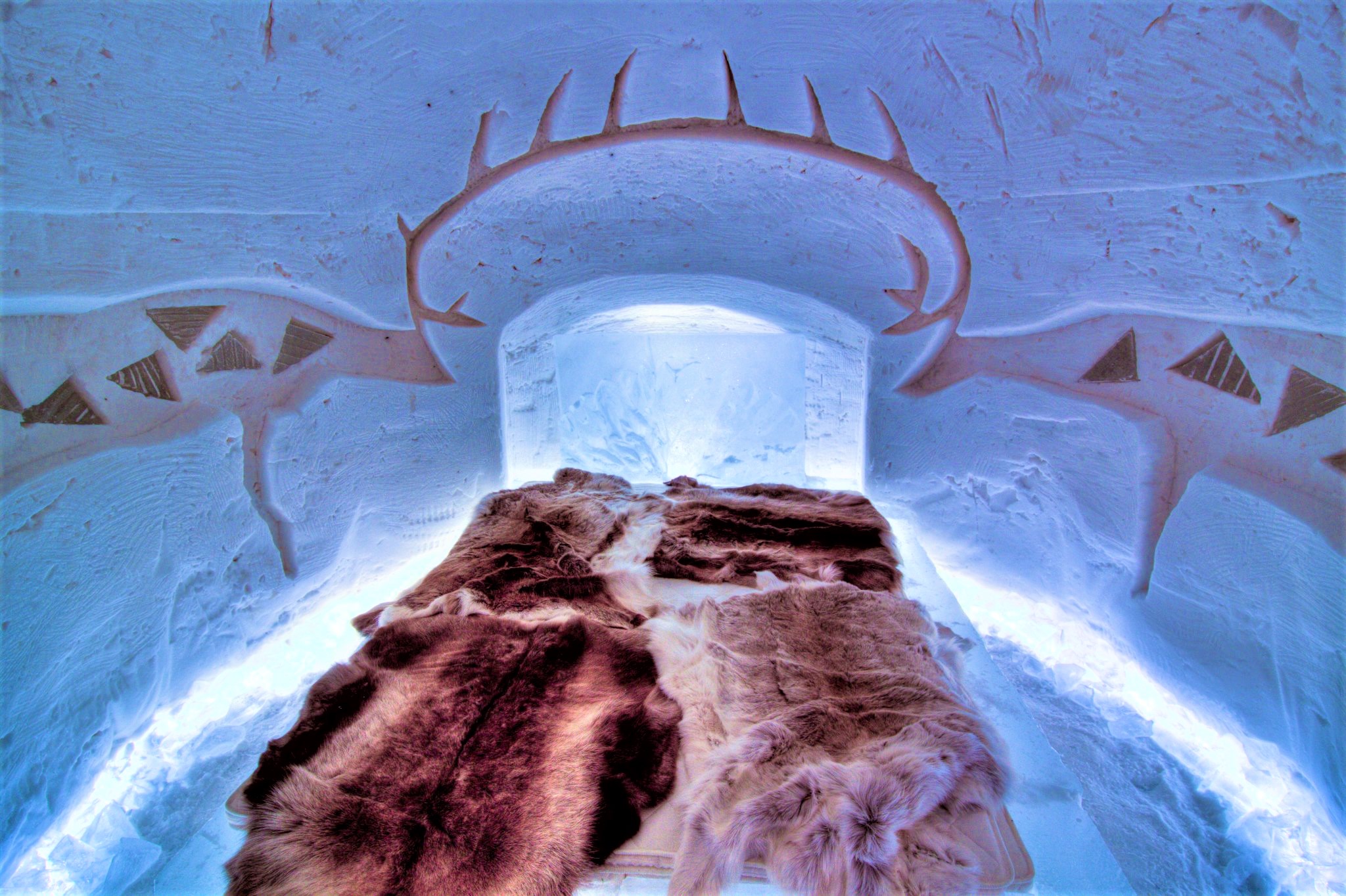 Further north, just 25km outside the capital of Finnish Lapland, Rovaniemi, lies the Arctic SnowHotel. Idylically situated on the shores of Lake Lehtojärvi, close by the village of Sinetta, the Arctic SnowHotel sleeps 70 guests and is one of the largest in the Nordic region. It provides visitors with an overnight package that includes a guided tour, recommendations for getting the best out of your stay, high-quality sleeping bags, a wake-up service with a hot drink, breakfast in the log cabin, and a diploma to show the folks back home that you spent a night under ice in the arctic! Within the grounds of the Arctic SnowHotel you'll also find an Ice Bar, where drinks are actually served in ice rather than with ice, an Ice Chapel for weddings, and other non-ice hospitality buildings. The Igloo Hotel that opened in 2014 is now is comprised of 39 glass igloos with 127 beds. Access to Rovaniemi is quick and convenient; for information on all that Lapland's capital has to offer visit our Rovaniemi Travel & Tourism Guide.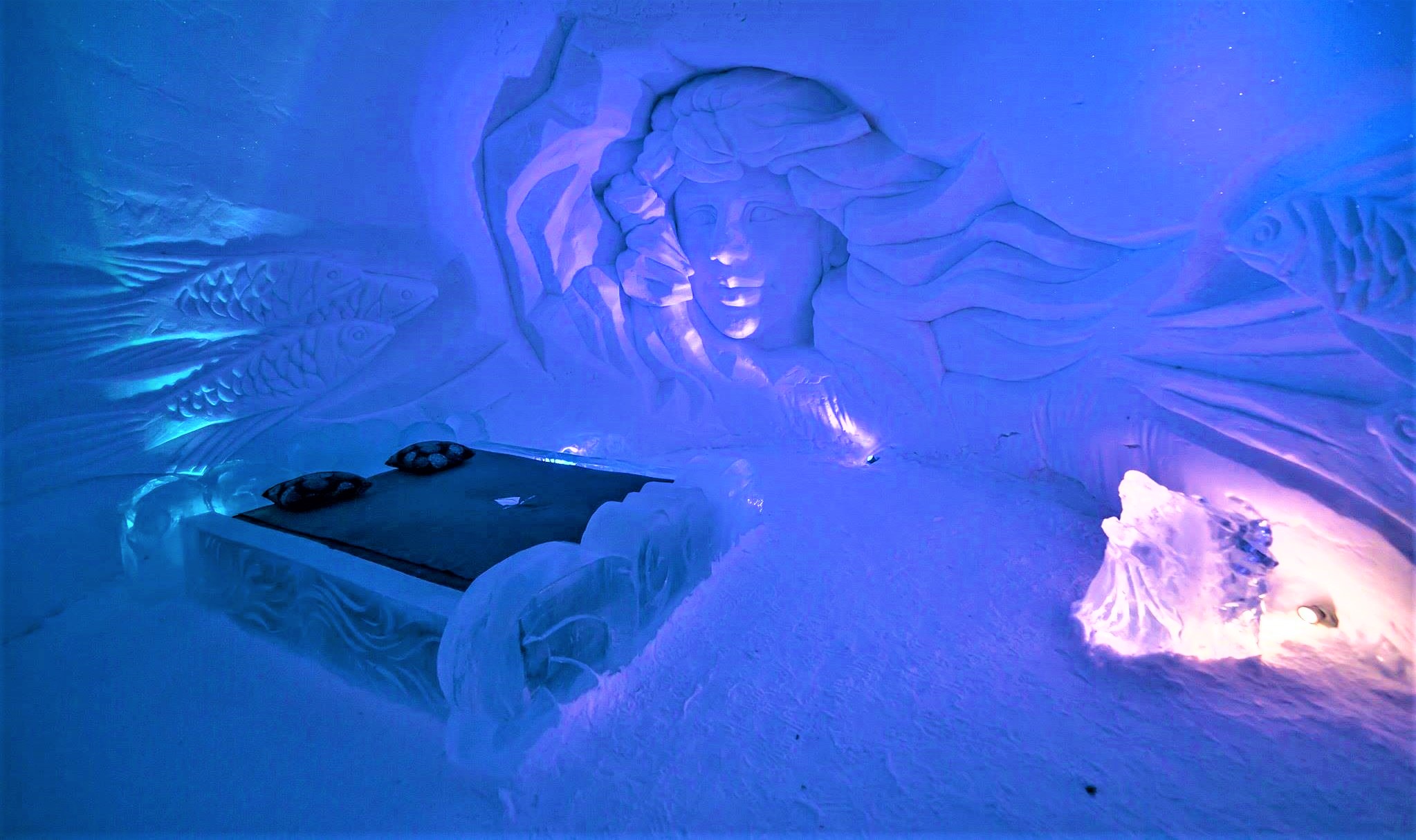 Further north again, in fact almost 200km above the Arctic Circle lies the picturesque SnowVillage Finland in Lainio, which is a little under 30km from Kittilä, and near to the excellent ski resorts of Levi and Ylläs. As the visitor arrives, they'll be charmed by the gorgeous ice sculptures that form the 'park'; there is also a snow slide for younger visitors to enjoy. Now operated by the Lapland Hotels group, the SnowVillage also features a wonderful SnowHotel, with a selection of suites for two or four. There are also log cabins for those who prefer warmth and comfort. In addition to their popular ice bar and snow restaurant there is also a Snow Chapel, with detailed ice sculpting that is always well worth seeing. To find out more about the Kittilä region and all that's on offer around Lapland Hotels SnowVillage, visit our Kittilä Travel & Tourism Guide.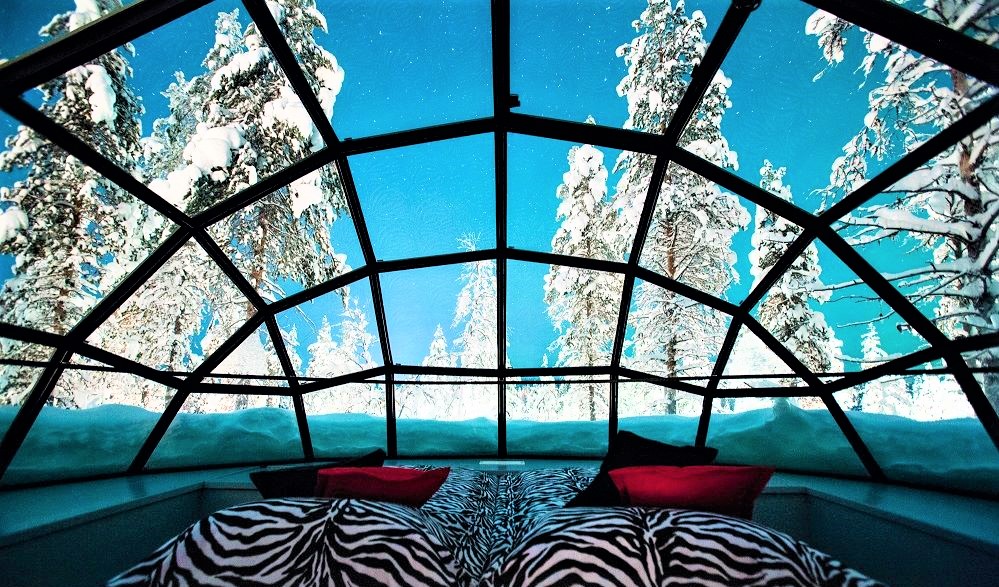 Situated between Urho Kekkonen National Park and the Hammastunturi Wilderness Area, and a little south of the village of Saariselka, lies the delightful (and award winning) Kakslauttanen Arctic Resort., the original Igloo Village in Finnish Lapland. Despite being 250km north of the Arctic Circle, Kakslauttanen Arctic Resort is easily accessible as it is just 35km south of Ivalo airport. The hotel became famous for its 'Igloo Village', with 8 snow igloos that sleep from 1 to 5 people (all wonderfully lit inside with the colours of the Aurora Borealis), and for the glass igloos of the Igloo Hotel that have been attracting Northern Lights enthusiasts for some years now. It's safe to say that the Igloo Village is one of the great success stories in Lapland tourism, so much so that this year there are 72 glass igloos available – a huge increase on the number available just three years ago. However, the demand igloos are only a part of the undeniable charm of Kakslauttanen Arctic Resort; the Igloo Hotel also boasts the largest smoke sauna in the world and there is also the Ice Bar, an Ice Chapel and even an Ice Gallery to enjoy. Nearby is the fabulous Santa's Resort, where Santa receives visitors in his house, elves serve hot drinks and gingerbread, and visitors can try their hand at driving a sleigh pulled by reindeer.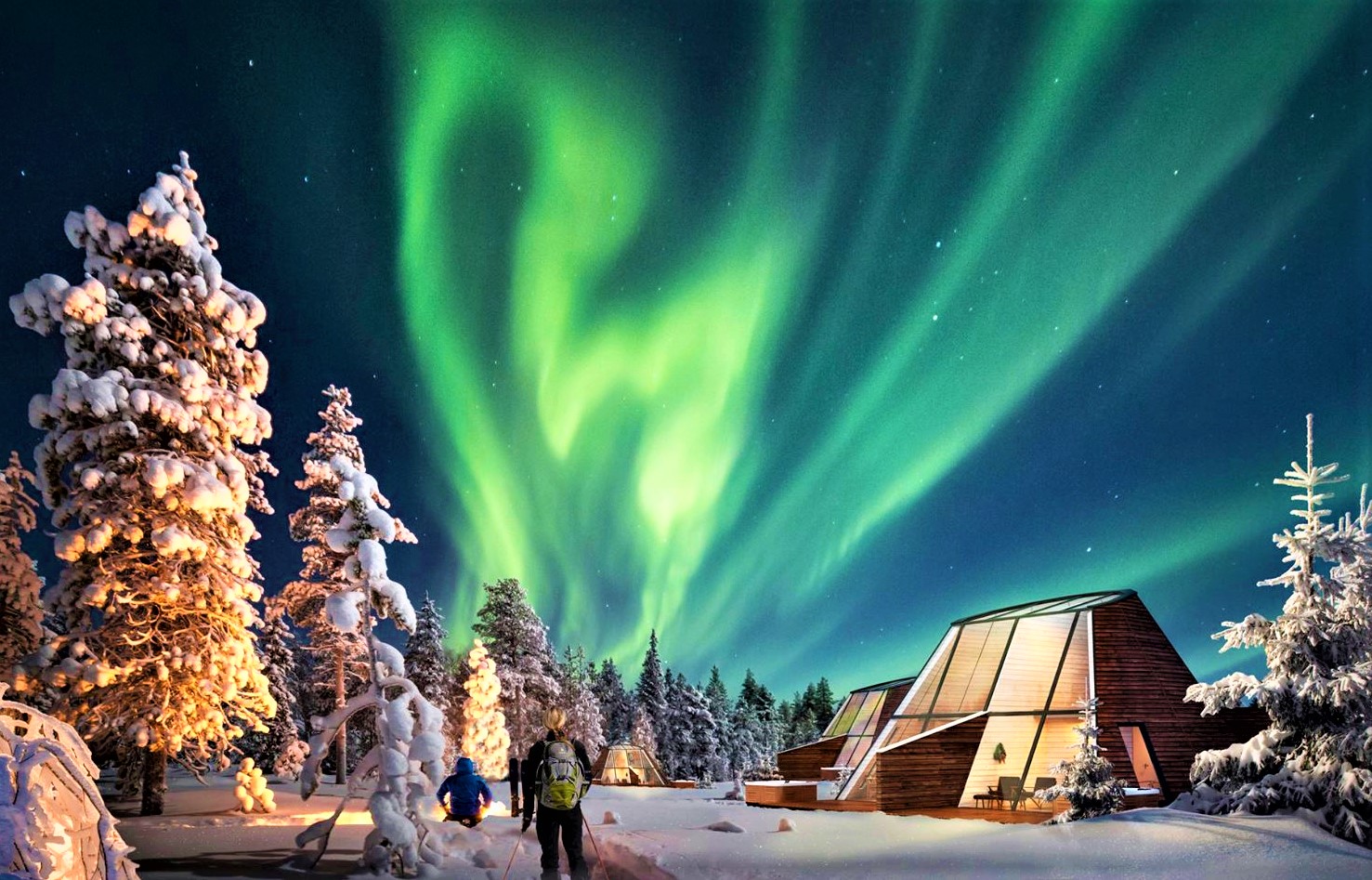 Conveniently located next to in Santa Claus Village, the Snowman World Glass Resort is the latest to offer brand new luxury accommodation in Rovaniemi, Lapland. The high-quality glass apartments in their Igloo Village provide a new way of enjoying the spectacular northern skies, and natural phenomena like the Aurora Borealis, whether relaxing in a hot tub or lying comfortably in bed. Each of the 40m2 glass apartments includes a living room, a mini-kitchen, an upstairs loft with glass ceiling, and its own private sauna and outdoor hot spa. All have been decorated with authentic Lappish handicrafts, and furnished with Scandinavian design brands like Pentik, Secto, Hay, and Pedro. The shape of these glass apartments is inspired by Lapland's classic 'kota' huts, the traditional portable teepee-style dwellings used by Lapland's indigenous Sámi people.
To discover more about the many other attractions of Lapland, visit our Lapland Travel & Tourism Guide.