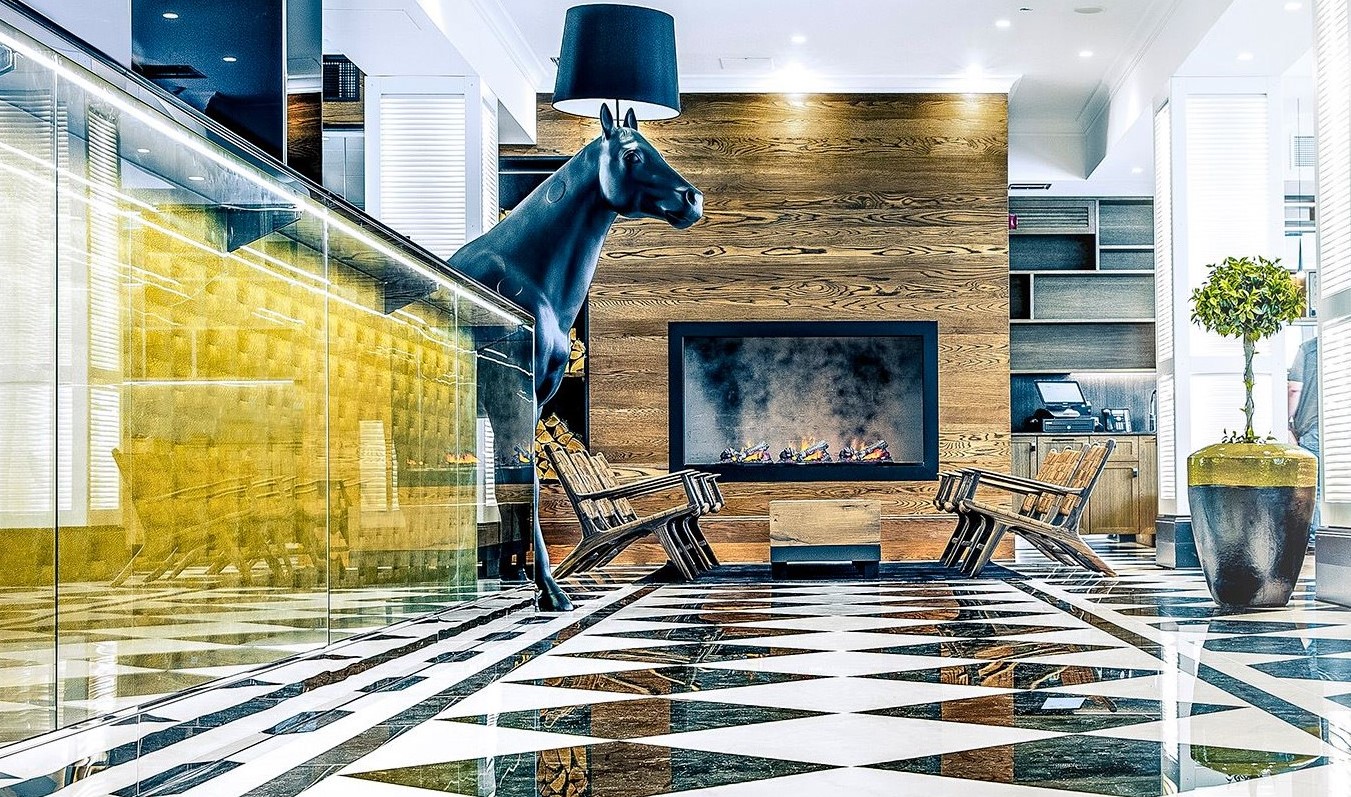 As one would expect of a European capital city, Helsinki has an abundance of hotels for visitors to choose from – there are over 50 currently operating. Of course the majority of these are part of national and international chains, and tend to have a certain branded feel to them. Nothing wrong with that, it's often very comforting to know exactly what to expect when you're traveling.
However, there are a growing number of travellers who would prefer to experience something a little different, who are seeking a more distinctive ambiance, hoping that the hotel they choose is a little bit special. In Helsinki, as in most major cities, a new kind of hotel has come into being to cater for those guests, in the form of boutique hotels and design hotels.
The following guide introduces the best boutique hotels and the best design hotels now open in Helsinki, listed according to the number of rooms provided in ascending order. Although each of these boutique hotels is quite unique, they all have something in common – they provide a singular experience for the discerning guest, fusing original surroundings with exclusive comfort and high-quality services.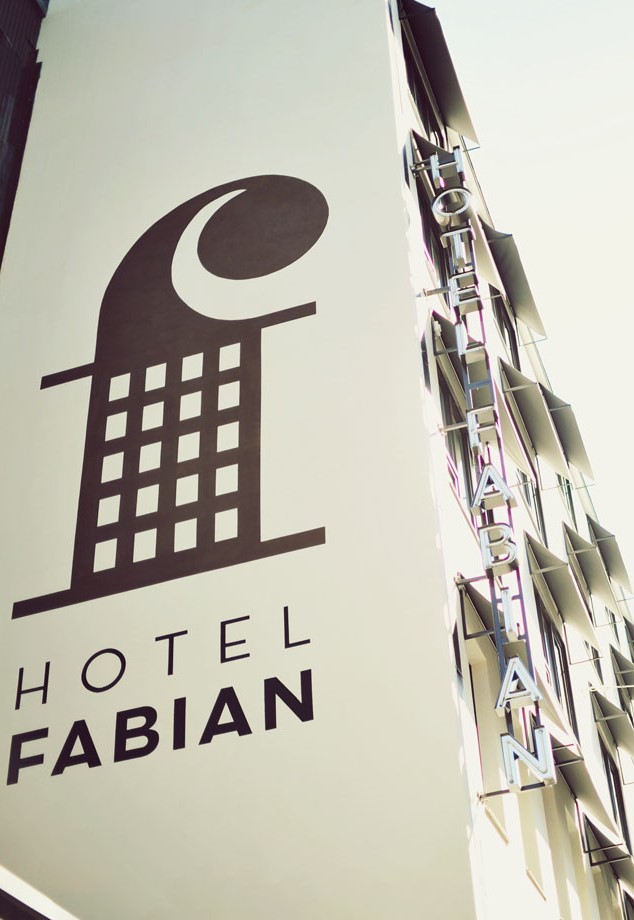 Hotel Fabian
With just 58 rooms, all elegantly appointed and spacious, Hotel Fabian is the smallest of the boutique hotels in Helsinki. Opened in August of 2010 and situated close to the city centre, Hotel Fabian is a modern, elegant, and continental-feeling boutique hotel. A verdant inner courtyard is the focal point of the hotel, and the building's original architecture has informed the design of the rooms; guests will enjoy the exquisite interior details, all of which help create the hotel's unique identity.
There are three types of room available in this boutique hotel: Comfort, Style, and Lux. The specialty of Hotel Fabian are the Lux rooms which provide a home-from-home for guests on extended stays. There are 9 of these available, which allow long-term guests to enjoy their own space while still having access to all the hotel services they may need. These spacious rooms come with a kitchenette that includes a Nespresso coffee-maker, tea set, microwave and refrigerator. Some of these are situated on the ground floor and have separate entrances from the inner courtyard.
All the rooms in Hotel Fabian are air-conditioned, come with extra-large double beds or two single beds, and feature a range of amenities, including wireless capabilities, LCD TVs, mini-bars and lap-top size safes. All have en-suite bathrooms with complimentary toiletries and bathrobes. Extra beds or baby cots may be added to rooms upon request. Although there is no restaurant in the hotel, a hot and plentiful breakfast buffet is served every morning.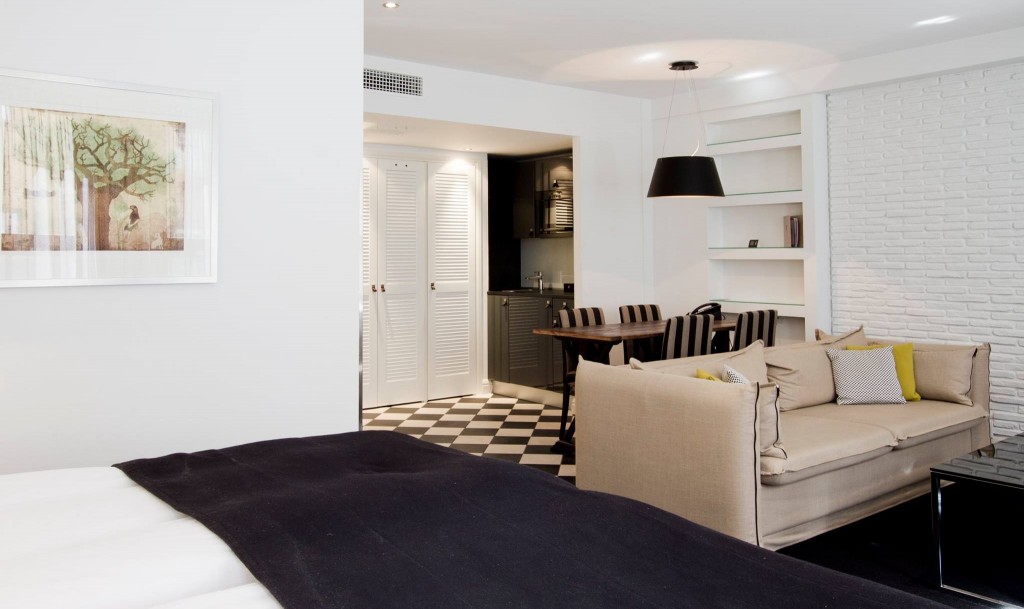 Hotel Fabian's central location makes it ideal for exploring Helsinki. Situated on a quiet street at the edge of Helsinki's hip Design District, the city centre is within a five minute walk, and a number of trams pass close by. Guests of Hotel Fabian can easily stroll to Market Square, Helsinki Cathedral, Uspenski Cathedral, Kaivopuisto Park, and other famous Helsinki landmarks.
*******
Hotel F6 Helsinki
Hotel F6 is the latest Boutique Hotel to open in the capital. Situated right in the city center on a side street just off the well-known Esplanade, all the main attractions and shopping are just a few minutes' walk away. Although its central location makes it convenient for all amenities, visitors seeking a little peace and quiet will the the tranquility of the inner courtyard perfect.
A Finnish home-style breakfast is served daily, and is prepared in front of the guests, consisting mainly of organic local ingredients. The hotels bar, Runar, is named after the architect Runar Finnilä, and is also the name of hotels mascot, the dog Runar.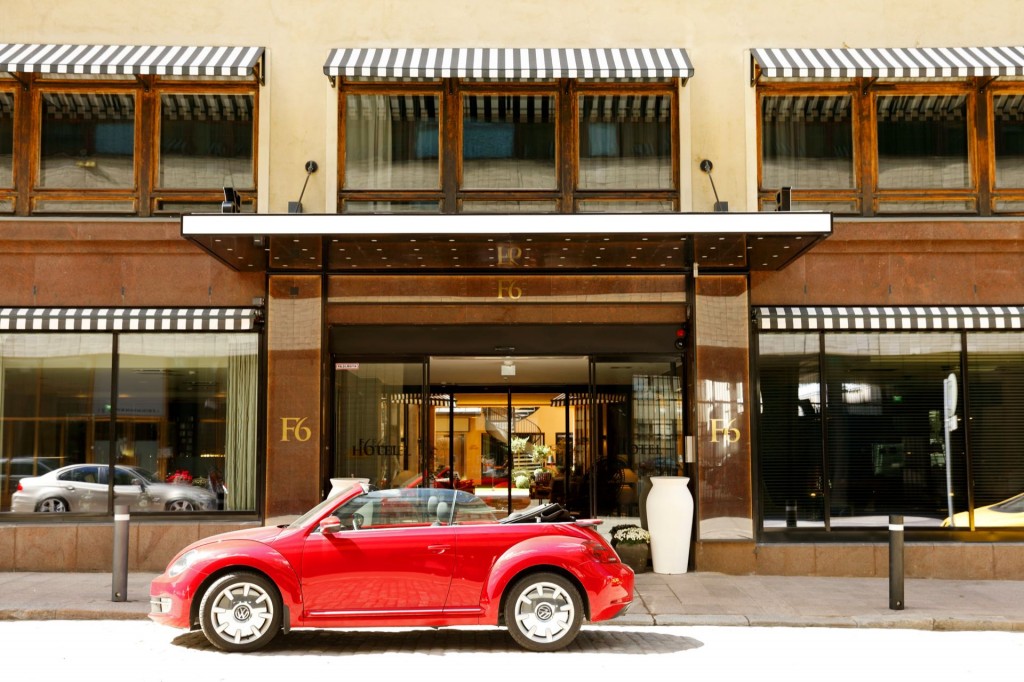 There are 66 rooms in the hotel, elegant and stylish but at the same time very cozy and warm. Hotel F6 has used high quality materials, not just for style but also for sustainability. There is also a gym for hotel guests to enjoy, free of charge. Guests are welcome to use the gym any time of the day and it is equipped with high quality equipment such as a cross trainer, treadmills, bicycle and weights. There are also five bicycles available which guests can use freely.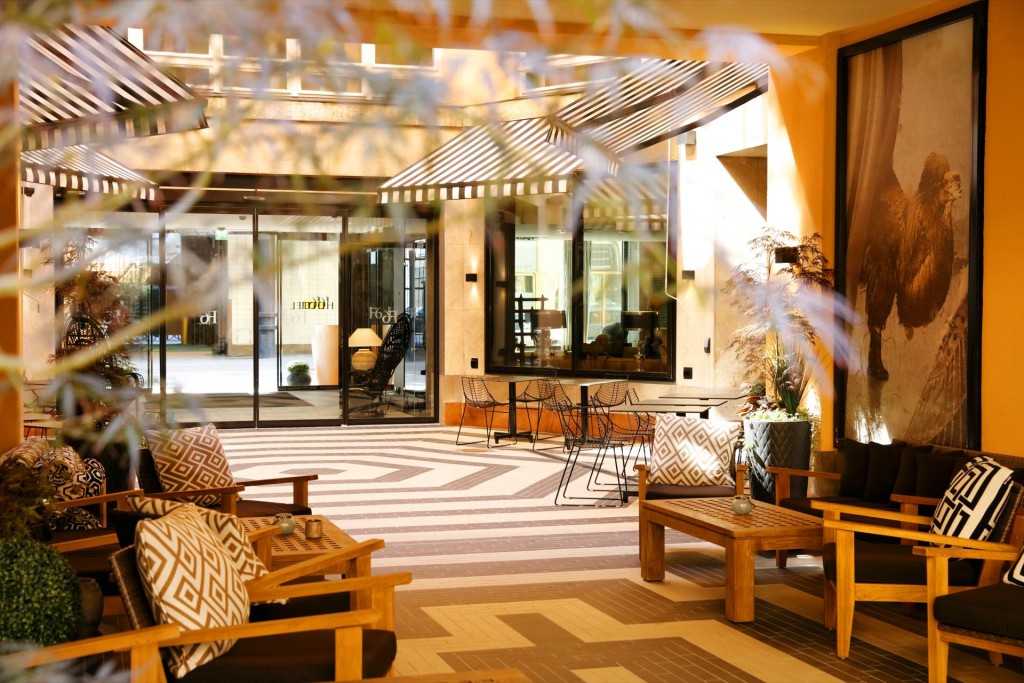 *******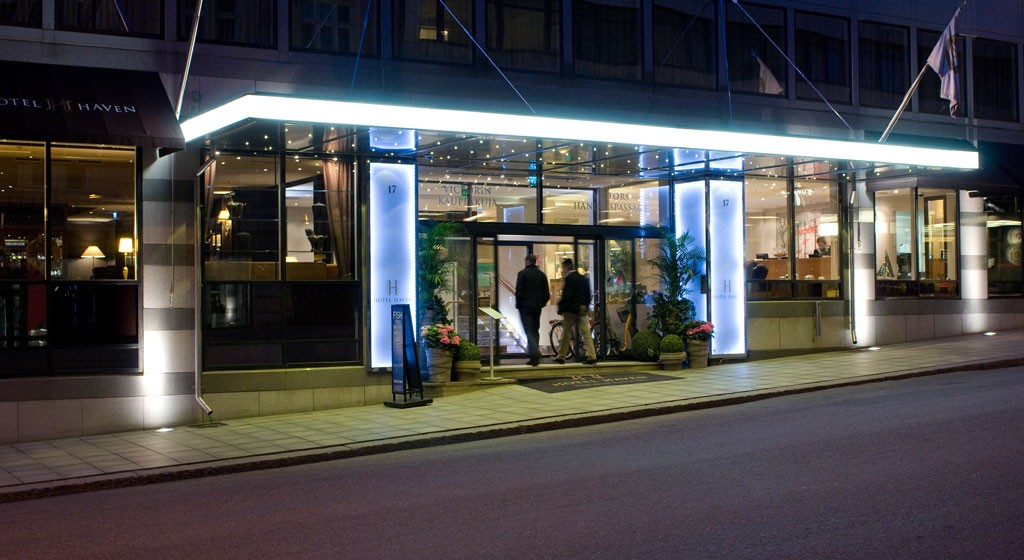 Hotel Haven
Located around the corner from Helsinki's delightful esplanade and the capital's vital Market Square, Hotel Haven could hardly be better situated. Finland's first member of the exclusive Small Luxury Hotels of the World group, the five-star Hotel Haven is designed to provide homely warmth, exclusive comfort and high-quality services for its discerning guests. The hotel's interiors are sumptuously appointed, with touches of the contemporary blending effortlessly with heritage-inspired furniture. A cosy fireplace and comfy armchairs make the lobby as comfortable as the rooms themselves.
This boutique hotel has 77 individual and well-appointed rooms, where chic colour schemes contrast against bold, patterned furnishings and objets d'art. These luxury rooms are assigned to five categories: Comfort, Style, Lux, Lux Sea View, and Suite. In all of the rooms the Hotel Haven's dedication to high quality extends to the smallest of details. In their spa-styled bathrooms guests will discover aromatic spa products by Elemis and bathrobes of fine Egyptian cotton, as well as a bathroom TV. Guests also can enjoy movies or music on the Bang & Olufsen entertainment system provided, or relax on a luxuriously soft king-size bed. Rooms also have a minibar, a built-in safe with an electric outlet, and comfy slippers.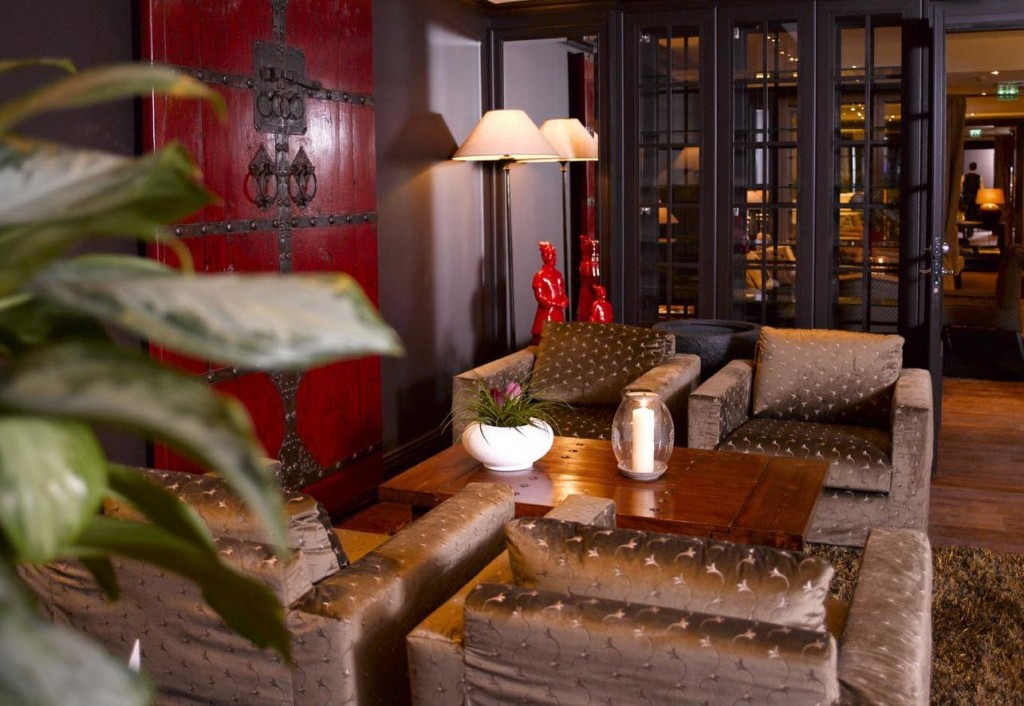 Hotel Haven guests have ample wining and dining choices: there are three excellent restaurants adjacent, a cosy lounge bar, and 24 hour room service. Havis Restaurant by the harbour-side serves carefully crafted seafood dishes in a number of dining rooms, one of which boasts an elegant vaulted ceiling and maritime murals. Nearby is G.W Sundmans, a gourmet restaurant in a building designed by C.L. Engel. Exuding history and sophistication, the set menus here are described "a journey of flavours", created using in-season, fresh produce that follows the course of the seasons. Their wine menu is both select and extensive, and has won multiple awards. Sundmans Krog is a considerably more modest and laid-back restaurant, that is famous for its delicious fish buffets, available as a starter or as a main course. Back in the hotel, Bar Haven serves both hot beverages and relaxing drinks in the evening, and is a perfect place for meeting friends. They also boast an impressive selection of champagne, rum and whiskey.
*******
Hotel Indigo Helsinki – Boulevard
One of the newest additions to Helsinki's burgeoning accommodation and hospitality sector, Hotel Indigo Helsinki – Boulevard opened a little over a year ago and has already made its mark as a boutique hotel of note. Blessed with one of the best locations in the city, Hotel Indigo is situated on one of Helsinki's most beautiful and best loved streets, Bulevardi.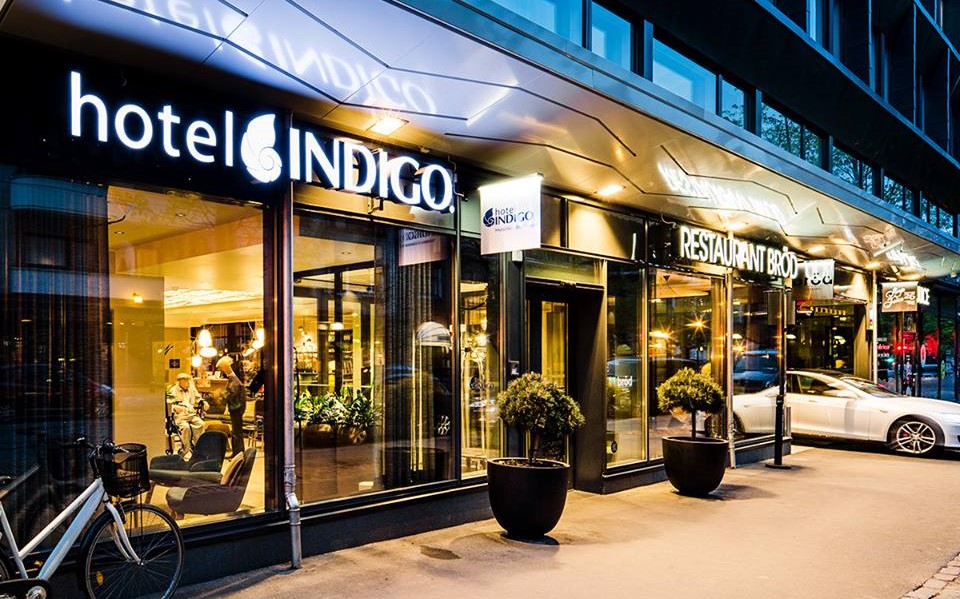 The first Hotel Indigo brand hotel in the Nordics, Indigo Helsinki-Boulevard is set in the pulsing heart of Helsinki's hip Design District, and a mere stroll from other major Helsinki attractions like the Market Square, Helsinki Cathedral, the Ateneum and Kiasma art museums, and the Aleksanterinkatu shopping street. Bulevardi itself is an elegant, tree-lined avenue packed with restaurants, bars, and art galleries; the street also features some of Helsinki's favourite landmarks such as the Alexander Theatre, Cafe Ekberg, and the Sinebrychoff Museum of Art. At one end lies the wonderful Hietalahti Market Square, and at the other is the beginning of the Esplanade.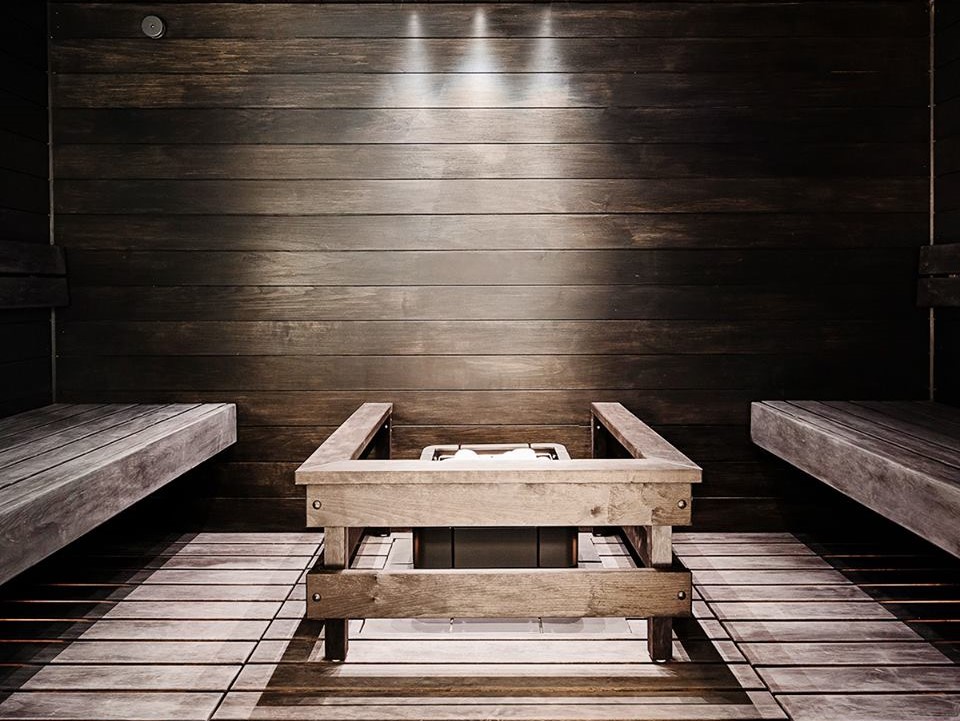 Behind the modern zinc facade this boutique hotel provides 120 individualized rooms (105 Deluxe Rooms, 14 Superior Rooms, and 1 Junior Suite), with interior design that takes inspiration and influences from local surroundings. Each room features free wi-fi, flat-screen TVs, Personal Media Network™, minibars, and tea and coffee making facilities. Many of them feature murals by local artists, and upgraded rooms have living areas. Room service is available 24 hours a day, every day.
Other amenities available include a well-appointed and fresh Lobby Lounge, a Boardroom for meetings, 35-slot car park with charging points for electric vehicles, a unique Body, Mind & Soul studio, Jungle Sports Liana fitness centre, a yoga room with trapeze, as well as saunas and a steam room. Hotel Indigo Helsinki – Boulevard also features the Bröd Punavuori Restaurant, an urban bistro-style restaurant, with a menu that blends Scandinavian, European and Finnish cuisine. The focus at Bröd Punavuori is on high quality, locally sourced ingredients and beverages, inspired by neighborhood flavors, served in an intimate setting. A breakfast buffet is free.
*******
Lilla Roberts
Located in an historic building originally designed by Selim Lindqvist in 1908, Hotel Lilla Roberts is one of the latest Design Hotels to open in Helsinki. Originally built as a power plant, it opened in the summer of 2015 as a fashionable Art Deco styled luxury Boutique Hotel, tucked away on a peaceful side street in Helsinki's famed Design District.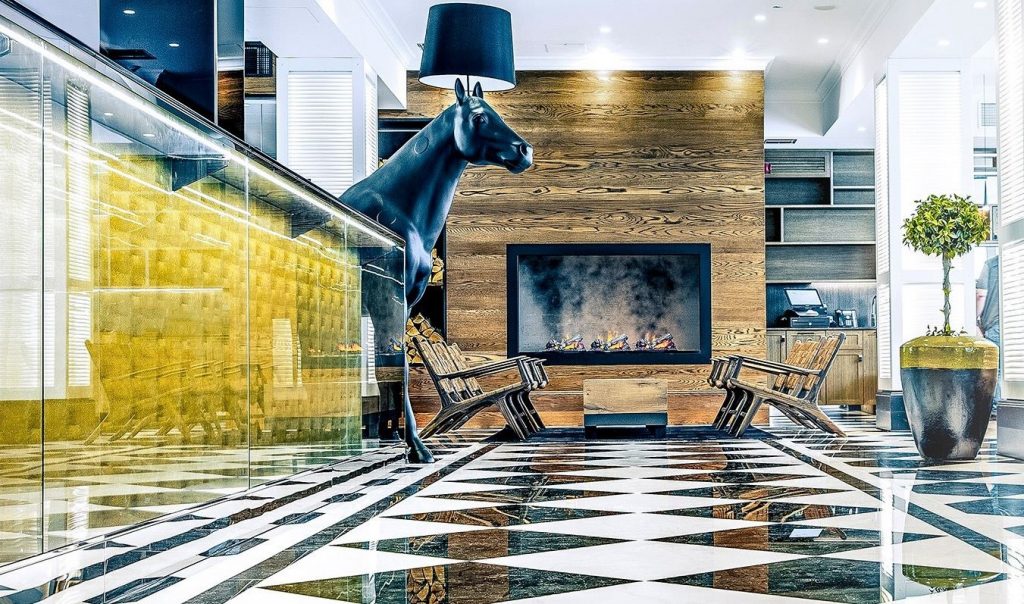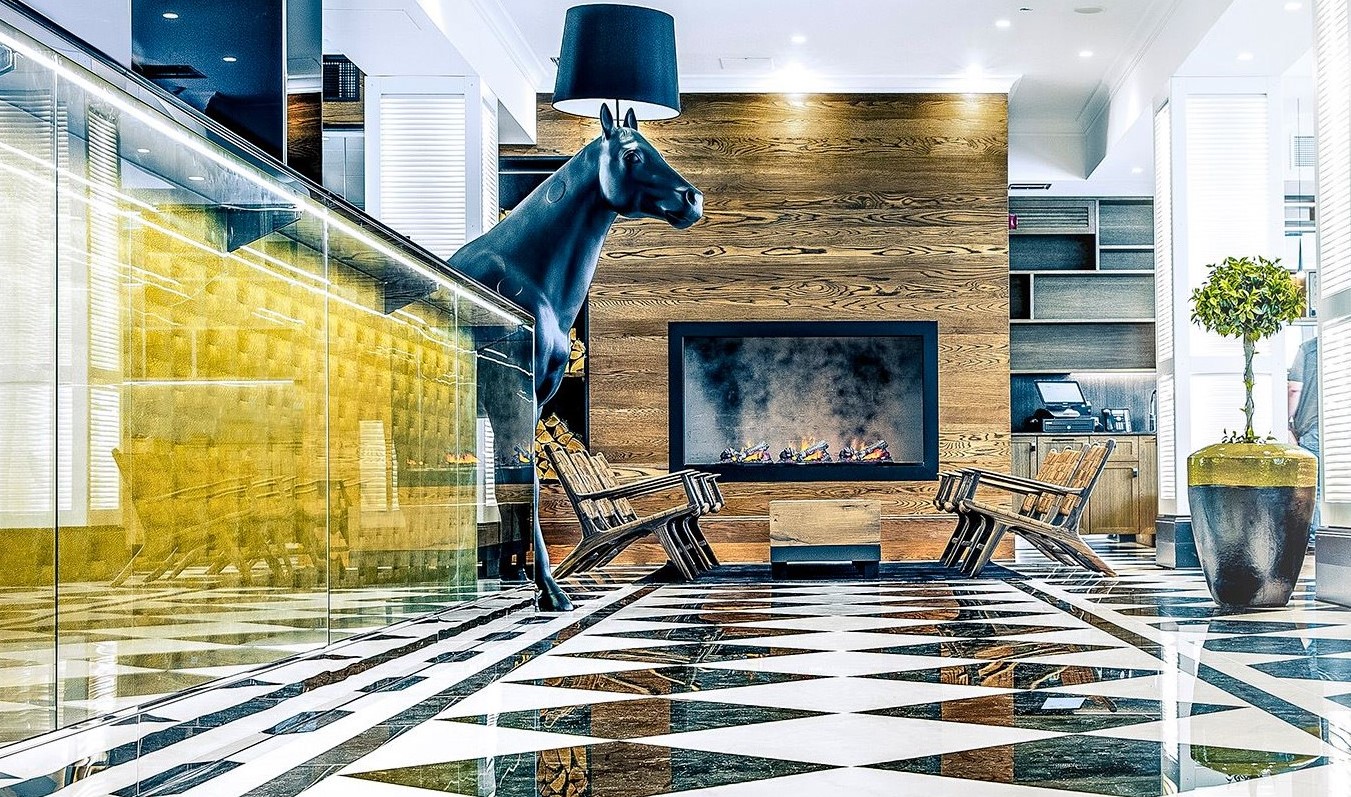 A member of the exclusive Small Luxury Hotels of the World group, The Independent recently wrote of it "Step into the lobby of art deco Hotel Lilla Roberts and you might expect Hercule Poirot to rise from one of the Hans Wenger cigar chairs". The lobby contrasts a striking monochrome colour scheme with comfy sofas, armchairs, and a welcoming, blazing fireplace.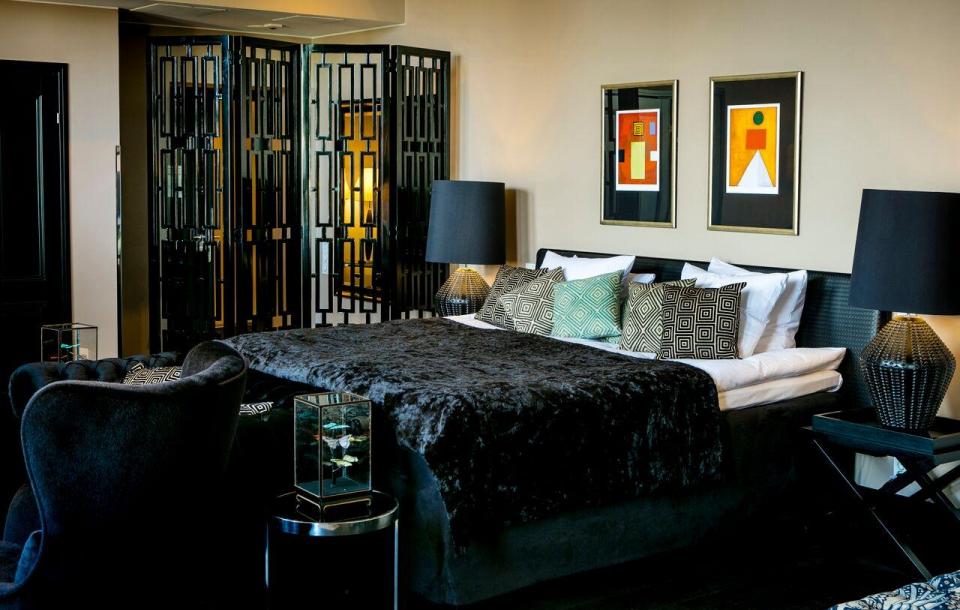 Elsewhere in Hotel Lilla Roberts the style continues, with 130 spacious and elegant rooms and suites, where chic Scandinavian design is complemented with art deco touches. Rooms are categorised as Comfort, Style, and Lux. All rooms have free wi-fi, flat-screen TV, a minibar, and art deco bathrooms with comfy bathrobes and slippers. A connecting room provides comfortable settings for families or guests who want more space. The most spacious room is a unique 100 m2 suite overlooking the square of Kasarmitori, offering all the amenities of a luxury suite. The hotel also provides a fitness centre.
The restaurant in Hotel Lilla Roberts is Krog Roba. The menu focuses on the best of both traditional and modern Nordic cuisine, sourcing the kitchen's ingredients from in and around Helsinki; most of the meat comes from farms around the capital, the fish from the Baltic Sea, and seasonal vegetables from local farmers. In Bar Lilla e, or Lilla Elephant, some of the city's best known cocktail wizards have come together to create the Lilla e concept, where guests can sip one of their signature cocktails, designed to stimulate the senses, in the chicest of surroundings.
*******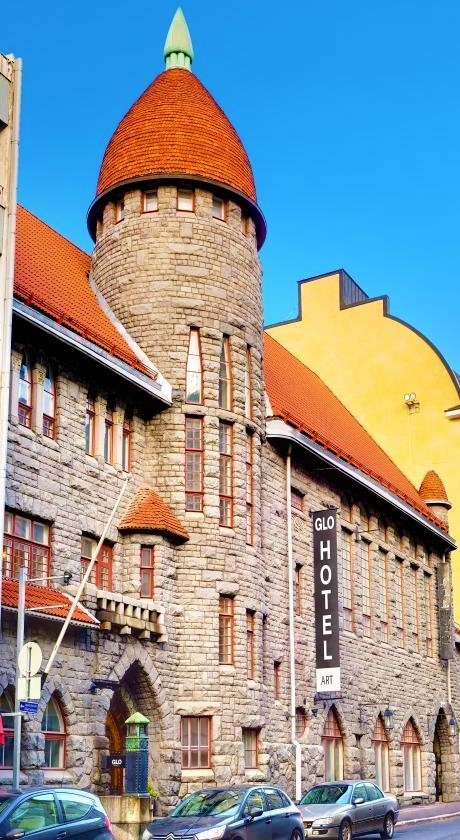 GLO Hotel Art
Located in an Art Nouveau castle built in 1903 by Thomé & Lindahl, in the fashionable Helsinki Design District, GLO Hotel Art is the epitome of a Design Hotel. Its decorative and medieval-looking facade features distinctive stonework, ogive-arched windows, and an impressively-domed round tower, which signals guests that they are entering a singular and exclusive establishment. Although GLO Hotel Art is designed around an historic building more than a century old, it is nevertheless a stylishly modern hotel providing 171 charming rooms with all the modern amenities any guest should need.
The spacious and chic en suite rooms of the 4-star GLO Hotel Art come in four categories; Smart, Comfort, Luxe, and Suite. These sleek and elegant rooms have a minimalistic feel, decorated in subdued and gentle tones with luxurious furnishings. Rooms include flat-screen TVs with satellite channels, mini-bars, in-room safes, wi-fi, and a work area. Throughout the GLO Hotel Art guests can enjoy pieces from the GLO art collection, tastefully and discretely placed in the public areas. Guests have access to the adjacent gym, or can pamper themselves with with various therapeutic and body treatments at the spa. There is also the facility for guests to rent bicycles, perfect for a such a cycle-friendly city like Helsinki!
The Hotel restaurant, GLO Art Kitchen, is situated in the atmospheric vaulted castle cellar, and opens between 6pm and 10pm from Monday through Saturday. The menu is a homage to Nordic cuisine, blending local ingredients with European influences. There are also eight different banquet rooms for use in meetings and conferences capable of catering for up to 300 guests. The classy GLO Art Lounge is the hotel bar, providing a delicious selection of cocktails as well as the opportunity to enjoy casual international dining through light snacks and tapas-styled finger foods.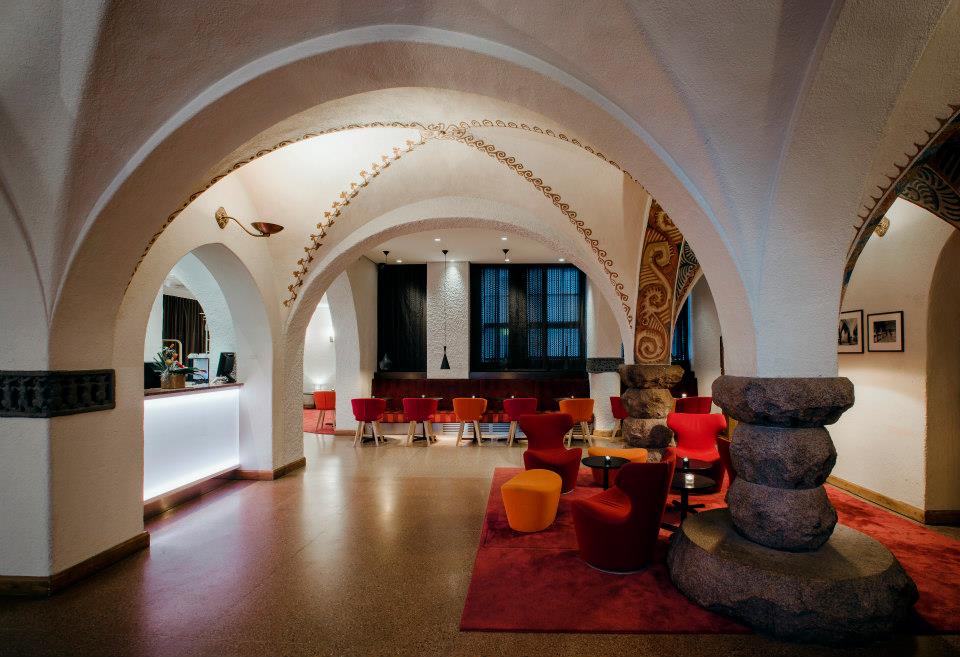 *******
Klaus K Hotel
The Klaus K Hotel in Helsinki holds the distinction of being the first Design Hotel in the capital, and is a member of the Design Hotels™ group. Situated in the Helsinki Design District, Klaus K Hotel is the perfect modern style hotel. The unique interior design has been inspired by Finland's national epic, The Kalevala, with most all furnishings and fittings, designed specifically for the Klaus K Hotel, based on that ancient tale. The Kalevala is referenced in many surprising details around the hotel; Carpets in the corridors tell the Finnish creation myth, of how the world was created from seven eggs, with that same egg motif continuing elsewhere; the reception desk is egg-shaped pale wood, with massive nest-like ceiling lights above.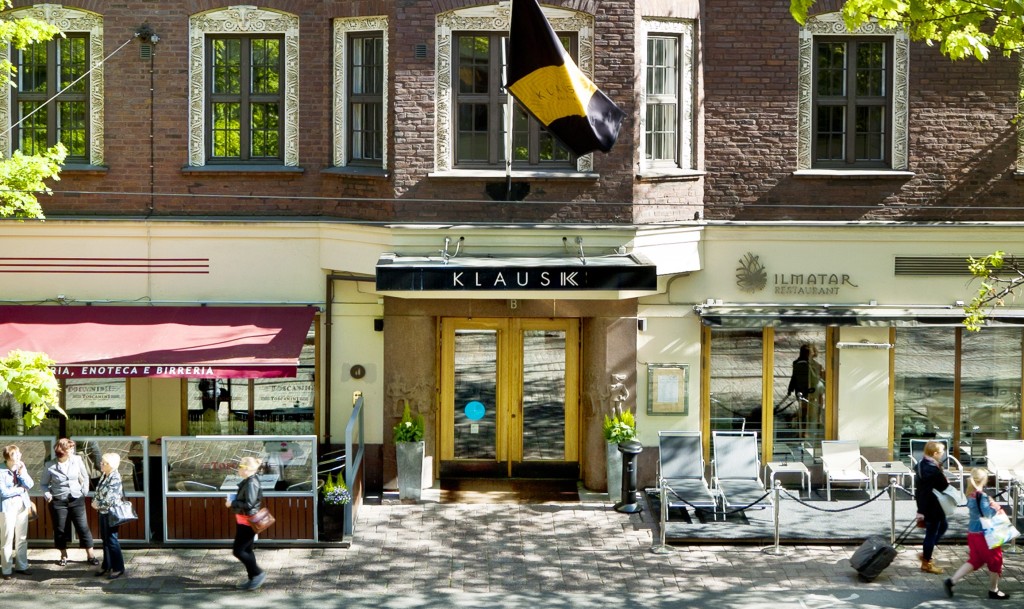 The majority of the 171 rooms in the Klaus K Hotel have been designed according to four themes; mystical, passion, desire, and envy. There are also unique designer rooms where four Finnish artists have put their own stamp on the décor, as well as three Sky Suites with mood lighting and rooftop terraces. These stylish rooms feature designer furnishings, as well as state-of-the-art amenities such as free wifi, flat-screen TVs with DVD players, and a laptop sized safe. and a mini-bar. The beds are custom made, with matresses from Unikulma, and the bathrooms have luxurious bathrobes and selected products from Malin + Goetz™.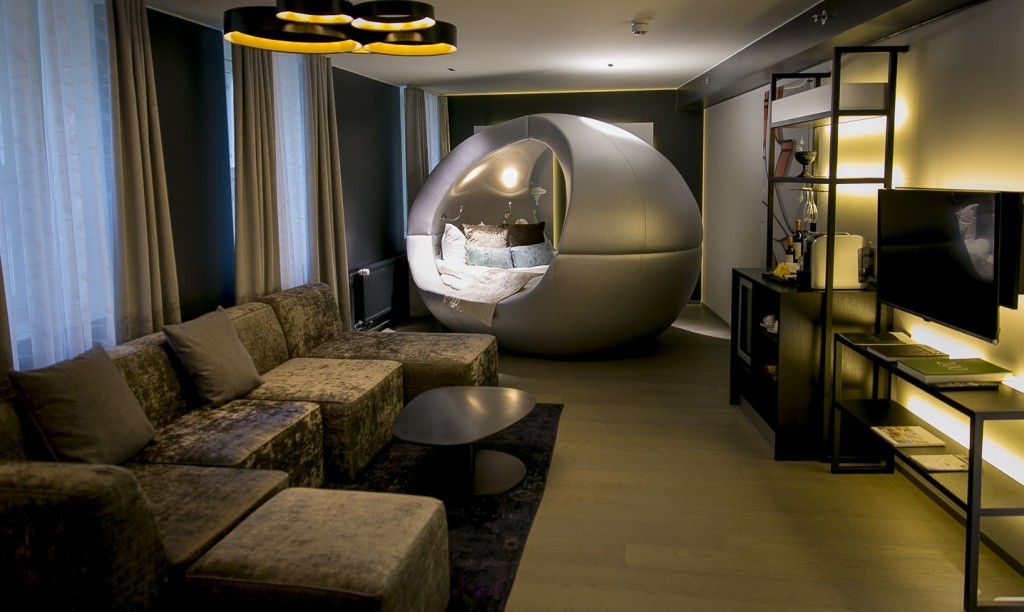 Klaus K Hotel also boasts an award winning Italian restaurant, with a cheerful ambiance derived from northern Italy. The Toscanini restaurant has developed its menu from the most essential elements of high-quality Italian cuisine – olives, and the oils derived, fine herbs like basil, oregano, and marjoram, as well as cheeses and fine cold cuts. Toscanini takes pride in baking all their own breads on the premises. There's also the Klaus K Livingroom, where a full wall painting depicting the Kalevala version of Genesis continues the hotel's mythic theme. The Livingroom is a relaxed meeting place beloved of locals and guests alike, one that includes the Finlandia vodka bar, where cocktails, cappuccinos and good company can be enjoyed.
*******
GLO Hotel Kluuvi
Situated between Aleksanterinkatu, Helsinki's main shopping street, and the delightful Esplanade, GLO Hotel Kluuvi couldn't be any closer to the beating heart of the city. The hotel is surrounded by top quality shopping, numerous restaurants and cafés, and is a short stroll away from the main art galleries and museums, making it the ideal base for those eager to explore everything Helsinki has to offer.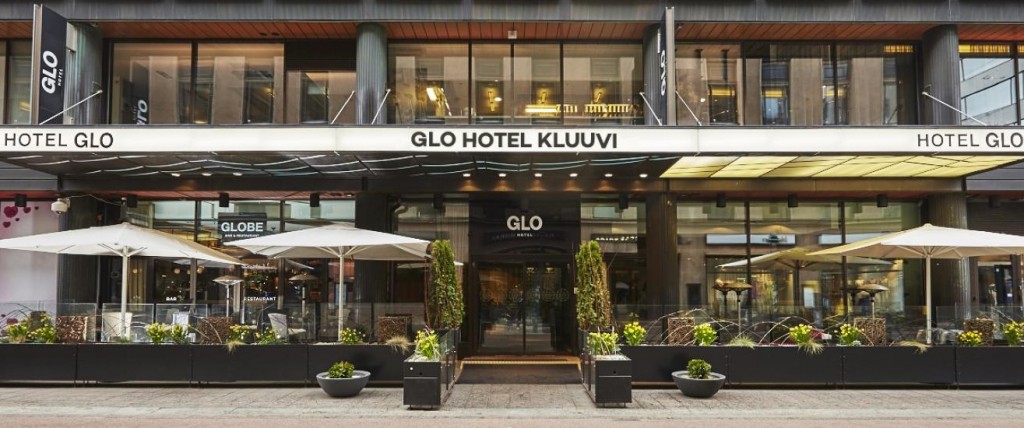 The 184 rooms in the four-star GLO Hotel Kluuvi come in five categories – Smart, Comfort, Luxe, Suite, and Executive Suite. These modern rooms feature wooden floors, free wifi, flat-screen TVs and minibars. The Suites and some upgraded rooms also have an entertainment centre, and tea and coffee making facilities, as well as living rooms and free access to the spa. GLO Hotel Kluuvi is very much a modern Lifestyle Hotel, where the design and colour scheme of the large rooms create a distinctly comfortable ambience.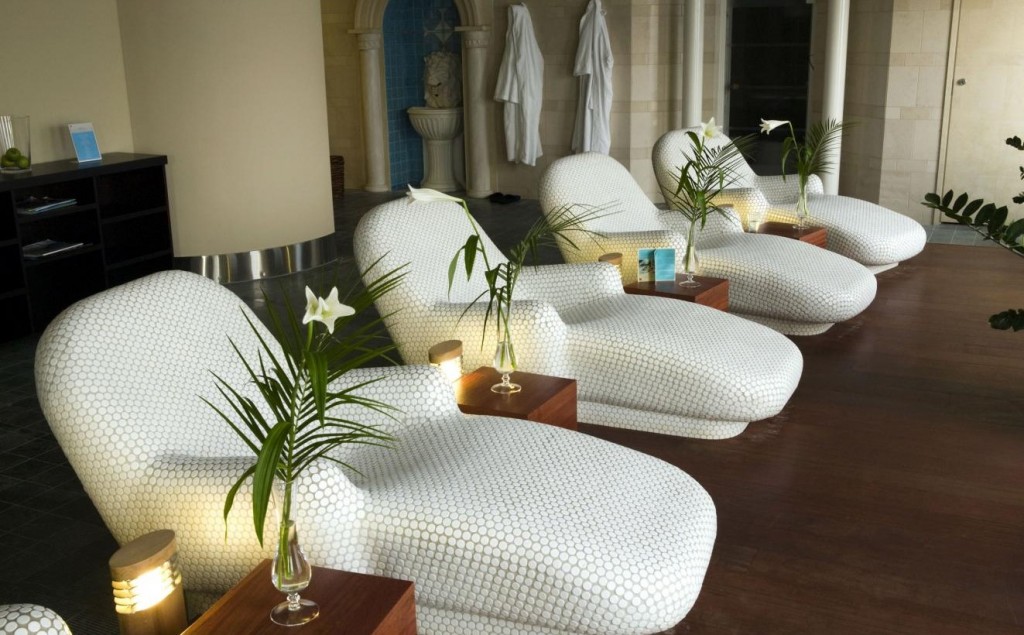 Guests at the GLO Hotel Kluuvi can enjoy the excellent services at Kämp Spa, situated on the 8th floor. Kämp Spa provides a range of holistic treatments based on the finest Nordic berries and plants, including facials, body treatments, manicures and pedicures. Guests can also avail of ESPA treatments which combine the best of ancient and modern techniques to release tension and leave the recipient feeling deeply relaxed and rebalanced. GLO Hotel Kluuvi also provides access to a well-equipped private gym free of charge. Since 2012 the Kämp Spa Gym has been furnished with Technogym's latest and most advanced aerobic, muscle fitness and Kinesis One equipment. The hotel also has three different kinds of sauna for guests to choose from: the eucalyptus-fragranced grotto steam sauna, the Turkish hammam and the traditional Finnish sauna.
GLO Hotel Kluuvi guests will find that the menu in Restaurant Globe is an interesting mix of local ingredients with Asian and Pacific influences, while the hotel's bar, Punch House, is a highly original new concept bar, and a welcome addition to Helsinki's cocktail scene. A collaboration between GLO Bar and the Son of a Punch agency, the punches served here are delicious, colourful, and creatively presented.
*******
Hotel Kämp
Although it is neither a boutique hotel nor a design hotel, we have included Hotel Kämp because it is arguably the most luxurious hotel in Helsinki. Situated on the corner of Kluuvikatu and Pohjoisesplanadi, and next door to GLO Hotel Kluuvi, Hotel Kämp was praised as being 'regal', 'magnificent', and 'continental' upon opening its doors in 1887. Designed by architect Theodor Höijer, historic Hotel Kämp exudes 19th century charisma from the moment you enter the main lobby and take in the rich parquet floors and massive chandeliers.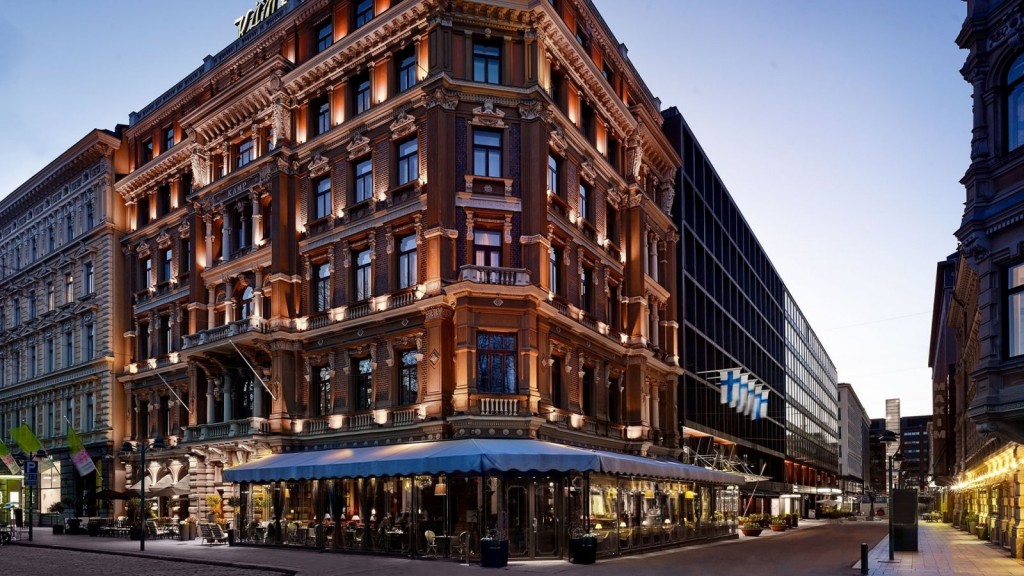 The rooms in Hotel Kämp were lightly refurbished in 2015 to retain their classical feel, and utilise the hotel's Imprimo art collection to further enhance its unique atmosphere. The deluxe rooms feature top class amenities such as flat-screen TVs, minibars, wifi, and king-size beds, while the luxurious marble bathrooms are equipped with bath, separate walk-in shower and an assortment of elegant amenities. Special requests such as connecting rooms, rooms with facilities for disabled guests, and hypoallergenic rooms can also be had upon request.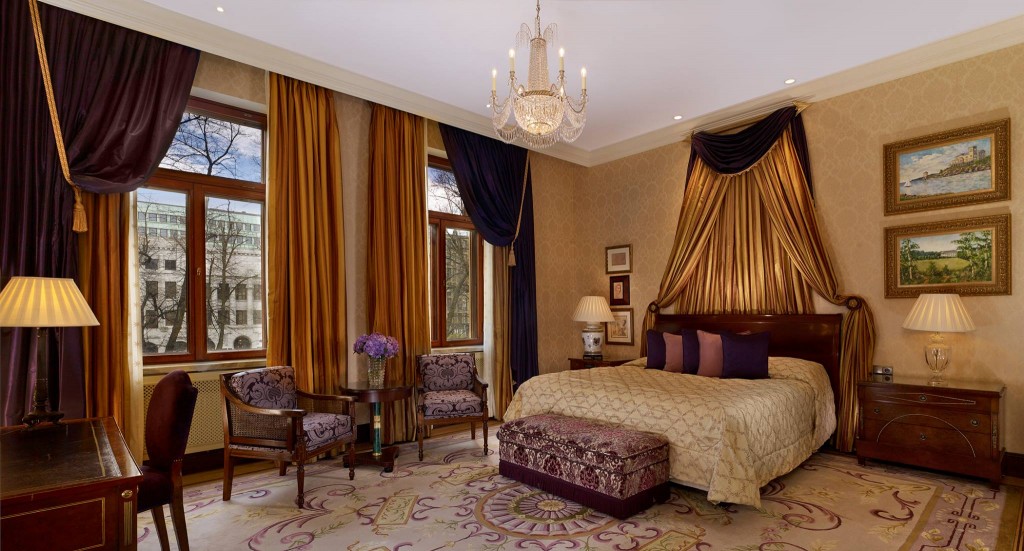 Guests also have access to Kämp Spa, winner of a World Luxury Spa award in 2015. Featuring a selection of powerful and highly effective face and body treatments that blend the latest scientific advancements with potent European therapies and Eastern philosophy, the Kämp Spa is a heaven of relaxation, healing and beauty. Guests can also use the Kämp Spa Gym, which provides equipment that has been modernised with the introduction of Technogym's latest and most advanced aerobic, muscle fitness and Kinesis One equipment. There are also a number of saunas available.
Guests of Hotel Kämp have two excellent restaurants to choose from. Brasserie Kämp has been serving diners for over a hundred years with the same admirable dedication to quality food and service. Open for breakfast, lunch, afternoon tea, dinner, and brunch, Brasserie Kämp provides guests with a rare opportunity to dine in a uniquely historic atmosphere. In contrast, Yume restaurant is hip and modern, with a menu that fuses Asian food with a Californian twist. There is a new raw bar where diners have a wide selection of fresh sushi, sashimi and nigiri to choose from, and their selection of snacks, salads and main courses, created with their own uniquely Californian fusion signature are sure to delight.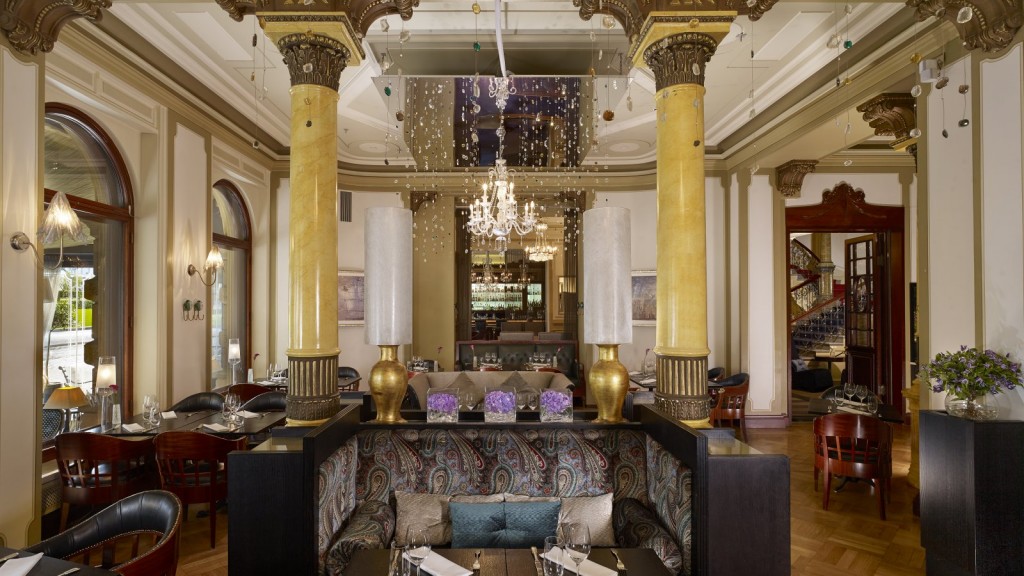 Save
Save
Other great destinations in Finland