Of all the many available choices of accommodation on offer this winter in Finland, perhaps the most exotic are those where visitors can spend a night in a room fashioned from snow and ice. This year there will be more beds available than ever before, as demand continues to grow year on year, and Finnish Lapland resorts strive ever harder to make visitors' stays as memorable as possible. However, for some visitors the prospect of retiring at night to a room fashioned from snow, and on a bed carved from ice, may seem a little too adventurous, and would prefer to spend a night in comfort, staring at the Northern Lights through a glass ceiling. For those keenest aurora hunters there are also snug, modern igloos with glass ceilings, where you can lie in warmth and gaze at the unfolding Aurora Borealis directly overhead.
Levi: Golden Igloos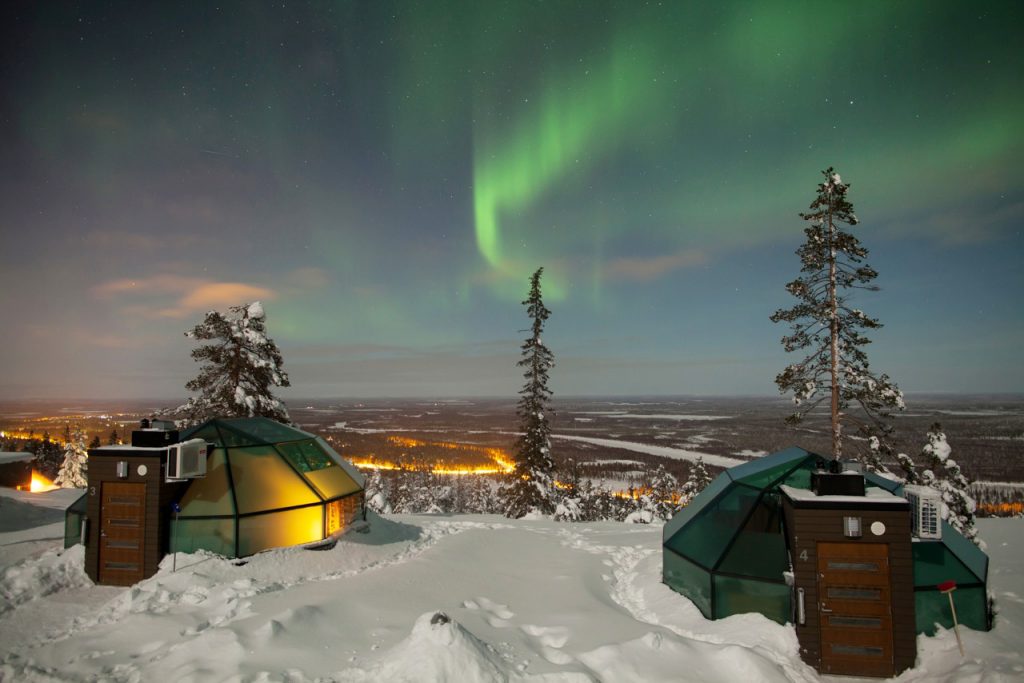 Situated just under 10km from Levi, one of Finland's most popular ski resorts, Golden Crown Levi Igloos have been designed with the aurora hunter in mind. At an altitude of 340m, nestled around the slopes of Utsuvaara, there are a dozen glass domed igloos available, as well as rooms in the subterranean Northern Lights House.
The luxury glass igloos all have a kitchenette, shower and toilet. The kitchenette is equipped with a breakfast set for two, an electric stove, microwave, coffee maker, kettle, toaster and fridge. In other words, you will be able to prepare food and drinks that you bring with you, if you wish. In addition, the igloos have a radio/CD player, a hair dryer and a socket for car engine heaters. The windows are insulated and electrically heated to keep them from frosting.
Partly built into the ground, the Northern Lights Luxury House is a fantastic haven of indulgence. It is one man's dream vision come true: a truly personal and stunning holiday villa whose large windows provide the optimal observation point for the amazing performances of the Aurora Borealis. This villa suits between 4 and 6 visitors.
For more information, visit the Levi Golden Crown Iglut site.
Ruka: Iisakki Winter Village
Not far from the idyllic town of Kuusamo, and even closer to the Ruka Ski Resort, snug on the shore of lake Rukajärvi you'll find the Iisakki Winter Village. Built entirely of snow and ice annually, the Winter Village provides accommodation in snow igloos, and a number of other activities that will keep a visit here long in the memory.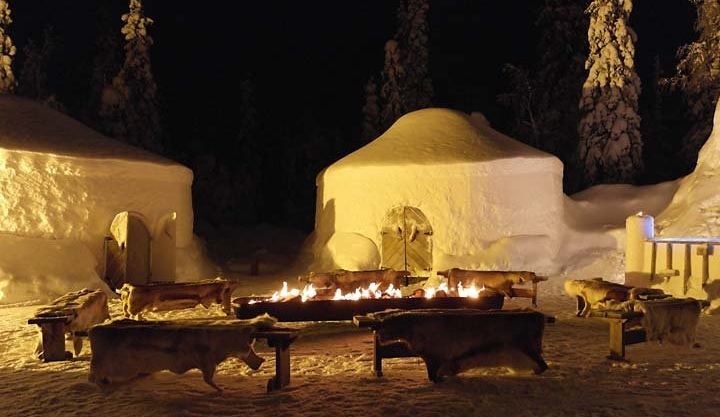 Although the Iisakki Winter Village is made anew every winter, there is also accommodation in the permanent Iisakki Village, as well as restaurants, a lakeside sauna, a cosy and traditional wedding venue, and a Santa Claus boutique.
Ruka Safaris also offer an incredible range of experiences to choose from for visitors to Iisakki, with transfers to the nearby base in Ruka. You can learn how to drive a team of huskies, before setting off with your team on a 20km journey through pristine winter forests and across frozen lakes. Or you can be guided on a snowshoe trek through Oulanka National Park, visiting the beautiful Jyräva Fall along the way. If you prefer something considerably less active you could try out ice-fishing. Ruka Safaris also arrange car transfer to the idyllic and private reindeer farm where you drive a short round with reindeer, try traditional Lappish lasso- throwing, and learn as tales of the lives of reindeer and the people who live with them are shared.
Ruka Safaris also provide a wide range of snowmobile adventures. There are daytime excursions to enjoy the stunning scenery of the area, of varying lengths. The most challenging involves a 100km drive through forests and over lakes to reach the top of Kuntivaara hill. Standing 480m above sea level, Kuntivaara provides an unforgettable view into nearby Russia, and over the arctic wilderness. The journey includes a stop for hot refreshments in a cozy wilderness restaurant. You can also mix your snowmobile experience with a search for the Northern Lights; either driving or pulled in a sledge by snowmobile to a camp where you help set up a fire to make coffee, tea, or warm juice, and grill sausages.
Another option for the adventurous is to test your winter driving skills on a forest track in a two-seater adventure car. The rally program includes small contests within the group, with small prizes awarded to the best drivers. You can explore the full range of options available on Ruka Safaris website.
Muonio: Torassieppi Winter Village
Torassieppi sits close by the Pallas-Ylläs National Park on the southern shore of the lake for which it is named. Situated in the west of Finnish Lapland near to town of Muonio, Torassieppi consists of a log cabin village, a reindeer farm and museum, a husky farm, and it's new Winter Village, where visitors can spend the night in a traditional snow igloo.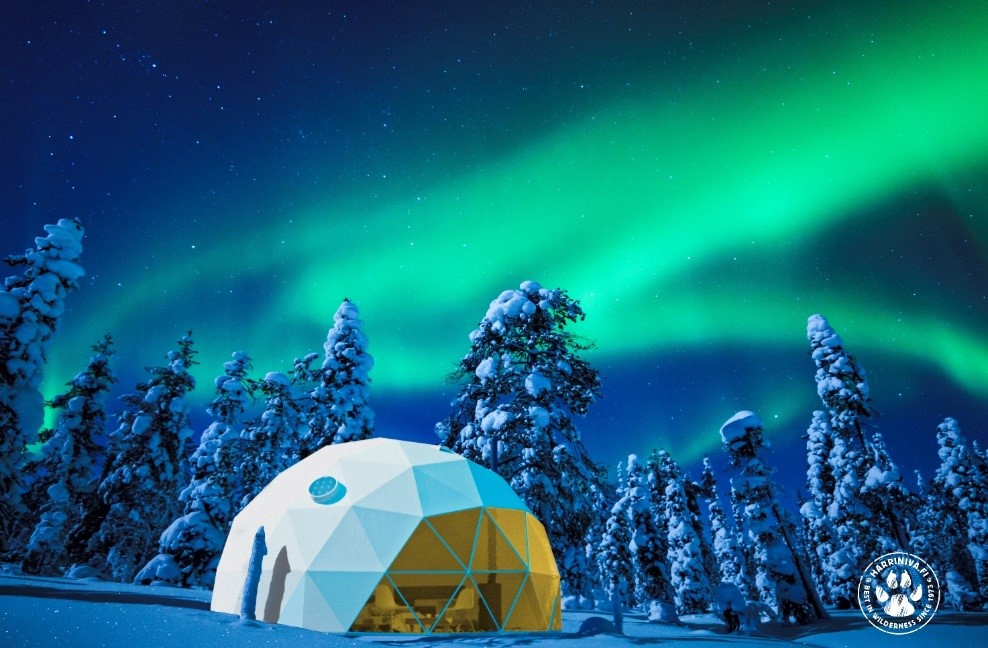 Torassieppi Winter Village is a brand new snow and ice hotel that also includes a play area for children and child-minded adults. The Winter Village comprises ten double rooms built entirely out of snow and ice. Although the temperature outside can plummet into the minus 30s, inside the snows' insulating attributes keep it moderate. Soft and warm reindeer skins, thick sleeping bags and a hot juice ensures a warm and comfortable night. Breakfast is included at Torassieppi restaurant for all guests who spend the night in the Winter Village.
There are two restaurants at Torassieppi, both of which seat 25, serving lunch and dinner menus, and in the Winter Village you'll the incredible Ice Bar, which seats 50. The Ice Bar can be booked by groups for meals, and individual guests can also dine there if they book in advance. Close by the Ice Bar there is the Ice Chapel, open to all visitors, as well as available for couples looking to make their vows.
There are a wide range of activities available for visitors: Instructional and educational visits to the reindeer farm and museum, and reindeer safaris; Husky safaris; Cross-country skiing; Snowshoe treks and hikes; Northern Lights safaris; Snowmobiling, and more.
Rovaniemi: Arctic Snow Hotel
The Arctic SnowHotel located on the shore of Lake Lehtojärvi, just outside the village of Sinettä, some 26km to the north of Rovaniemi, is an entire world of snow. The site boasts a snow hotel offering two-person rooms or more exotic suites, an Ice Restaurant serving traditional arctic specialties, an Ice Bar, an Ice Chapel where you can spend a silent moment or perhaps have a most memorable wedding, a fine log restaurant, snow saunas and saunas, and 15 glass igloos, perfect for viewing the Northern Lights.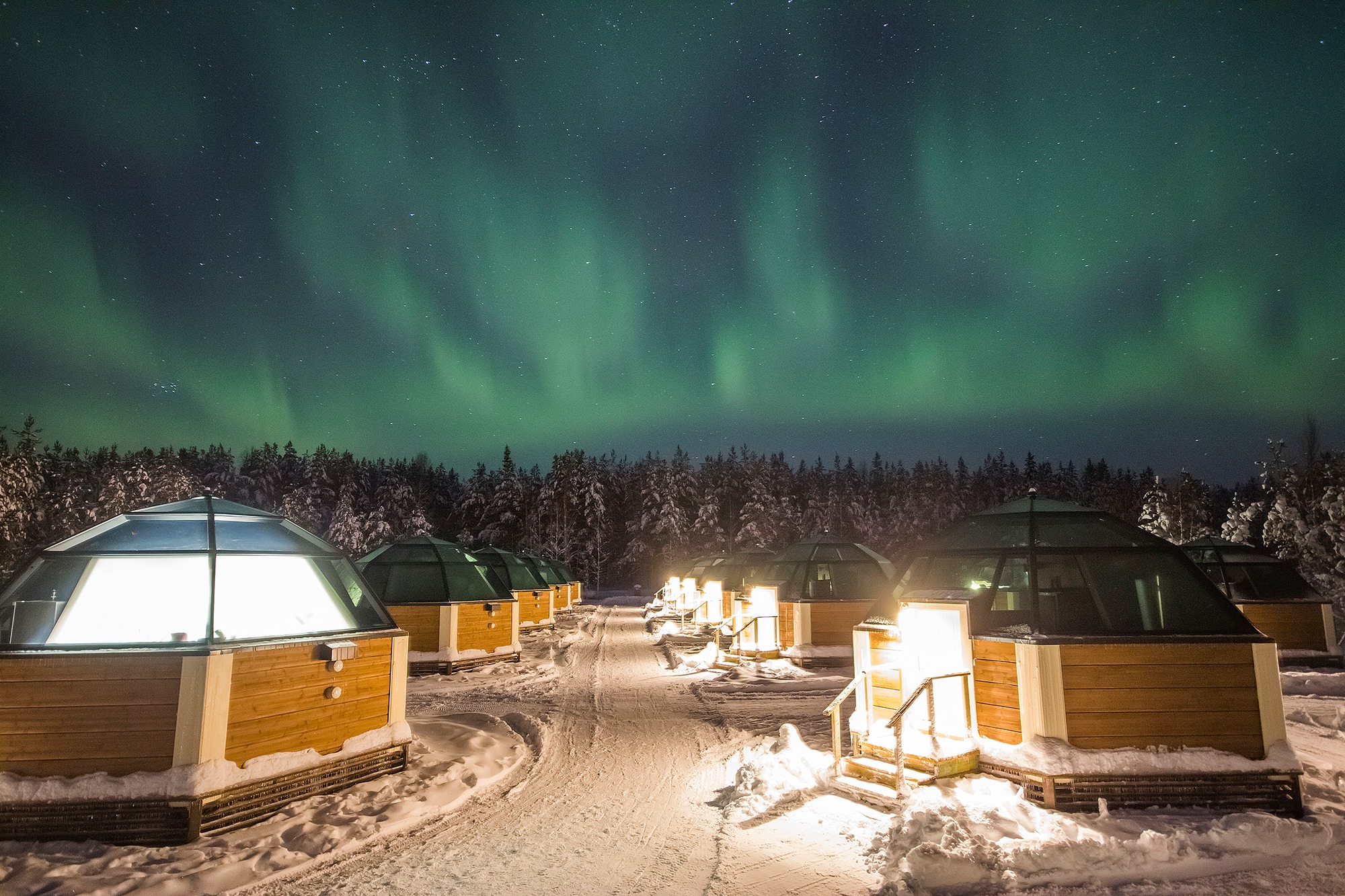 The Arctic SnowHotel provides you with an overnight package that includes a guided tour, overnighting instructions, warm and high-quality sleeping bags with fleece interior bags, shower and toilet facilities, a wake-up service including a hot drink, breakfast in the Log Restaurant, and a diploma to show you have spent the night beneath snow and ice in arctic conditions.
Visitors have three options when it comes to dining at the Arctic SnowHotel, they can enjoy their meals in the unique Ice Restaurant with seating for up to 200, they can dine in the traditional Lumikartano which is built with massive logs, or they can relax in the more intimate surroundings of Kota by the lake, famed for its delicious blazed salmon dinners.
While the concept might appear to be counter intuitive, the Arctic SnowHotel's Snow Saunas are hugely popular with visitors. The Snow Saunas, built entirely of snow and ice, are located close by the Lakeside Sauna and Lumikartano buildings, so its possible to enjoy two very different sauna experiences during the same bathing session. The saunas and the hot tub can be booked separately, or in conjunction with accommodation.
The Arctic SnowHotel also provides some activities for visitors, including snowshoe treks, ice-fishing, and even lessons in ice-sculpting. You can learn more on the Arctic Snow Hotel site.
Rovaniemi: Snowman World
Situated in the Santa Claus Holiday Village on the outskirts of Rovaniemi, Snowman World is a themed site for kids and adults alike which also provides accommodation in the Igloo Hotel, dining opportunities in an Ice Restaurant, or the chance to enjoy a drink or two in their Ice Bar & Gallery.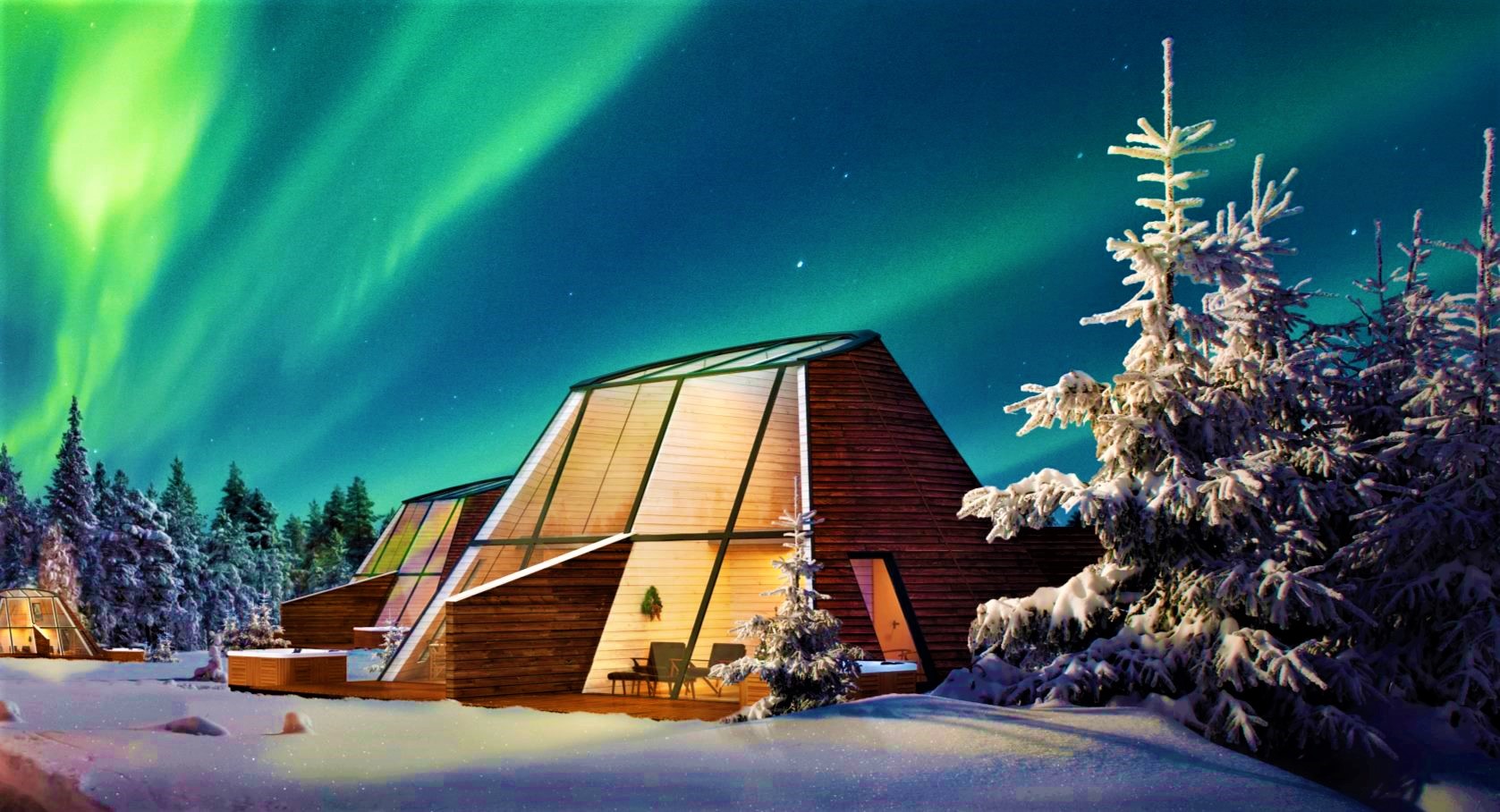 The Igloo Hotel maintains a constant temperature of just below zero degrees Celsius inside, even if the outside temperature drops below -30 degrees Celsius. A sleeping bag, designed for extreme conditions, will keep your mind and body warm throughout the night. In the morning visitors enjoy a lovely breakfast and before they receive their Arctic Night Survival Certificate.
The Igloo Hotel experience can be enhanced with a dinner in the Ice Restaurant, with its unparalleled icy ambiance. Booking for the Open Nights, which are on Wednesdays and Saturdays, can be made just 2 days in advance. The Ice Restaurant is adorned with beautiful ice sculptures, and the menu created from locally sourced ingredients for a truly Lappish dining experience.
Similarly, the icy ambiance of the Ice Bar & Gallery makes for a truly memorable setting in which to enjoy a special cocktail, served in ice glasses of course. The Ice Bar serves kids with raspberry red beverages and adults with icy clear drinks, and is fully licenced. The art gallery is filled with animal figures and story characters that are carved out of ice in stunning detail. You can get all the details on the Snowman World site.
Saariselkä: Kakslauttanen Arctic Resort
From humble beginnings offering accommodation in a few glass igloos or log cabins, the Kakslauttanen Arctic Resort has developed into one of the most complete holiday destinations in Finnish Lapland, now with its own flavour of Christmas in Santa's Home.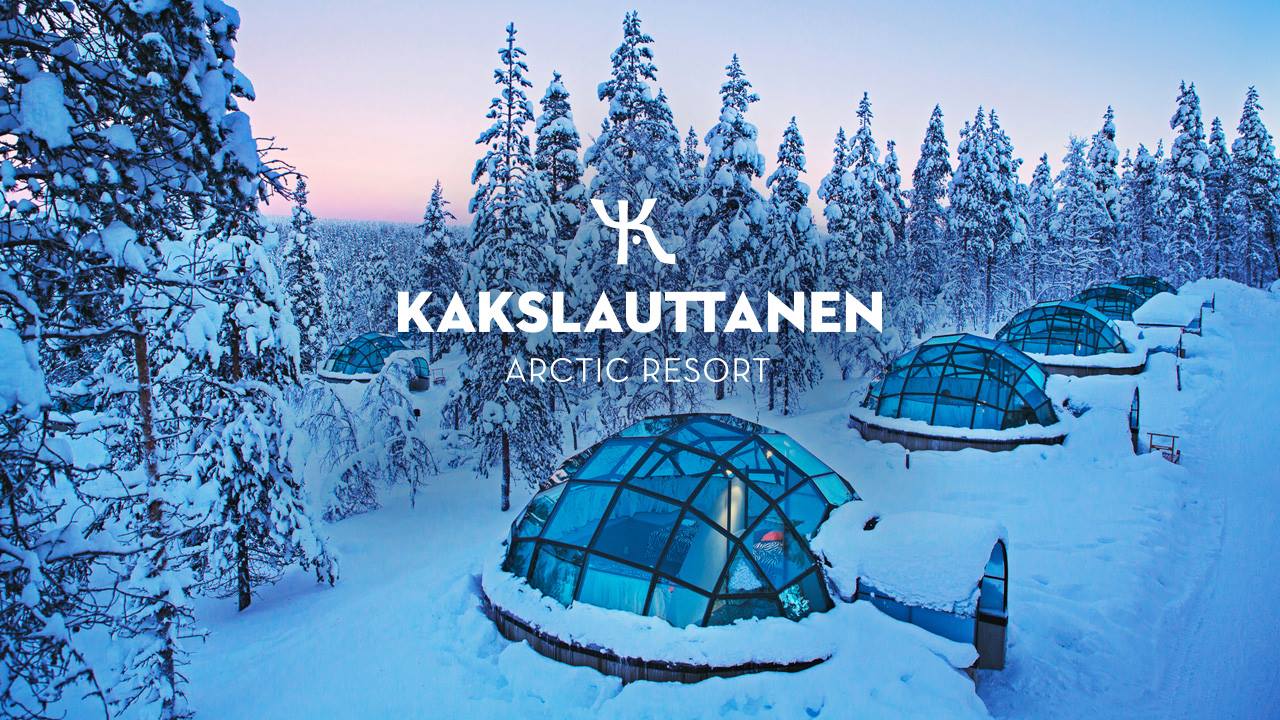 Kakslauttanen came to fame providing the most relaxing of environments for aurora hunters in Finland, and those glass igloos are still one of the main components in their wide range of accommodation options. All glass igloos have their own toilet, beds for two people and an additional bed, should you need it. Showers and saunas are available in separate buildings, with separate facilities for men and women. This winter season there will also be new four-person igloos available. In addition to all the home comforts of the two-person igloos, these will also include shower facilities.
Visitors can also choose to spend a night in a snow igloo, an unforgettable experience. Rarely does anyone get the chance to sleep as cosily as they do in an ice-cool igloo, insulating them from all outside noise. Even if the mercury dips to minus 40 degrees Celsius outside, the temperature inside is a consistent minus three to minus six. Other accommodation available includes log cabins, a wedding chamber built inside an earth lodge, or kammi in Finnish, a traditional Lapland house, riverside Gold Miner's cabins, or even in Santa's House.
The latter is a recent addition to Kakslautten Arctic Resort, and is located just 5 minutes away, hidden in the heart of the forest. Santa's Home is an idyllic 3 story red cabin, discovered by crossing over a beautiful walking bridge (there's gold in the river below!). Nearby is the Celebration House, the largest log building in Finland, which can host over 250 guests for wedding receptions, corporate events, concerts or dinner.
Kakslauttanen Arctic Resort also provides a range of activities for visitors, including husky sledding, snowmobile safaris, reindeer safaris, and cross-country skiing. Saariselkä has frequently been ranked as one of the world's best cross-country skiing destinations, with a diverse network of ski tracks that run for almost 200 km, around 30 km illuminated. See what's available by visiting the Kakslauttanen Arctic Resort site.
Kittilä: Snow Village Lainio
Located a little southwest of Kittilä, and close by Ylläs (Finland's biggest ski resort, with 63 slopes) Lainio's Snow Village will be built this year for the 14th time. Every year around 15,000 tonnes of snow and another 300 tonnes of ice are used to build the spectacular Snow Village, covering an area of 20,000 m2. The Snow Village consists of a Snow Hotel, Ice Restaurant, Ice Cocktail Bar, Ice Chapel, a snow slide, and a vast network of striking corridors liberally decorated with delightful snow and ice art and sculptures.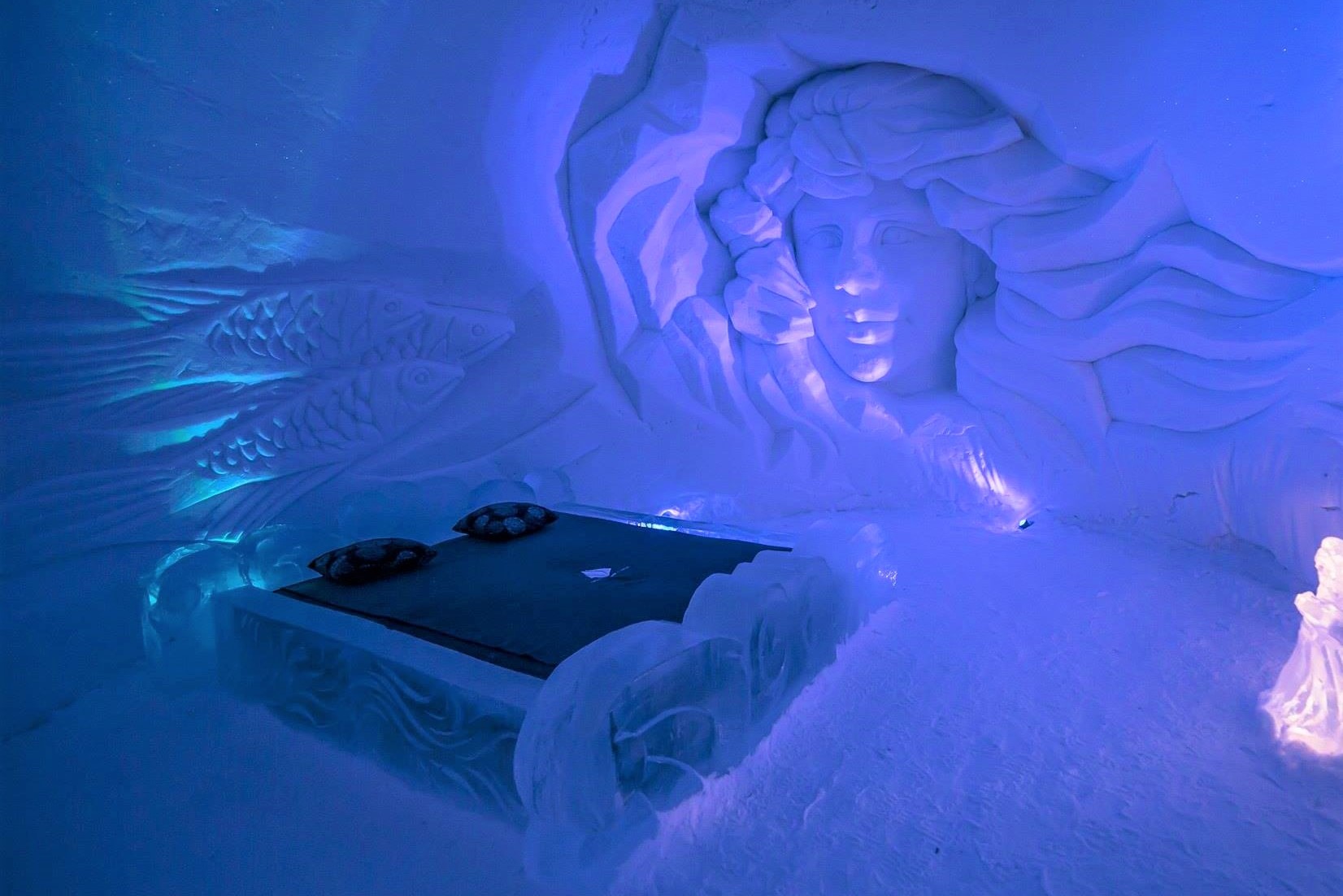 A night in the SnowHotel, surrounded by beautifully illuminated ice art is truly a night to remember. SnowHotel offers double snow rooms and artistically "furnished" snow suites. The warm subterranean area provides, bathroom facilities, a large fireplace room and few beds. If you are interested in savouring some Lappish delicacies, the Snow Village has two restaurants to choose from. A cosy log restaurant for a more traditional dining experience and the truly extraordinary Ice Restaurant for those seeking unforgettable surroundings to accompany their meal.
Snow Village offers a wide range of arctic adventures to enrich your holiday. Experience the true Lapland by steering a pack of huskies through breathtaking landscapes in the northern wilderness or learn about the traditional livelihood of reindeer herdsmen on a captivating journey to the reindeer farm. When the night falls, you can join the crowd for the exciting events in the IceBar or head out for a snowmobile safari under the Northern Lights.
If you are seeking a truly unique wedding venue for your special day, look no further. Snow Village offers the surroundings that make exchanging vows an experience to remember. Couples can choose between a traditional and atmospheric wooden chapel or a beautiful ice chapel with all interior decoration made of ice and snow. You can find all the details on the Lainio SnowVillage site.
Kemi: SnowCastle – LumiLinna
Rebuilt anew annually, the SnowCastle in Kemi is situated on Luulajantie by the inner harbour in the town centre, and is a source of pride for locals, as well as being a showcase for snow architecture in general.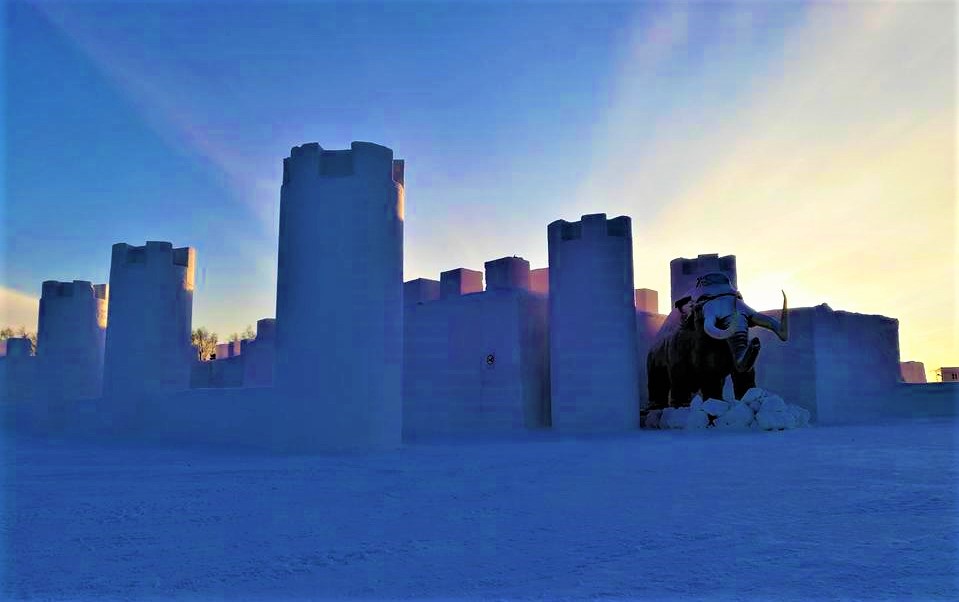 Within the grounds of Kemi SnowCastle you'll find the SnowHotel, SnowRestaurant, SnowChapel, a massive snow tube for sliding, an area for learning ice-sculpting, and a curling rink, as well as the mascots Arttu and his spouse Terttu to guide you around. The entire area is specially illuminated with an array of different light effects which add to the charm.
In the SnowHotel there are rooms for singles, couples as well as bigger groups. There are 12 rooms for doubles / singles, 4 superior double rooms, 2 group-rooms with five beds as well as 3 Suites The maximum capacity of the SnowHotel is 48 persons. Outside the SnowHotel there are new accommodations, the Olokolo nests. These compact sleeping quarters are equipped with warm sleeping bags and soft lamb skins, and feature transparent ceilings so visitors can enjoy the Northern Lights, if they're showing.
The SnowRestaurant and IceBar are open for visitors of the SnowCastle daily from 10 am until 6 pm. At the IceBar you can enjoy both hot and cold drinks as well as a range of salty, savoury or sweet snacks. If you wish to enjoy a delicious meal (lunch or dinner) at an ice-table in the SnowRestaurant, keep in mind that reservations must always be made in advance.
The SnowChapel is another firm favourite with visitors; a calm refuge where you can sit in silence. It is also available for the usual church events, such as weddings and christenings.
There are plenty of activities on offer in the Kemi SnowCastle. As well as the slide and curling rink, you can organise an ice-fishing expedition, go cross-country skiing, take a kick-sled hike, or even enjoy a warm and cosy safari experience in an Olokolo, pulled across the frozen sea by a snowmobile & guide. Visit the official Kemi SnowCastle site for details.
Enontekiö: Hetta Snow Castle
Just outside the small town of Hetta (also known as Enontekiö) in Vuolikka, on the shores of Lake Ounasjärvi, you'll find the Hetta Snow Castle, made anew every year from 'steel ice' taken from the mountain lakes and the purest of snow.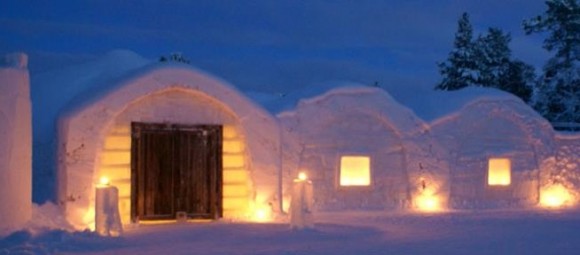 Hetta Snow Castle can accommodate up to 20 people, in spacious rooms with beds made of snow, bedframes of steel ice, and bedding of the finest reindeer skins and most comfortable thermal sleeping bags. Throughout the interior and exterior of the Snow Castle you'll discover amazing ice sculptures made by various local artists.
The Hetta Snow Castle also hosts celebrations of every kind for private parties or groups, with a banqueting hall that seats 50 and provides a tradional menu of Sámi delicacies and treats. Visitors can also pop in for a warming mug of coffee, tea or hot chocolate, admiring the many ice sculptures as they sip.
The owners, Hetta Safaris, also provide a wide of winter activities, including truly adventurous snowmobile safaris to the fell area of Kilpisjärvi, or even all the way to the Arctic Ocean in Norway. All the relevant information is available at the Hetta Safaris site.
Nellim: Wilderness Hotel Aurora Bubbles
The furthest north of all the destinations listed here, the village of Nellim is located on the eastern shores of Lake Inari, close to the border of Russia – it's closer to the port of Murmansk than it is to the capital of Finnish Lapland, Rovaniemi!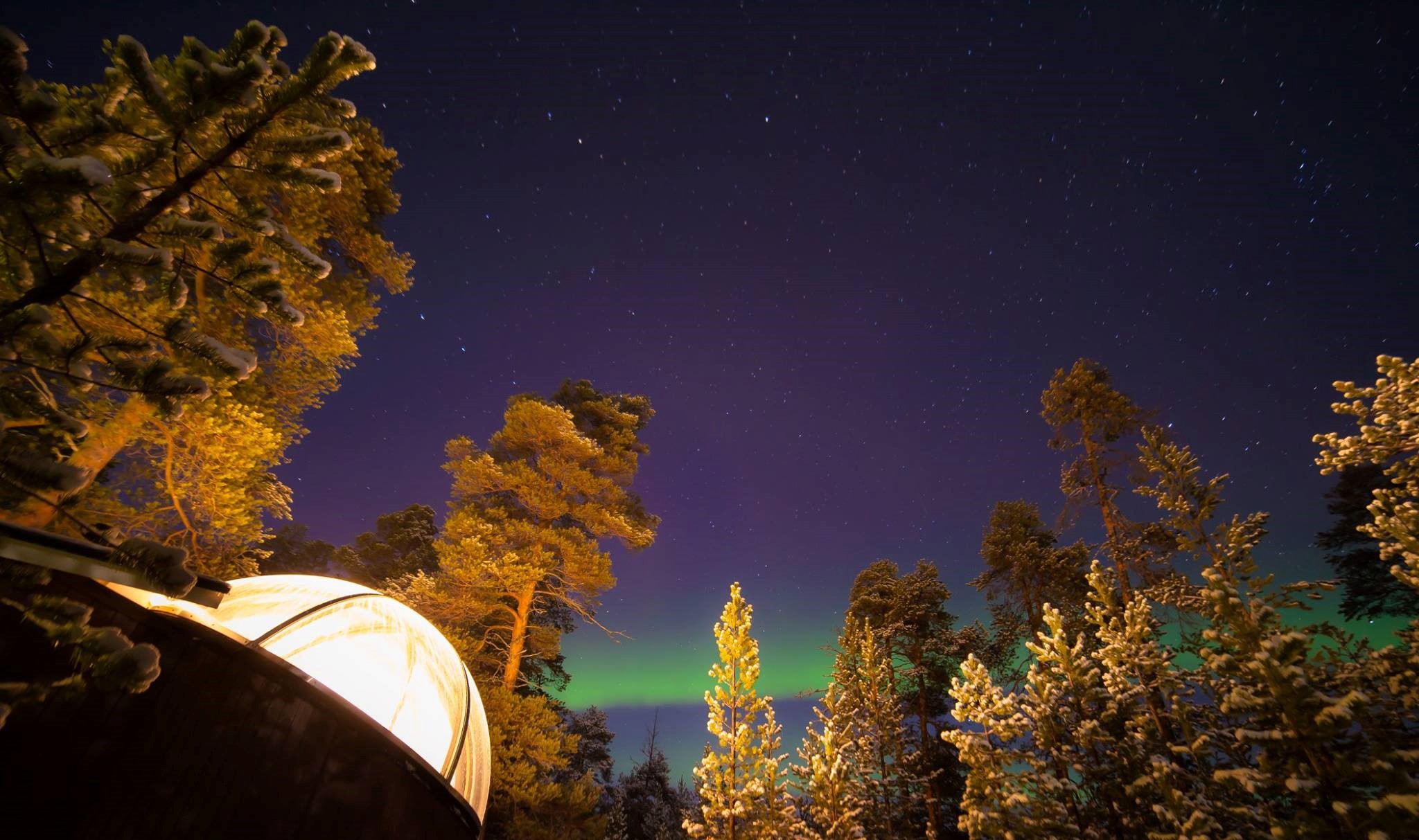 Nellim is barely affected by light pollution and has an impressive record for viewing the Northern Lights, so the excellent Nellim Wilderness Hotel now provides the option for spending the night in an Aurora Bubble. These glass-topped, heated pods contain a double bed and toilet area so guests can await the spectacular sight in comfort.
Nellim Wilderness Hotel also provides an exclusive private aurora hunting safari experience, where you are taken to Lake Inari in an Aurora sleigh, heated and with a glass roof. Lie back on comfortable lamb skins as you are driven far out onto the frozen lake, stopping occasionally for photo opportunities, before parking in a spot perfect for viewing the spectacular show overhead. Learn more at the Nellim Wilderness Hotel site.
Rovaniemi: SnowLand – LumiMaa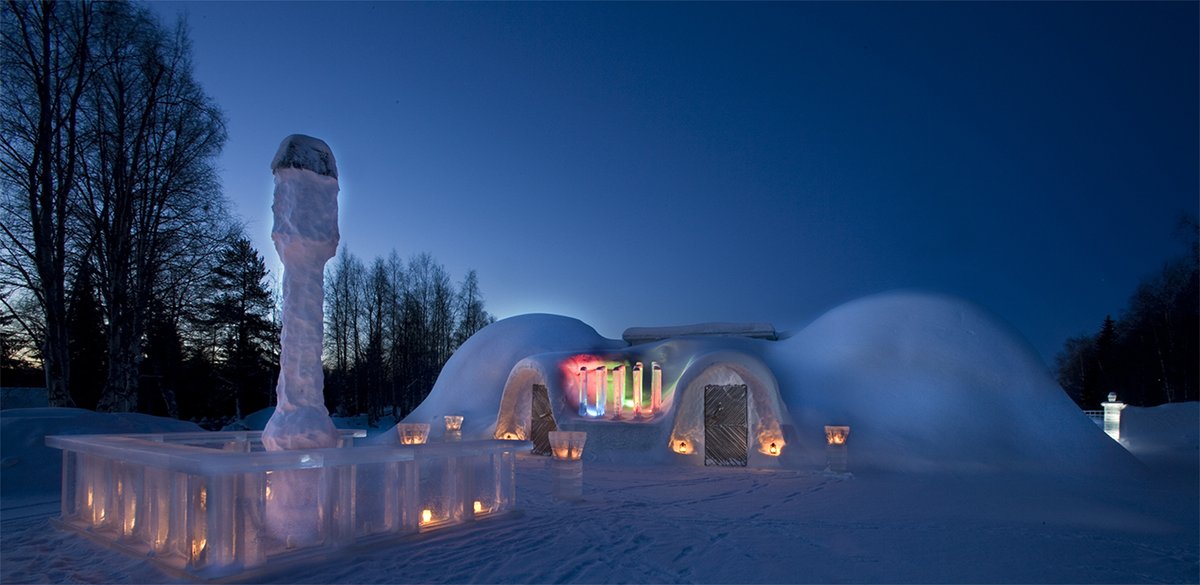 Situated just a couple of kilometres from Rovaniemi city centre, SnowLand is the perfect place to catch the flavours of the Arctic in their Igloo Restaurant. Open to visitors from December onwards, the Igloo Restaurant can accommodate 260, and provides a fine menu of locally sourced Lappish delicacies, as well as two Ice Bars, all in a fine building fashioned entirely of snow and ice. They also host an arctic disco, and provide lessons on how to create snow sculptures. Check out the SnowLand – LumiMaa site for more information.
Rovaniemi: Sine Igloo Village
Our final inclusion is much more of a hands-on experience. In the village of Sinettä, less than 20km north of Rovaniemi, the Sine Igloo Village is a recent addition to the regions attractions. At Sine you learn how to build your own igloo, and then spend the night in your creation! More information is available on the Sine Igloo Village site.