Although the brunch concept has been around since the late 19th century in Britain, having first become popular in the 1930s in the US, it has only become a staple of Helsinki's weekend culture during the last decade or so. A happy marriage of breakfast and lunch, the popularity of brunch has seen a steady rise since it first appeared on the Helsinki scene, and today there are numerous restaurants and cafés providing sumptuous feasts for locals and visitors alike. In our updated Helsinki Brunch Guide we have identified no less than 24 delicious locations for you to choose from.
As you'll see in this Helsinki Brunch Guide, the Finnish brunch is very much a fusion of local and foreign cuisine: alongside the traditional croissants, omelettes, cakes and preserves, you'll find the Finnish essentials of rye breads, Karelian rice pies, and porridge. Many of the venues providing brunch have their own unique signature dishes, with the focus changing according to the house specialties.
Just as there is a wealth of choices regarding the style of brunch on offer in our Helsinki Brunch Guide, so too is there plenty to choose from regarding the venues providing this delicious repast, from hip and trendy chic cafés to classic restaurants serving in historic surroundings. Hungry diners aren't restricted to the hustle and bustle of central Helsinki, but can find a table in virtually any of the surrounding neighbourhoods. This includes the upmarket Design District of Punavuori, the bohemian Kallio district so popular with students and younger tourists, and the more residential areas of Töölö and Kruununhaka.
This Helsinki Brunch Guide has for convenience grouped the restaurants roughly according to price – from the least expensive to the more exclusive – but whatever your budget we're sure you'll find something to suit.
Café Ekberg
Bulevardi 9
Café Ekberg is Finland's oldest patisserie-café, situated on Helsinki's elegant Bulevardi. Ekberg's longstanding traditions, combined with an excellent location provides one of the best settings for a relaxed brunch in Helsinki. Ekberg's brunch is available from 09:00 until 14:30 on Saturday and Sunday for 29.90€. The buffet includes oatmeal, cereal, yogurt, eggs, oven scrambled eggs, meats, cheese, vegetables, fruits, jam, bread, croissants, sweet pastry, orange juice, coffee and tea.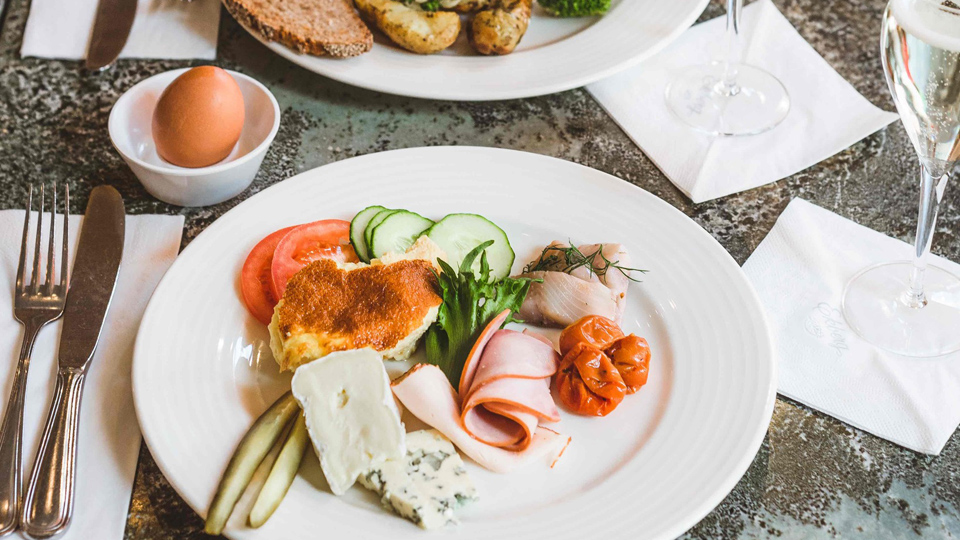 Block by Dylan
Eteläranta 18
Block by Dylan serves brunch on the weekend from 10:30am until 15:00, for 28,90€ – children from the ages of 1 to 10 years old are charged 1€ for each year of age!

South Park
Bulevardi 40
Located next to the Sinebrychoff Art Museum, South Park Restaurant serves its "Cali health kick brunch" on the weekend with seatings from 11 a.m. to 12:30 p.m. and 1 to 2 p.m for 28,90€, or with the house sparkling for 37€. The Cali health kick brunch allows you to balance out your good and the bad. Start off by selecting from their breakfast bar . Make your own "super seed" muesli, move onto the seasonal produce salad bar, full of good things and fresh flavours. You can soak up the weekend excess with their Bossam – Korean style pulled pork, or with bacon and scrambled eggs. Those with a sweet tooth are not neglected as they provide a dessert selection to die for. Then wash it all down with our in house made fresh fruit juices. Reservations recommended.
Ravintola Oiva
Porthaninkatu 5
The brunch served in Ravintola Oiva is on Saturdays from 10:00 until 15:00 and Sundays from 10:00 until 16:00, for 26.00€. The buffet offers a wide selection of meats, sausages, cheeses, scrambled eggs, yogurt and berries, a couple of salads, Karelian pies, bread cheese, fish, and home made bread rolls and meatballs.
Kaarti Pohjoinen
Hesperiankatu 33 A
Housed in a historic building that was once part of the Taivallahti Barracks and is now protected, the Kaarti Pohjoinen restaurant in Töölo features a pastel mural of the world that was hand painted in 1935. You can enjoy brunch in these historic surroundings on Saturday and Sunday from 10:30 until 15:00 for 26€. There are numerous vegetarian options, plenty of fish choices, as well as beef and bratwurst selections, and a delicious selection of desserts to finish off the perfect meal.
Ravintola Sunn
Aleksanterinkatu 26
Located by Senate Square with a view of Helsinki Cathedral, Ravintola Sunn serves brunch on the weekends from 10:00 until 16:00 for 26€. It consists of a selection of breads, croissants, butters & jams, salads, Chef's cold cuts, salmon, a cheese selection, quiche, muesli and yoghurt, fruit basket, Sunn's sweets, coffee by Johan & Nystöm, a selection of teas. With Prosecco 33,50€.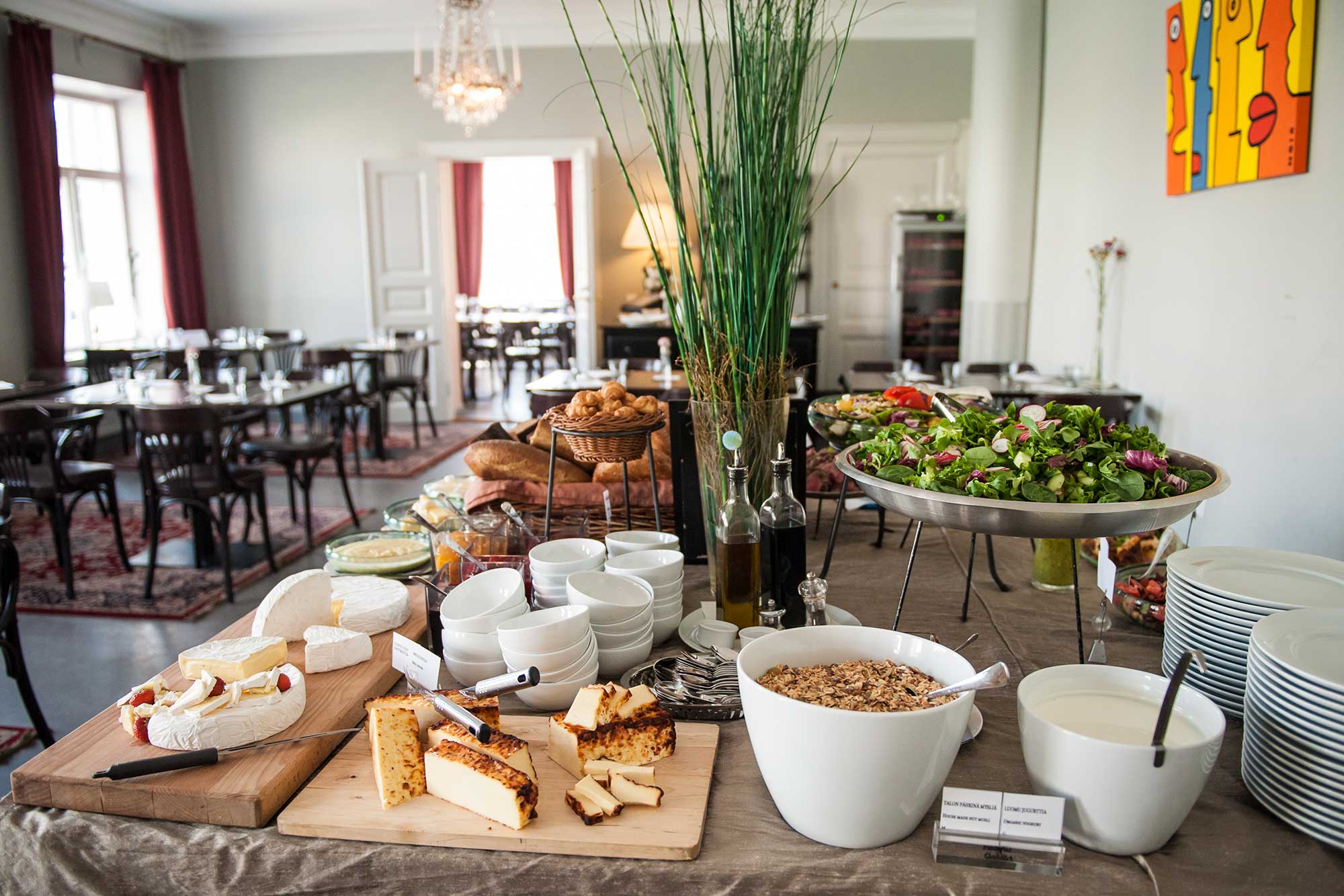 Trattoria Sogno
Töölöntorinkatu 2
Not far from Finlandia Hall in the Töölö district, Trattoria Sogno serves an Italian-style brunch for 29€ on Saturdays between 11:00 and 14:00. In addition to the starter buffet with Italian pancakes and focaccia, there is a choice of a vegetarian, fish, or meat main course, followed by dessert served to the table. Customers can also order classic brunch beverages like mimosas, bellinis, or even negroni sbagliato, Pol Roger Champagne or Prosecco Superiore for extra price.
Moko Market Café
Punavuori: Perämiehenkatu 10 & Sörnäinen: Vilhonvuorenkatu 11
With two locations, in Punavuori and Sörnäinen, Moko Market Café Punavuori serves brunch on Saturdays with two seatings: at 10:00 and 12:00, and Moko Market Café Sörnäinen between 10:45 and 13:00. Price is 24,50€. The brunch includes oven-fresh bread, Karelian pies, mini croissants, Nutella, butter & egg butter, cheese & smoked ham, Moko's own mixed berry jam and orange marmalade, brie & grapes, peppers, pickles, sausages & meatballs, spinach-feta omelette, chickpea hummus, salmon, shrimp or chicken salad and vegetable salad, salad dressing, curd cheese, natural yoghurt, Moko's own homemade crunchy granola, fruit-shots, fruit plate, homemade chocolate mousse, berry pie, apple pudding and vanilla sauce.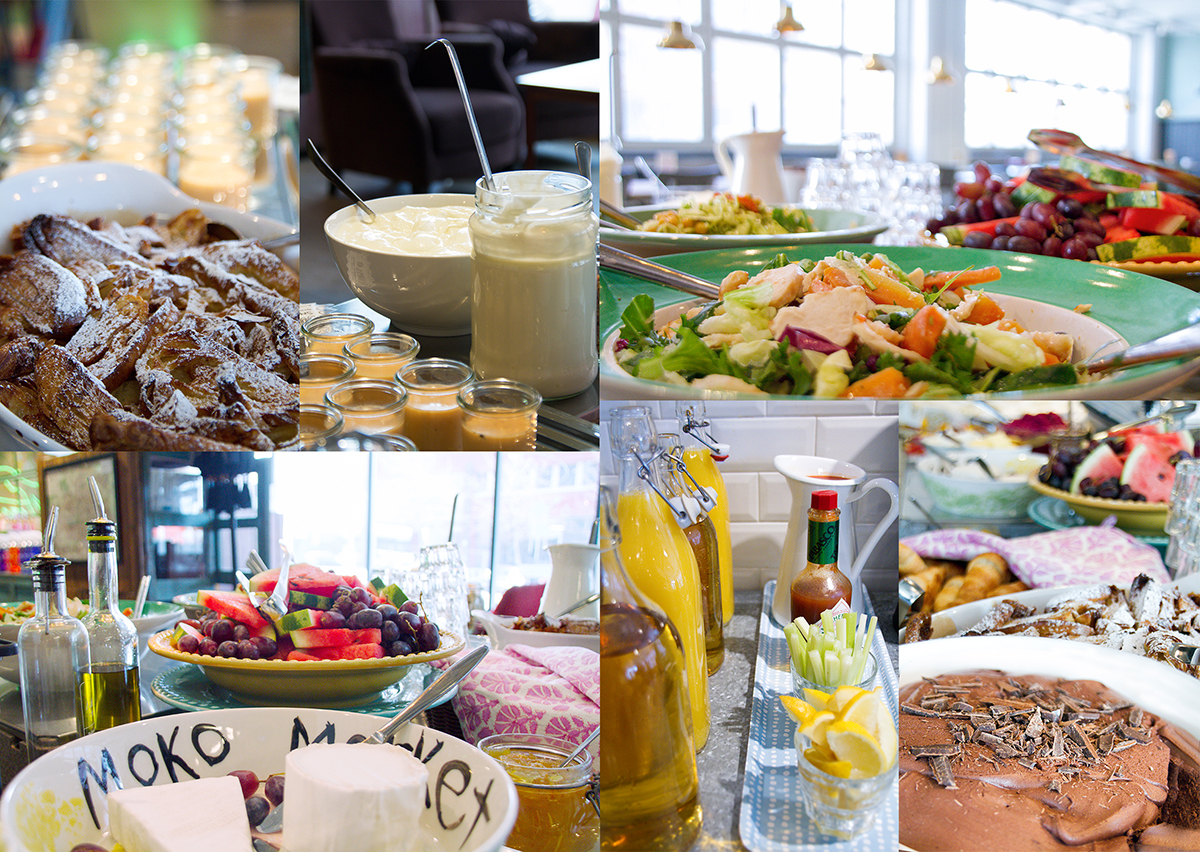 Karl Fazer Café
Kluuvikatu 3
The options vary from weekend to weekend at the Karl Fazer Café, which serves brunch on Saturday from 9am until 3pm, and on Sunday from 10am until 3pm, for 35,90€. That said, you can expect to choose from a rich selection of Fazer bread and rolls, mini croissants, small rice pies and egg butter, cheeses, cherry compote, smoked ham, vegetables, yogurt, granola, cereals, fruit salad, salmon, Skagen frankfurters, tarragon mustard and ketchup, Spanish omelette, a variety of salads, pancakes with garnishes, fresh juices and smoothies, coffee and of tea.
Sandro
Kortelli, Kamppi shopping center, 5th floor
Sandro serves their Marrakech Madness Brunch every weekend at each Sandro. A huge selection of salads & warm dishes and of course the beloved dessert table. And not to forget about a glass of Mimosa to start with! Seatings are at 10:00, 12:00, and 14:00 on both Saturday and Sunday. Brunch is 26.90€.
Krog Roba – Hotel Lilla Roberts
Pieni Roobertinkatu 1-3
Tucked away on a peaceful side street in Helsinki's famed Design District, Hotel Lilla Roberts is one of Helsinki's newest design hotels. In a historic building, originally built as a power plant in 1908 by Selim Lindqvist, Lilla Robert's Art Deco styling has made it a popular addition to the city, with their Krog Roba restaurant a focal point. On Saturdays and Sundays Krog Roba provides a delicious brunch from 12:30 until 15:00 for 35€. The brunch menu features the best of both traditional and modern Nordic cuisine, sourcing the kitchen's ingredients from in and around Helsinki; most of the meat comes from farms around the capital, the fish from the Baltic Sea, and seasonal vegetables from local farmers.
Pastis
Pieni Roobertinkatu 2
Restaurant Pastis describes itself as a "little piece of France in the heart of Helsinki city". Their aim is to offer French classic delicacies, which are hand made, fresh and tasty. Everything is made from hand-picked high quality ingredients from Finnish producers as well as from a selection of international producers. Brunch is served on Saturday from 11:30 until 14:00, and costs 34€.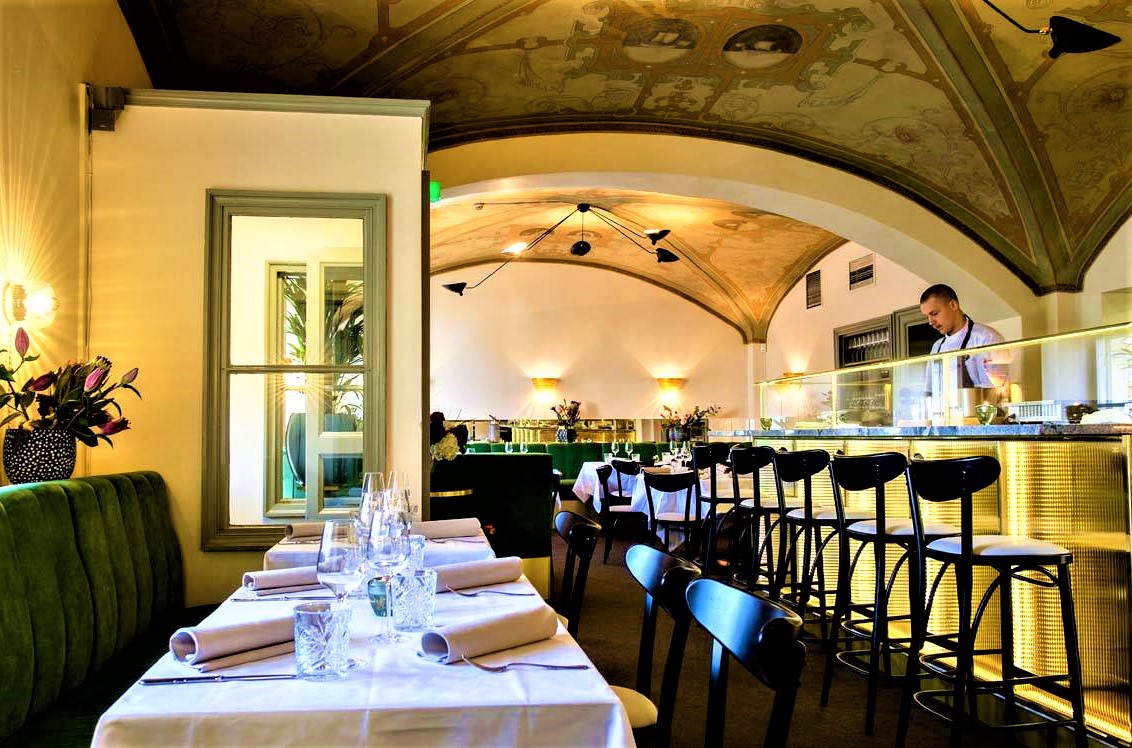 Klaus K / Livingroom
Bulevardi 2-4
Klaus K Brunch consists of high quality local produce. Brunch menu changes slightly every week according to seasons. Every dish is prepared with care and tenderness from the scratch. The atmosphere is relaxed and food offering is plentiful. Starters and desserts are served from the buffet and main courses are on display in carvery. You can choose the dishes and amounts yourself. Brunch is served on the weekend between 12:00 and 15:00, for 35€.