If Finland is famous for anything, it isn't mountains. The tallest peak is Haltitunturi at 1,324m, situated right on the Norwegian border (along with most of Finland's other tallest peaks), and yet despite this lack of mountains Finland can still boast of having over 100 ski resorts. What it lacks in height, it more than makes up for in snow – around 200 days a year. And although it is lacking in mountains there are plenty of hills, or fells if you prefer, with any decent hill of note likely to have a ski centre attached, perhaps with only two slopes and one lift, but well equipped in other respects. While there are quite a few of these smaller ski centres in southern Finland, as you travel further north you find those which can only be described as 'resorts', for example Ylläs with 63 slopes, Levi with 45 and Ruka with 35.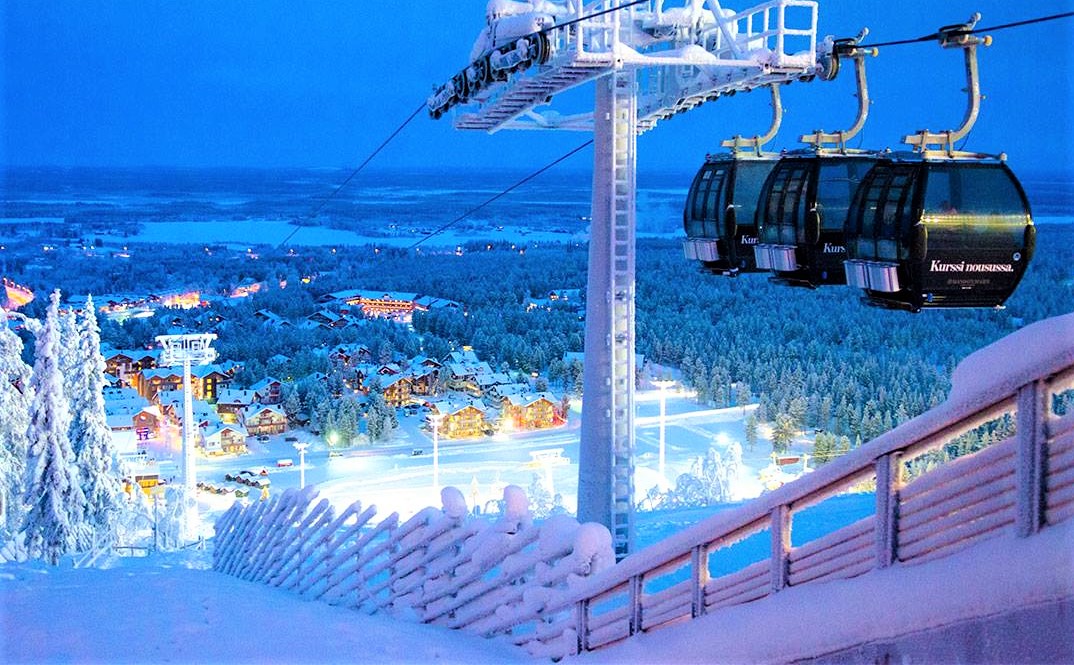 Finnish ski resorts obviously can't compete with high altitude resorts like those in the Alps, yet year on year foreign skiers visit Finland, many of them returning again having enjoyed previous visits. What is it about the Finnish ski resorts that so appeals? As it turns out, there are a number of ways in which the Finns have managed to ensure their resorts are growing ever more popular.
The Advantages of Finnish Ski Resorts
The first is the snow. As mentioned earlier, Finland gets a lot of snow and it lasts a long time. Much of Finnish Lapland is above the Arctic Circle, and the winters here are long and cold. The first resorts can be open as early as November and remain open through May. Finland is a high-tech country, so even when the snows are slow in arriving there are very efficient snowmaking systems available to compensate. The country has invested considerably over the years to keep at the cutting edge of these technologies, and today is a world leader in 'snow how'!
The abundance of snow, and the length of time it lasts, is complemented by the considerable work done by the resorts in maintaining and grooming the slopes. Finnish ski slopes are always in excellent condition, free of ice and rocks. Additionally, the ski areas are very clearly defined. As Europe's most north-easterly country, Finland has short days and long nights in winter, in Lapland there is no day at all! As a result, all resorts have very well lit slopes. There is no danger of getting lost, nor is there ever any danger of avalanche.
Finnish ski resorts have invariably got excellent lifts, and there is seldom if ever a queue to use them as the ratio of lifts to slopes is one of the highest in Europe. On the rare occasions when there is a queue, the wait is only a matter of minutes.
Every Finnish ski resort that has more than a handful of slopes can provide one to suit every skill level, from the challenging black slopes for the most experienced to the gentler green or transition slopes for beginners and children, and everything in between. Thanks to Finland's sparsely populated countryside, every resort can also provide plenty of cross-country ski tracks, many kilometres of which are illuminated, for the serious athlete.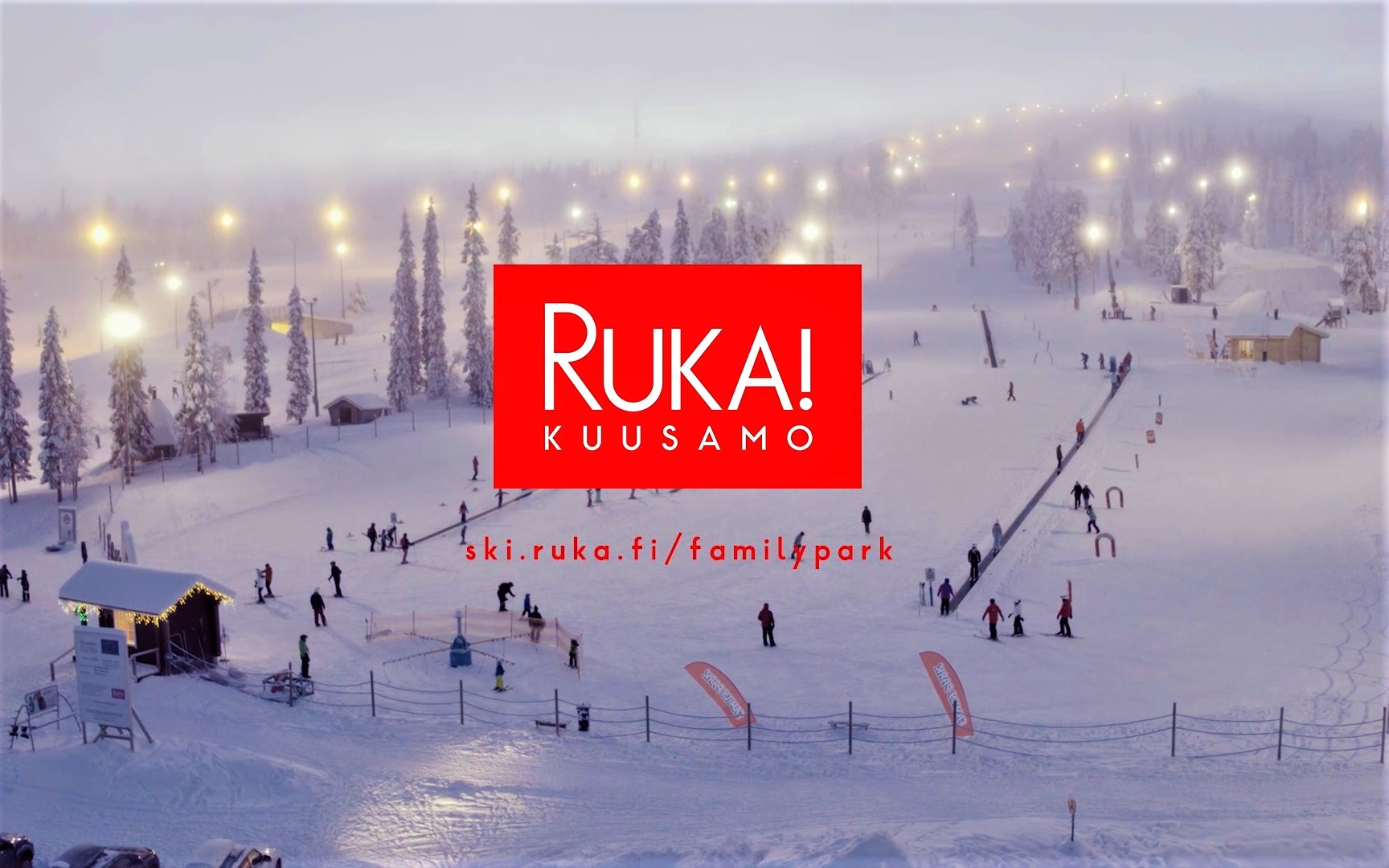 There are plenty of slopes specifically for children, and almost all the bigger resorts provide a children's play area as well. In Ruka Ski Resort in Kuusamo the Rosa & Rudolf Family Park is Finland' biggest all-family snow park area, easily accessed via the new Village-2-Valley scenic gondola. The area features snow-tubing, safe ski slopes, a skiing carousel, a snowy playground, and is located next to the Bistro slope restaurant when hot drinks or snacks are needed. Young snowboarders will find beginner level jumps, rails and other jibbing features in Rosa Park. Finland's most popular resort, Levi Ski Resort, features a dedicated and supervised Kid's Land at the front slopes, as well as Leevilandia, a fun playground for kids at South pistes, with two magic carpet lifts and one pome lift to learn skiing. Muksutupa offers a safe indoor day care place for smaller children. There are excellent facilities on both sides of the massive Ylläs Ski Resort, with magic carpet rides, rope-tows, carousels, kids playgrounds, and a daycare centre.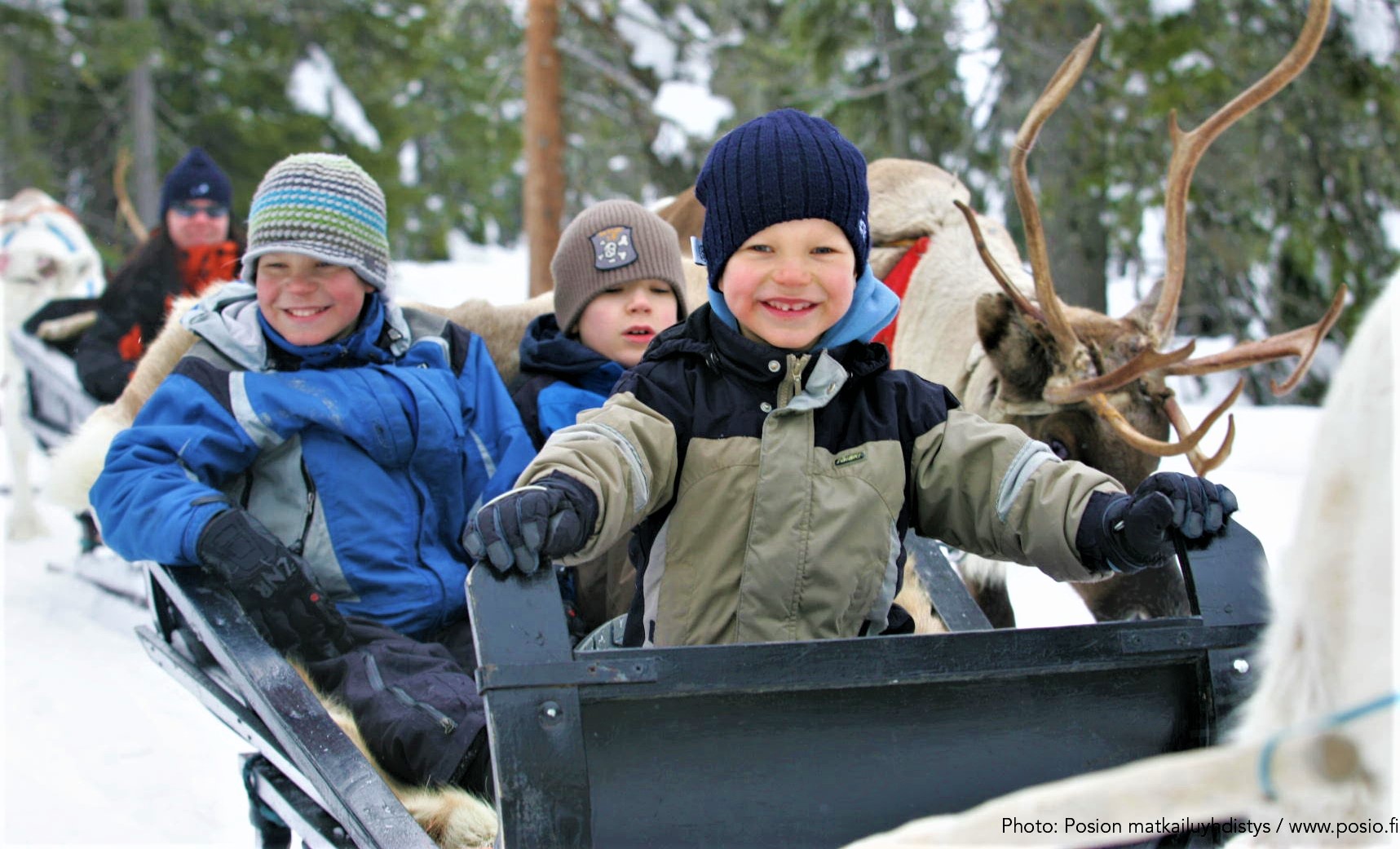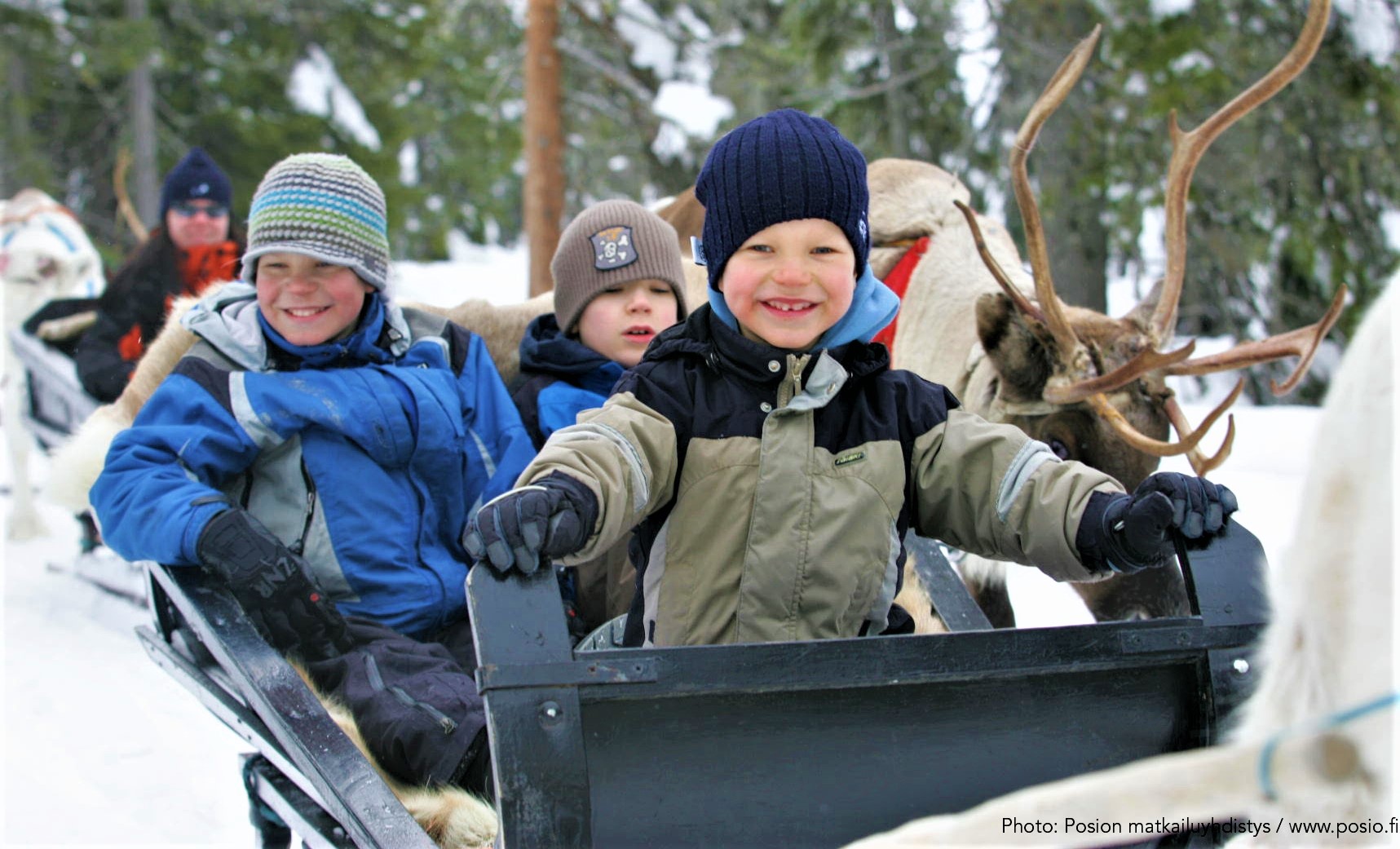 And there we come to the real attraction of Finland as a skiing destination: family appeal. The ski resorts in Finland are very well suited for families, not just because of the onsite facilities (which are excellent), but also because of the numerous activities available nearby. The accommodation options often include rental chalets and log cabins, or apartment rentals, where families can relax without feeling confined to just a couple of hotel rooms. In Rovaniemi, for example, the ski resort is just a few kilometres from the city centre, and you can arrange a day trip to visit Santa in the world famous Santa Claus Village, check out the amazing Arctic Snow Hotel, take the kids sledding in Snowman World, or descend into a Elvish cavern at the fascinating subterranean Santa Park. Other offsite treats available are visits to reindeer farms, safaris on sleds pulled by huskies or reindeer, or visits to genuine Sámi villages and cultural centres.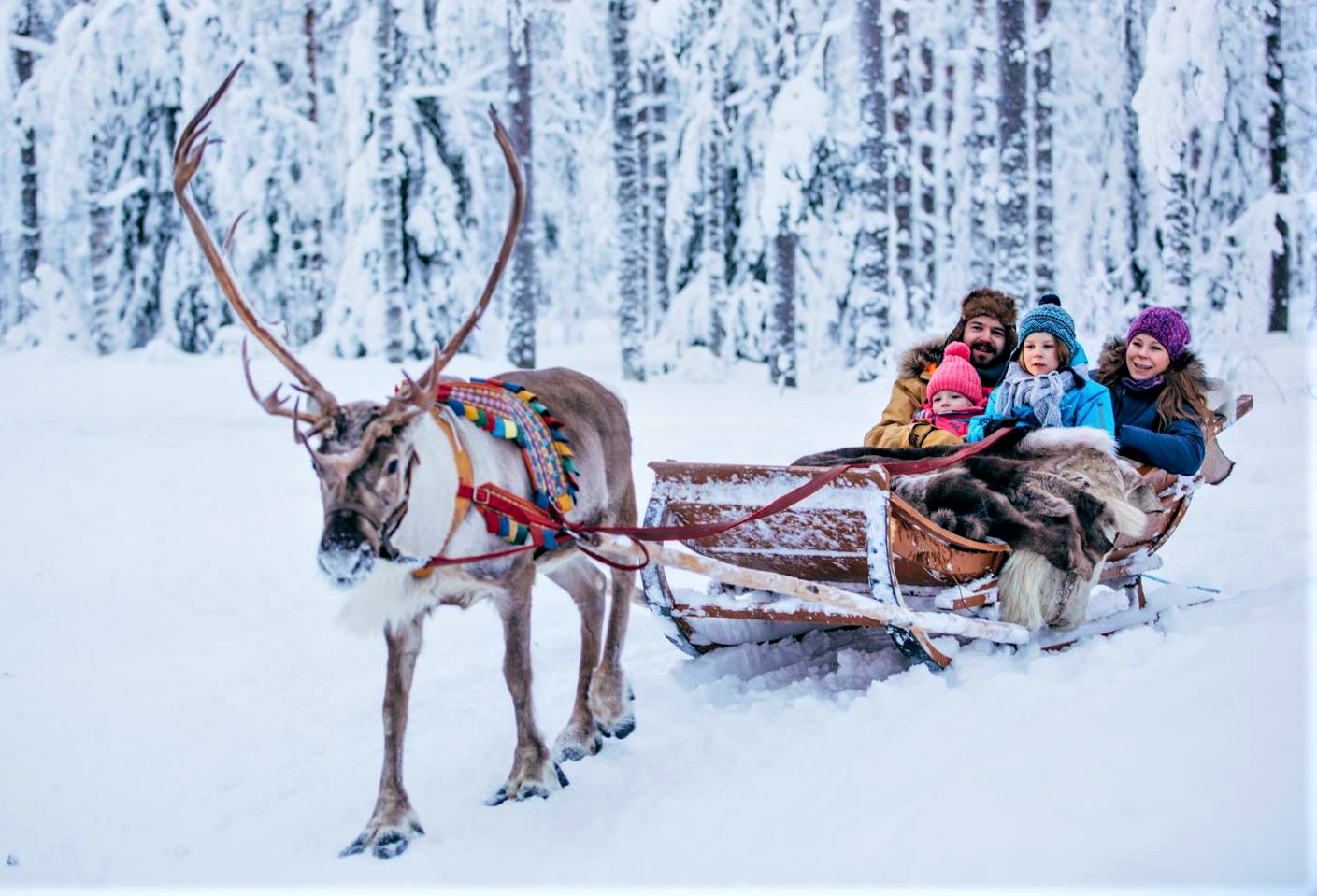 Finally, one of the fastest growing markets in Finland is snowboarding. Snowboarders around the world, aware of Finnish prowess in this ever-growing sport, have made Finland one of their destinations of choice. The country is home to some of the world's best: snowboarders like Enni Rukajärvi, Antti Autti, Rene Rinnekangas, Peetu Piiroinen, and Markku Koski have all garnered international acclaim. What the Finnish resorts lack in natural terrain, they more than make up for in the number of excellent snowboard parks and halfpipes. Many resorts also have snowboard streets, complete with jumps, rails, and kickers, boxes and moguls, and employ specially trained instructors for those who have yet to discover the thrills of this sport, and for those looking to learn new tricks, including Free Style lessons.