Finnish Lapland is a more popular destination than ever before. Visitors who want to experience the magic of Lapland and to enjoy numerous unforgettable experiences and activities, while also enjoying a stay in a five-star residence, should head to Levi in Kittilä. Three new villas, idyllically located in the pristine arctic wilderness close to the Levi resort, combine luxurious accommodations with access to pure nature and unforgettable experiences!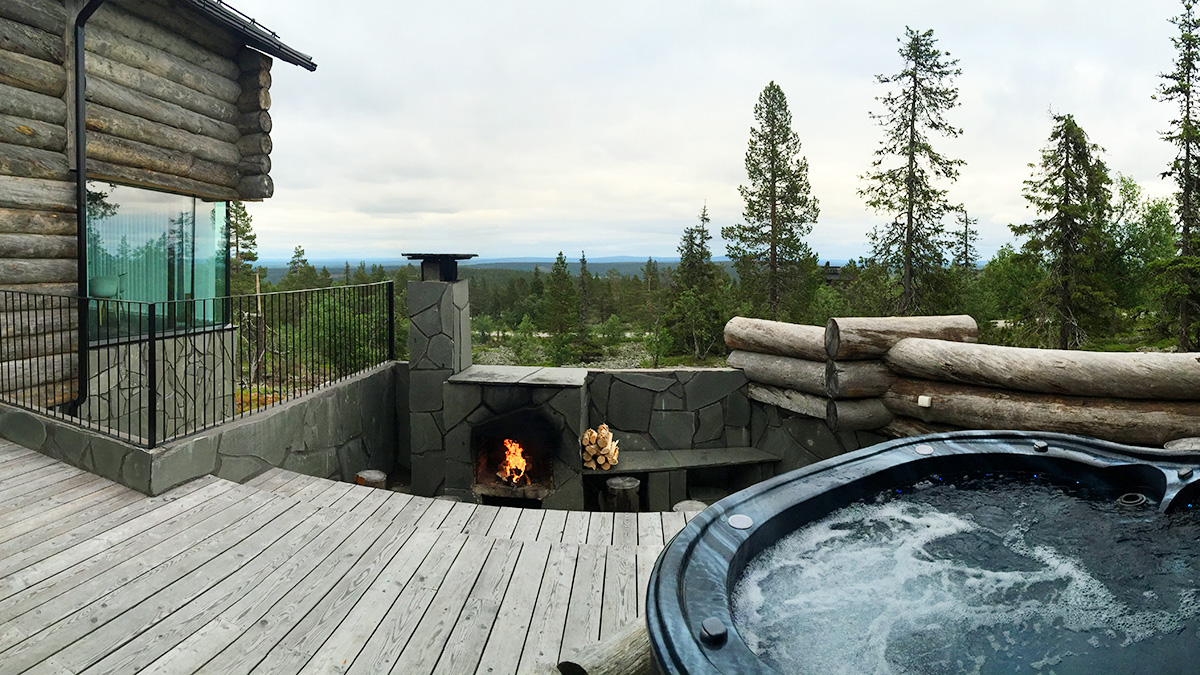 There's a magical enchantment to Finnish Lapland that attracts people to the north to enjoy the unique landscapes and the wide variety of adventures available. And having visited once, the memories collected and treasured during their visit ensure that many return again. Among those visiting Finnish Lapland there has been a growing appetite for the highest quality of accommodation to further enhance their holiday experience. For those visitors seeking the highest quality available there are three options that stand out from the crowd, villas that combine practicality and quality in an unforgettable milieu where guests can live like royalty. Are you ready to experience the glamour of Lapland in five-star luxury?
LEVI ´N´ SKY LUXURY VILLA – 5-star ski chalet with a view
Entering this spacious 300 m2 ski chalet you will immediately appreciate the first class interior design and the high end equipment throughout, and that's even before you see the view! Levi 'n' Sky luxury villa is perfectly situated in Levi's prestigious Utsuvaara neighborhood, sitting high on a hill with a majestic view of the surrounding fells, forests and slopes
This 5-star villa features three floors with six luxurious bedrooms, an open-plan living area with a large open fireplace, a modern kitchen, and wide windows overlooking the last great wilderness in Europe. Although Levi 'n' Sky was completed as recently as 2012, the villa is fashioned from mighty logs giving it the kind of authentic feel of an Alpine cabin. With a log fire burning brightly in the fireplace, and the jacuzzi and sauna warmed up, the villa couldn't feel cozier or more comfortable. Beyond the wall-sized windows there is a fine patio which includes a premium jacuzzi that accommodates 8 people, and a stone fireplace. The jacuzzi is heated and can be used all year around, ideal for admiring the Northern Lights or the Midnight Sun, depending on the season.
Levi 'n' Sky luxury villa is situated just 10 minutes from the Levi Village centre, with both the closest ski tracks and lifts, and the nearest restaurant, within easy walking distance. There are plenty of other services and activities available in Levi, which can be arranged for guests with ease. Whether you are planning an unforgettable vacation, a special day, or a business event, Levi 'n' Sky is the perfect choice.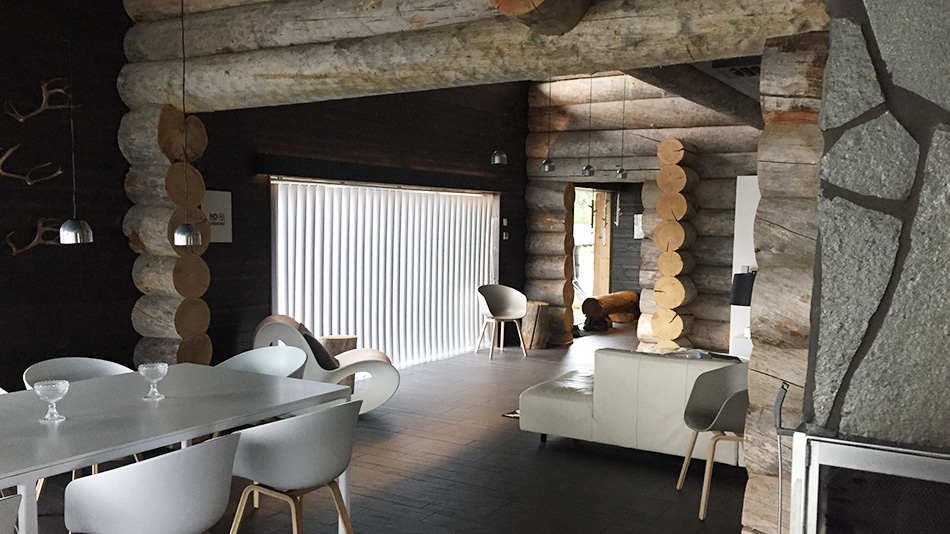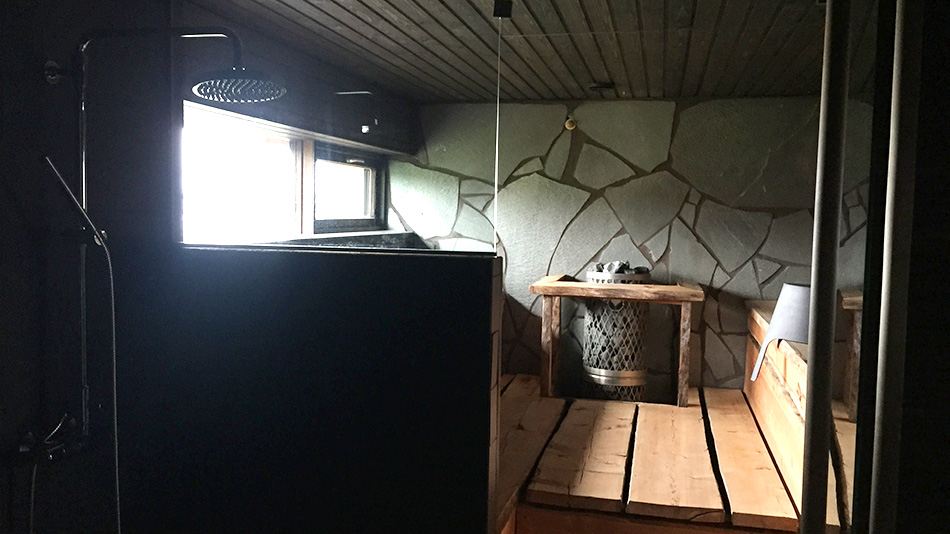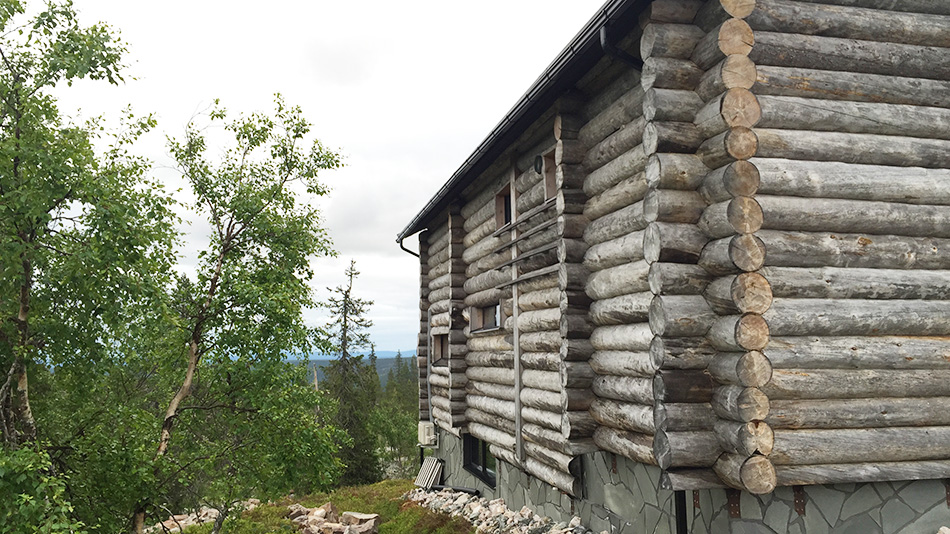 LEVINUTSU – a modern villa near activities
Situated atop a 360m high fell in Levi's renowned Utsuvaara region where it commands magnificent views of the pristine arctic landscapes that surround it, Levinutsu is a 112 m2 modern villa with easy access to all of Levi's facilities. The nearest ski trails are just 50m away, snowmobile trails 100m, and ski lifts just 400m away.
Levinutsu villa is a cosy and comfortable choice for families and small groups, with three bedrooms that accommodate six adults, a compact but modern and well appointed kitchen, a living room with fireplace, shower, sauna, outdoor jacuzzi, and a utility room with a washing machine and drying cabinet. There is also a car-port with a pre-heating facility for guests arriving in rental cars.
Completed in 2008, Levinutsu is ideally located for both sports enthusiasts and nature lovers. The upstairs bedrooms have their own balconies, and there is spacious veranda accessed through the living room. The ground floor features floor to ceiling glass walls, with incredible views over the surrounding region, while there is a large, heated jacuzzi and a laavu in the yard, perfect for relaxing while enjoying the majesty of the Aurora Borealis in warmth and comfort. Behind the laavu a mountain stream flows past, the Ounas river, and there is a canoe with all the necessary equipment available for guests to use.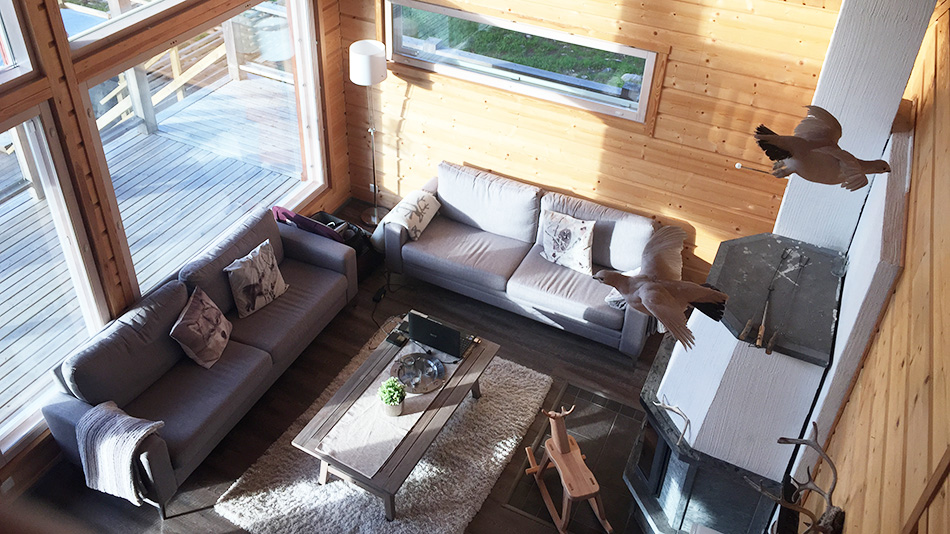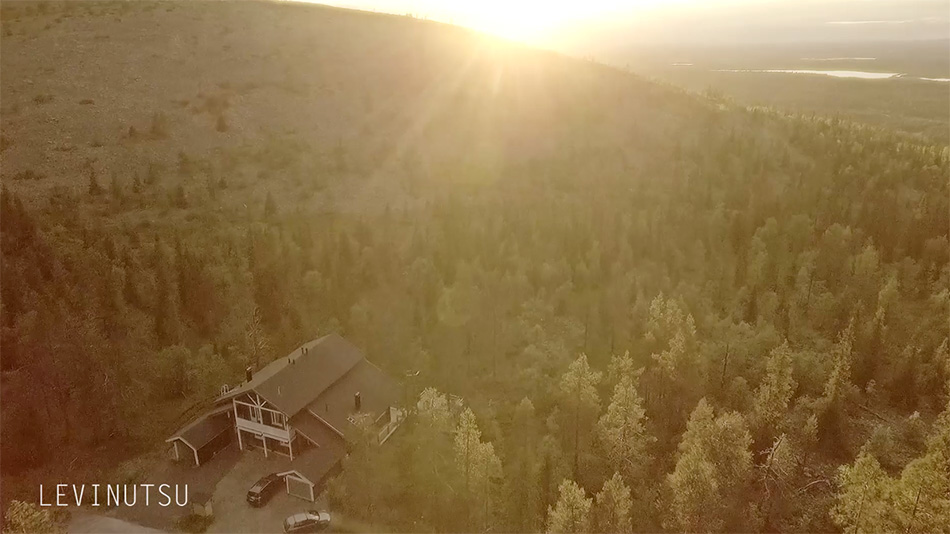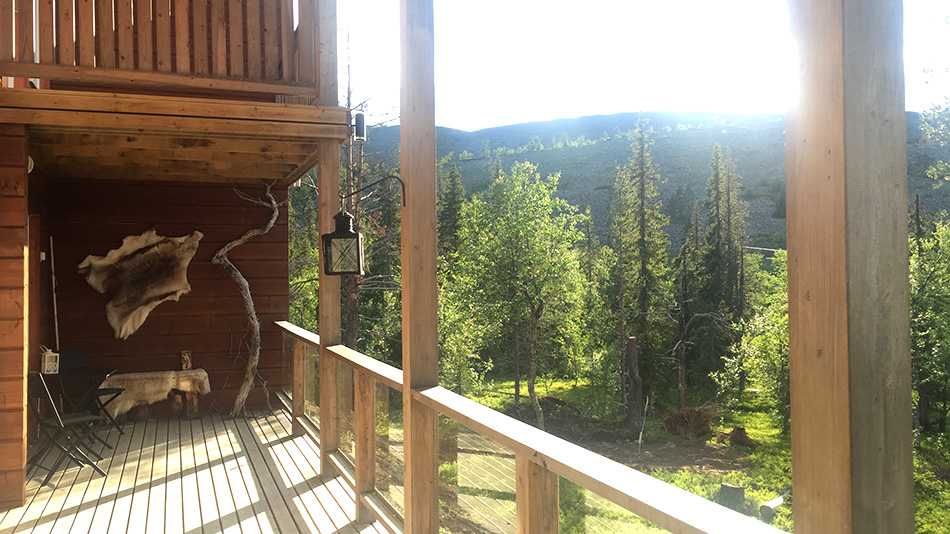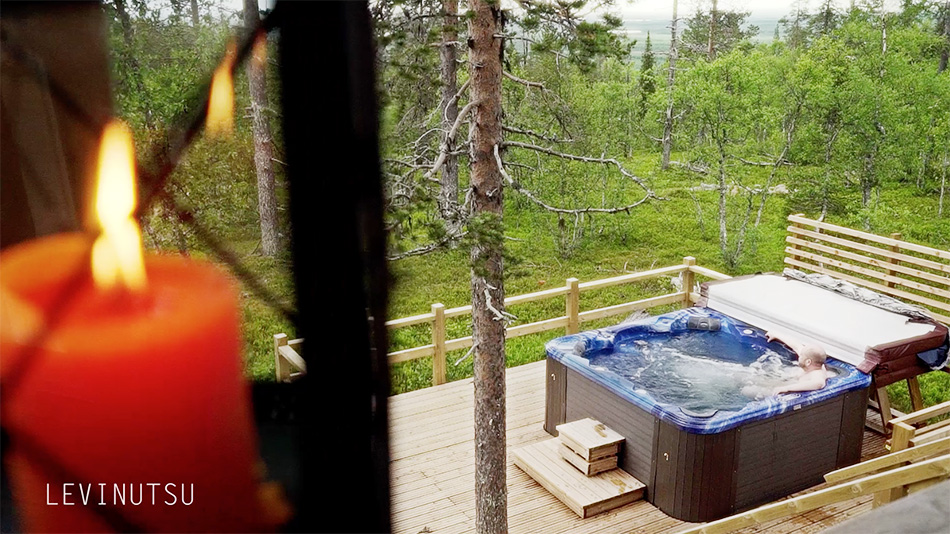 LEVI LIVE HOUSE – VIP Lapland Chalet

The Live Levi House brings the ambiance of an upmarket New York City penthouse apartment to the slopes of an arctic resort. This 250 m2 chalet was built in 2015 and has all the hallmarks of modern luxury accommodation. The interior design is as crisp and Scandanavian as the snow-covered fells outside; bright, spacious, and featuring the most modern of furniture and fittings, it is geothermally heated and illuminated by 2700 Kelvin LEDs in every room.
Built in 2015, Live Levi House is three floors of bright modernity, featuring six bedrooms with capacious cupboards, a large sauna, four showers, an impressive spiral staircase, and a living area that comfortably seats ten guests. The stylish kitchen and living room feature huge panoramic windows providing fantastic views over the surrounding fells and forests, with a cozy modern fireplace enhancing the atmosphere.
Live Levi House is ideal for family groups or business events. In winter, rental fees include two free ski passes, with access to the slopes and ski-lifts, and cross-country tracks, all in the immediate vicinity. There are literally dozens of safari and adventure companies operating from the nearby Levi Ski Resort, offering a wide range of activities including reindeer and husky sleighs, snowmobile rentals, and much more, both for adults and children. Levi also has a lively nightlife, with vibrant clubs, bars and restaurants.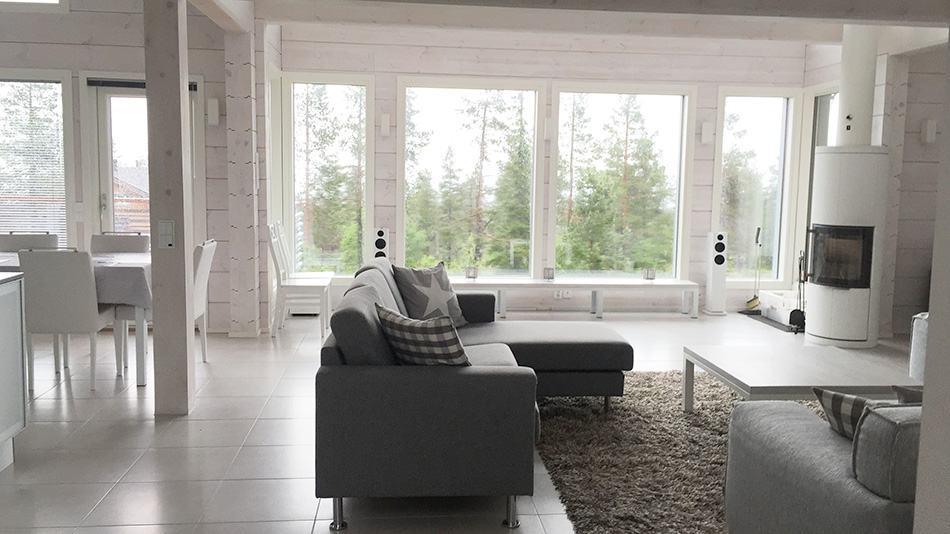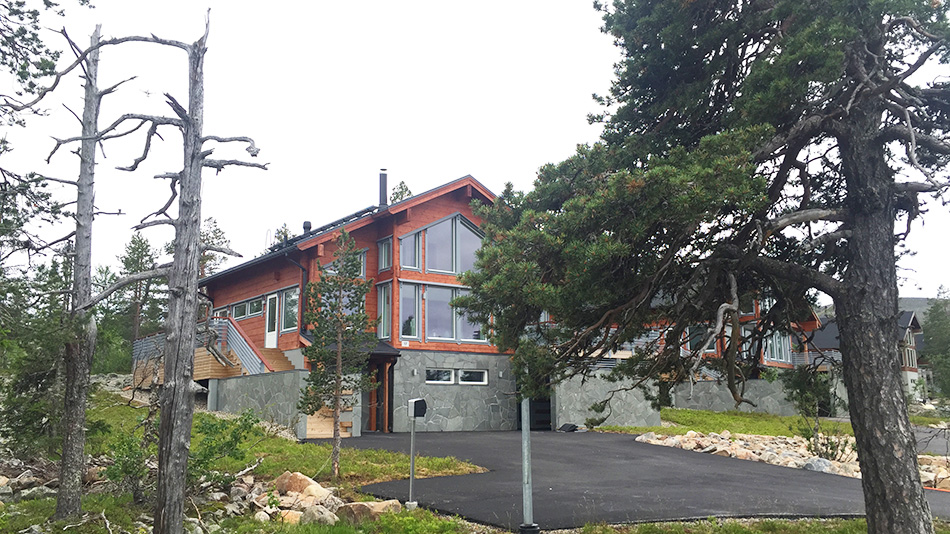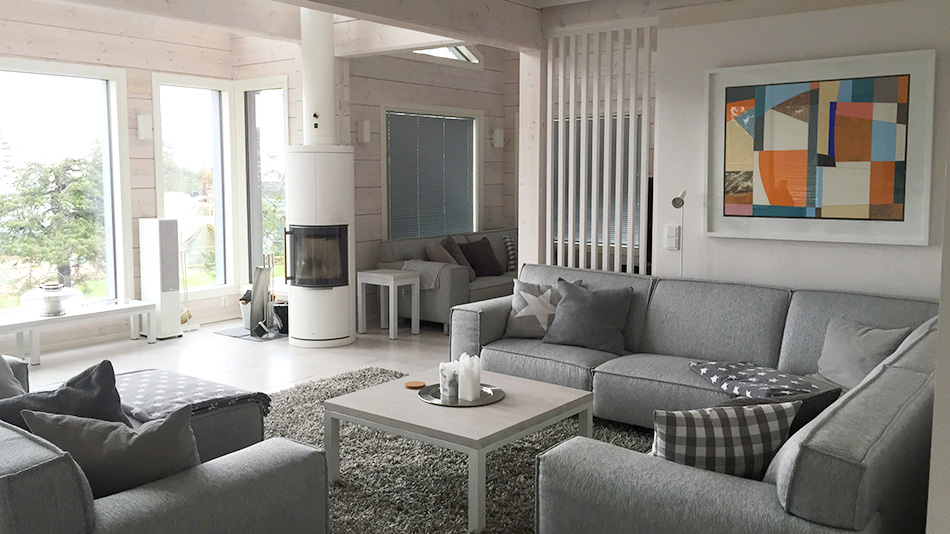 Seasonal Activities in Levi
Although the Levi region is best known for the impressive ski resort that bears its name, arguably the best in Finland, and certainly the most popular, there are a variety of activities available for the spring, summer and autumn seasons. Within three kilometres of the villa guests will find the most northerly full length golf course, where you can enjoy a round under the midnight sun! There are an abundance of nature trails that reward hikers and trekkers with some of the most beautiful natural views in Lapland, as well as a variety of trails for mountain bikers to explore. As the summer fades, there are ample opportunities to pick the delicious, highly nutritious wild berries that grow everywhere.
Past the resort lies the village of Sirkka, with a lakeside waterfront where visitors can take boat trips or rent canoes and kayaks. Ounas River also flows by the resort, with options to take riverboat cruises or enjoy some rafting. The same river and lakes are also very popular with fishermen, whether spinning, gigging, or fly fishing.
As the nights lengthen and grow darker in the fall, Levi is one of the best places in Finland to enjoy the northern lights, an experience that remains long in the memory of everyone who fortunate to see them.

How to get to Levi
Many airlines offer flights to Kittilä, a 15-minute drive from Levi center. By train, the trip is convenient for either Kolari or Rovaniemi, from where you can continue your trip either by bus or by train, or rent your own car.
Other great destinations in Finland