Kuusamo, and the nearby Ruka Ski & Holiday Resort, are well known around the world. Whether you are a sports enthusiast or someone who enjoys the beauty of pristine natural landscapes, there are an abundance of activities and experiences to choose from in this snowy arctic wilderness.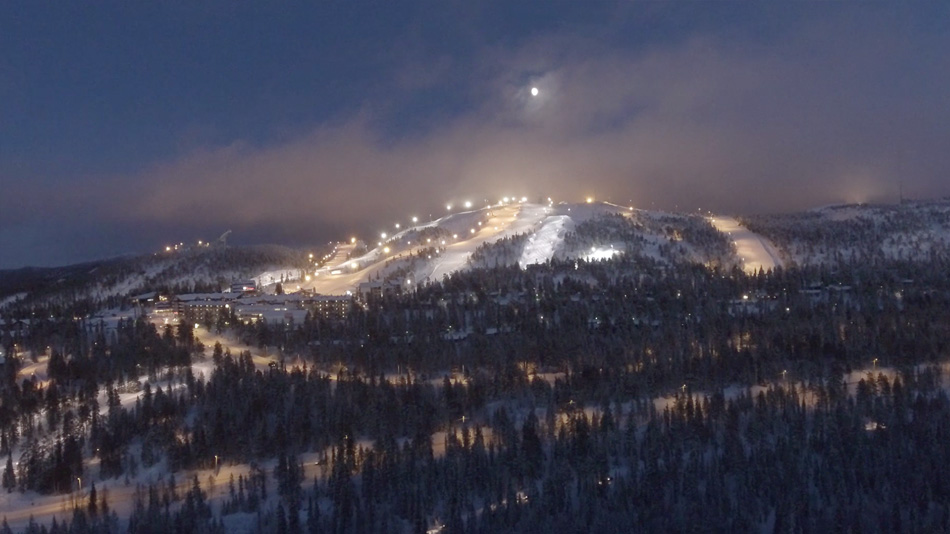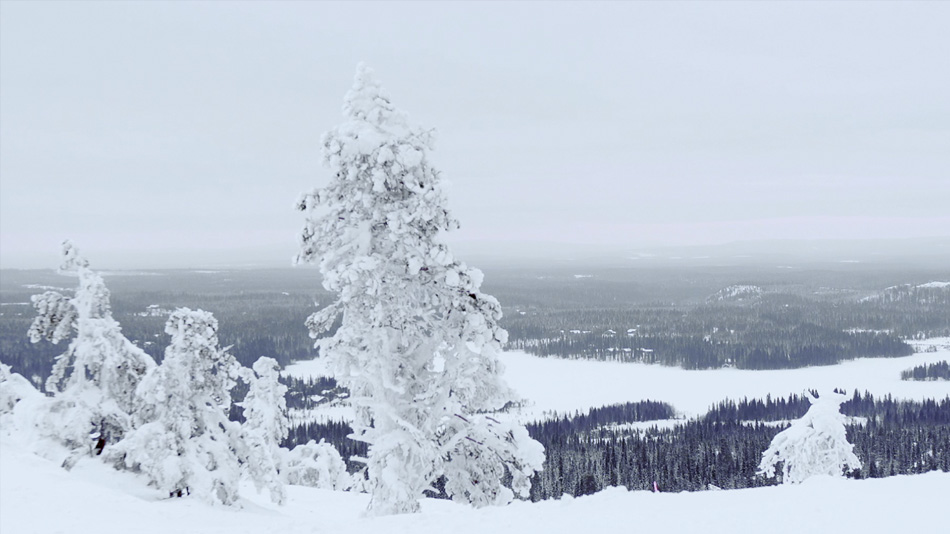 Winter adventures & activities in Kuusamo
Ruka! Kuusamo, situated in the southeastern edge of Finnish Lapland, close to the Russian border, Kuusamo's natural attractions and Ruka's excellent and modern services ensure that visitors to this gorgeous region have a wide range of activities to enjoy in the winter. Close by Ruka Ski Resort lies one of Finland's most popular, and most rugged, national parks. Oulanka National Park features some of the most recognizable and beloved natural attractions in Finnish Lapland, including the Myllykoski, Taivalköngäs, Niskakoski, and Jyrävä Rapids, the Kiutaköngäs Falls, and no less than 9 hanging bridges that cross the turbulent waters. There are numerous hiking trails in Oulanka National Park, the most famous of which is the 82 km long Karhunkierros Trail, making it one of the most visited in Finland by hikers and mountain bikers.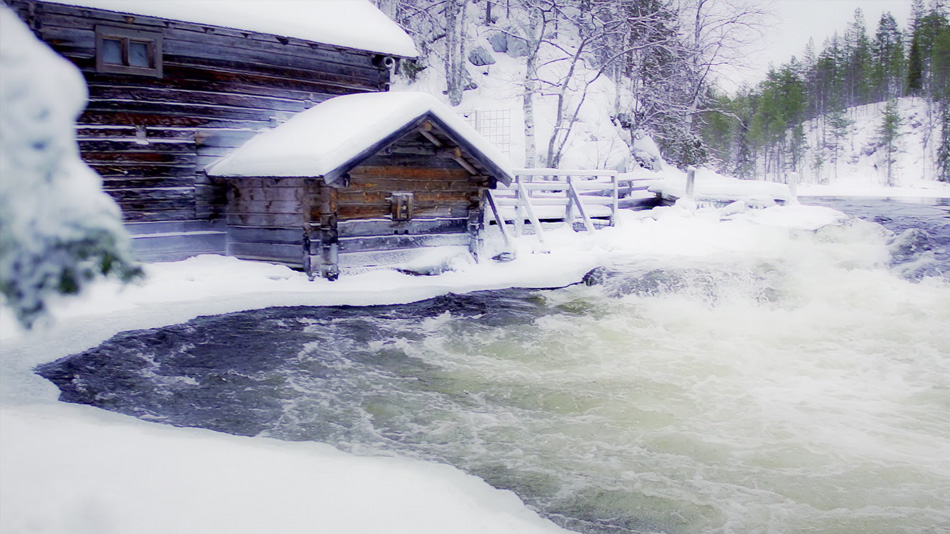 There are many travel agencies in the region that arrange guided tours for winter activities, suited to every level of exertion and taste. For example, Ruka Adventures offer a host of different excursions, including a tailored package which combines snowmobiling through magical forest landscapes to a frozen lake to try out the popular Finnish pastime of ice fishing. Another of Ruka Adventures most popular excursions is a snowshoe hike in search of the Northern Lights.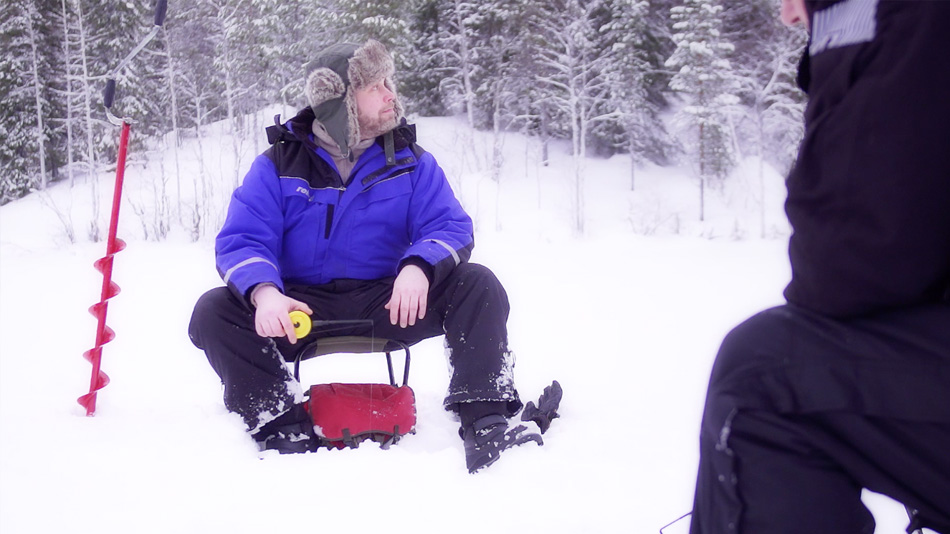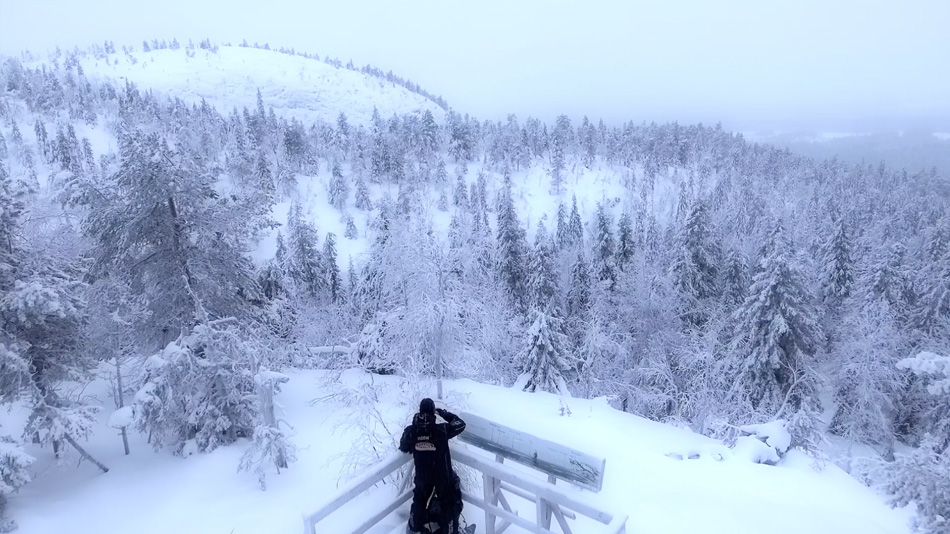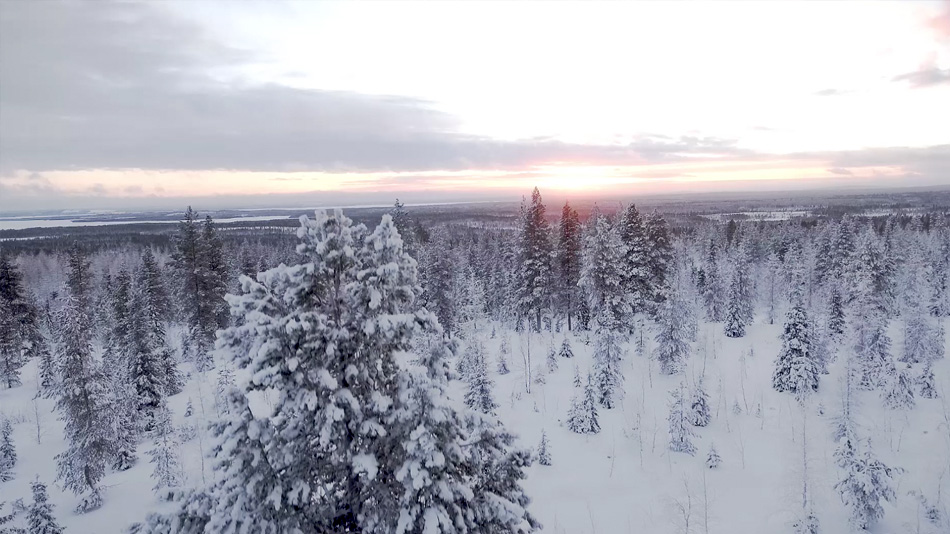 Safarihouse Ruka's newest adventure takes visitors on an Ice Floating trip, with participants gently floating down-river. When the conditions are right the ice-floaters get to combine the peaceful relaxation of their trip downstream with the excitement of seeing auroras light up the skies above!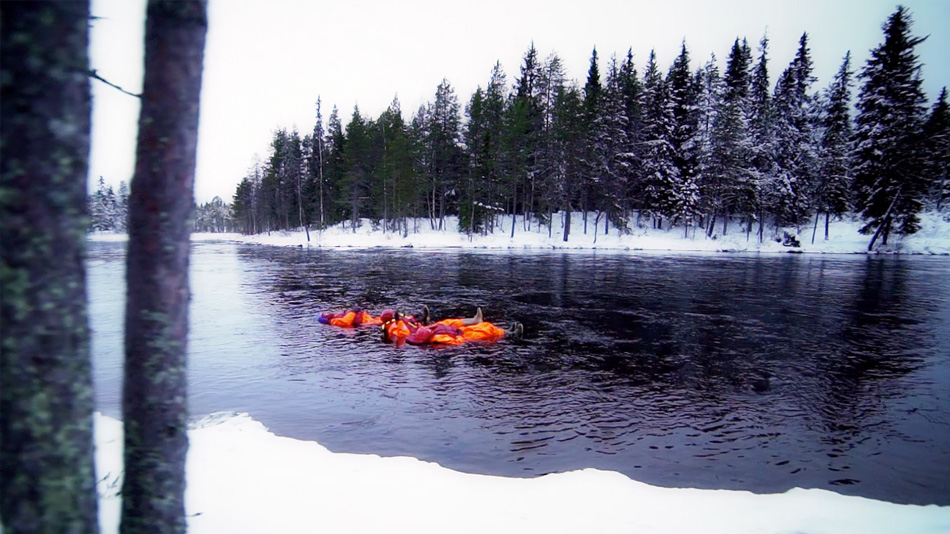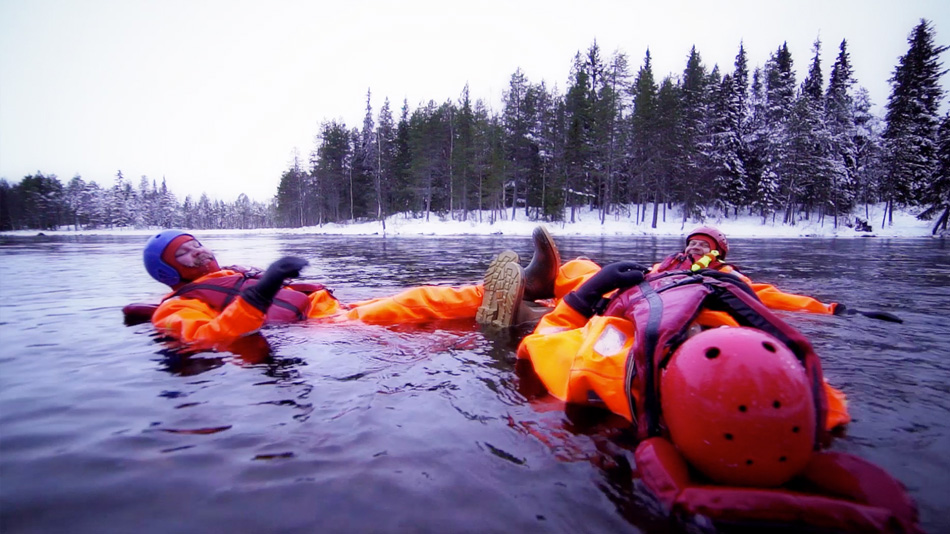 Another quality tour operator, Ruka Safaris, also provides a range of activities to choose from, including memorable snowmobiling tours through Kuusamo's enchanting taiga forests. From the snug comfort of your sleigh you can admire the spectacular scenery before stopping at a lean-to (in Finnish Laavu) to enjoy coffee and a bun, and hot sausages cooked over the open fire.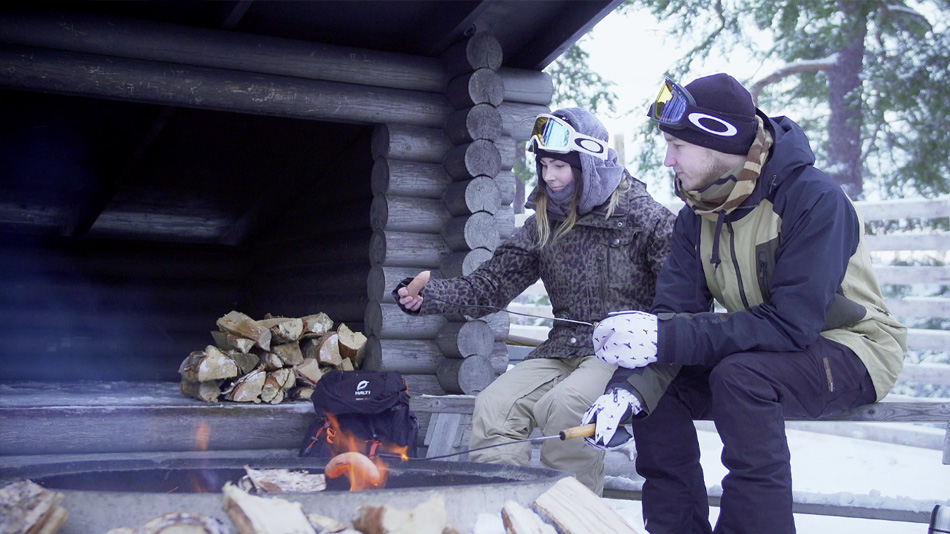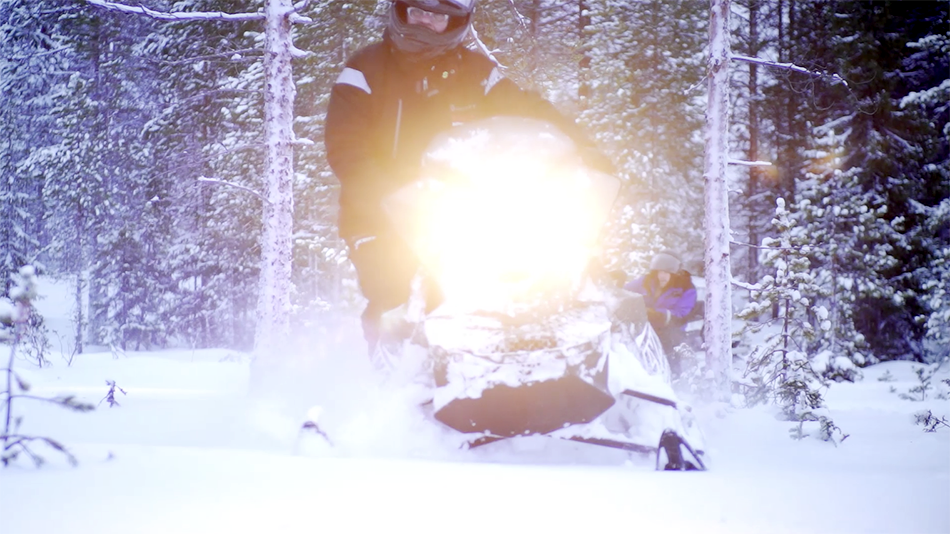 For centuries, if not millenia, the reindeer has played a significant role in the lives and lifestyles of the Sámi, Finland's indigenous people. At Palosaari Reindeer & Fishing Farm visitors can experience this lifestyle first hand. Palosaari provides reindeer-pulled sleigh rides through snowy trails, and for those who drive their own sleigh there's a reindeer driving licence available at the journey's end! Fishermen can try their luck ice-fishing on a wilderness pond, followed by grilling sausages over an open campfire, with coffee and snacks. Visitors can pet the reindeer while feeding them lichen, an experience perfect for capturing in a photo – ideal for making into your own personal Christmas cards!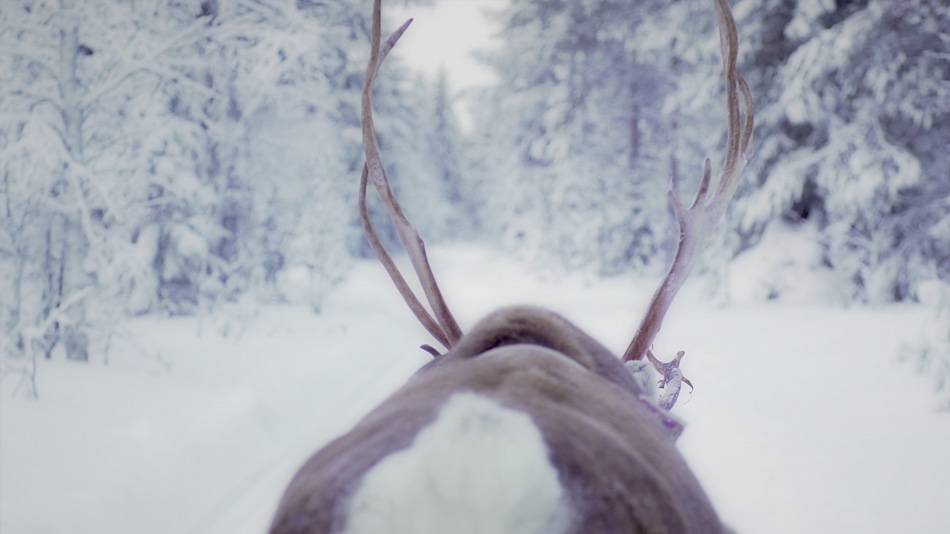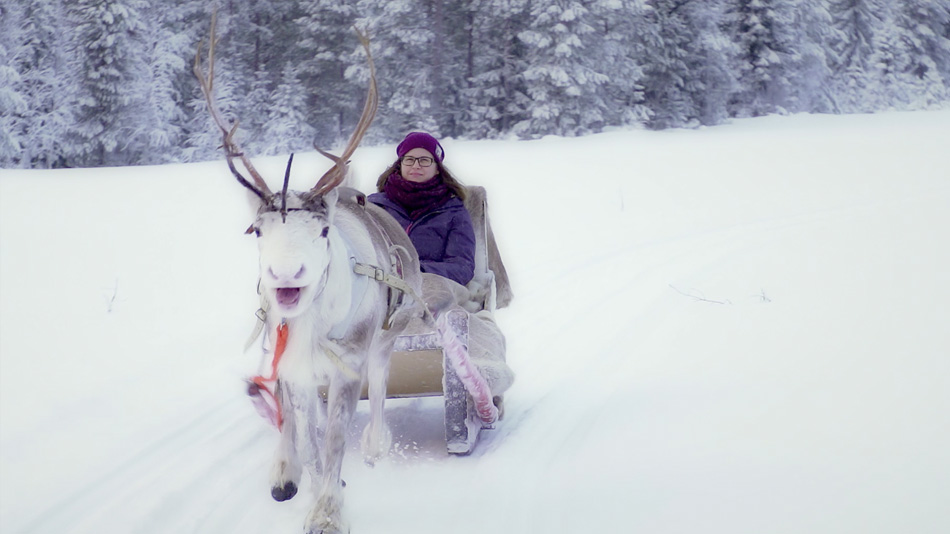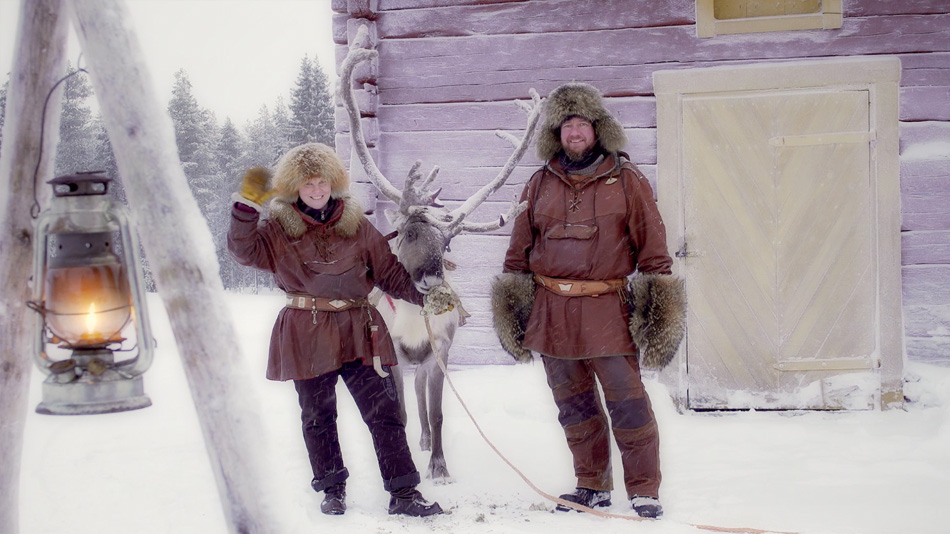 Isokenkäisten Klubi – a Pearl on the Eastern Border

The Isokenkäiset Club is located just a stone's throw from the Russian border on a beautiful lake. A family run business going back two generations, the Isokenkäisten Club provides a range of travel services in the Kuusamo region, a little over 30 minutes from the Ruka Ski Resort. Isokenkäisten Club is a holiday resort with accommodation options that include the Wilderness Hotel Kortteeri and comfortable log cabins (all of which have a fireplace and a private sauna). On the shore of Lake Erämaajärvi there is also a seven-star smoke sauna, where relaxing aromas and gentle heat are soothe body and mind. Many of the braver winter guests take the plunge into a nearby ice-hole, before returning invigorated for another sauna session, while summer guests can enjoy the clear, clean waters while admiring the midnight sun. There are another 8 saunas available for guests, though only the hardiest would try them all in one day! There are many refreshing and pampering treatments available at Isokenkäisten Klubi, like their refreshing forest-flavoured footbaths with spruce oil or their massages using hot and cold stones.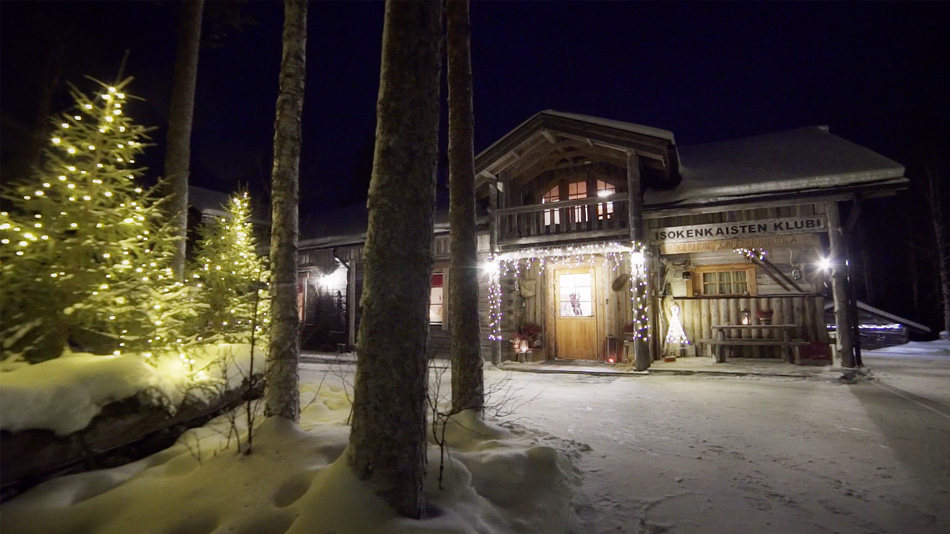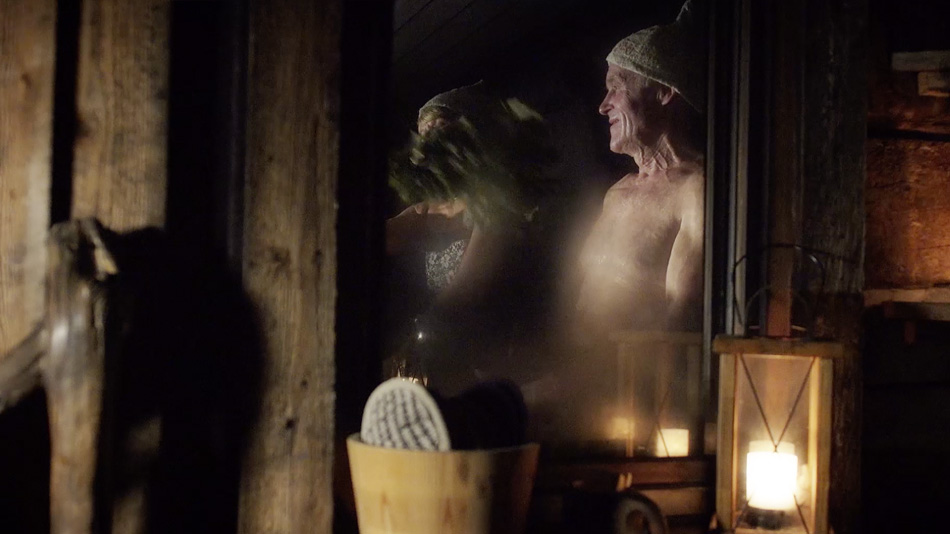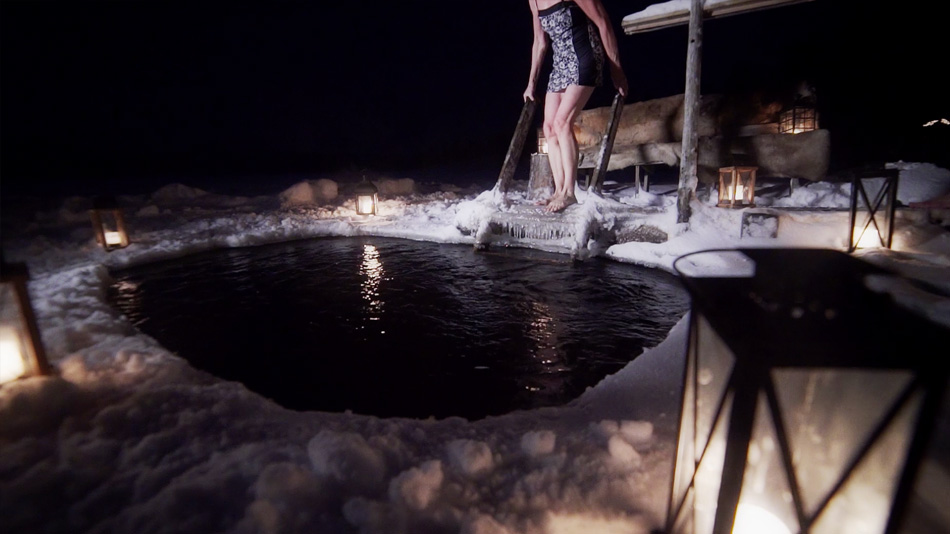 Santa's Pohjolan pirtti
While many people know that Santa's official residency is located in Korvatunturi, which is a fell in Lapland, far fewer know that for years Santa has been relaxing in his cottage in Kuusamo. At Santa's Pohjolan pirtti estate, in the middle of this northern wilderness, you can spend a joyful day with Santa Claus, Mrs. Claus and the elves! Santa's Cottage is located about 30 minute drive away from Ruka and Kuusamo, with transfers arranged from both locations. Visits to Santa's hideaway begin with tobogganing, with the elves instructing guests. The outdoor fun is followed by grilled sausages and hot juice in a hut, before the Santa and Mrs. Claus invite guests into their retreat to hear stories, to bake gingerbread cookies, and to make your own original Christmas cards.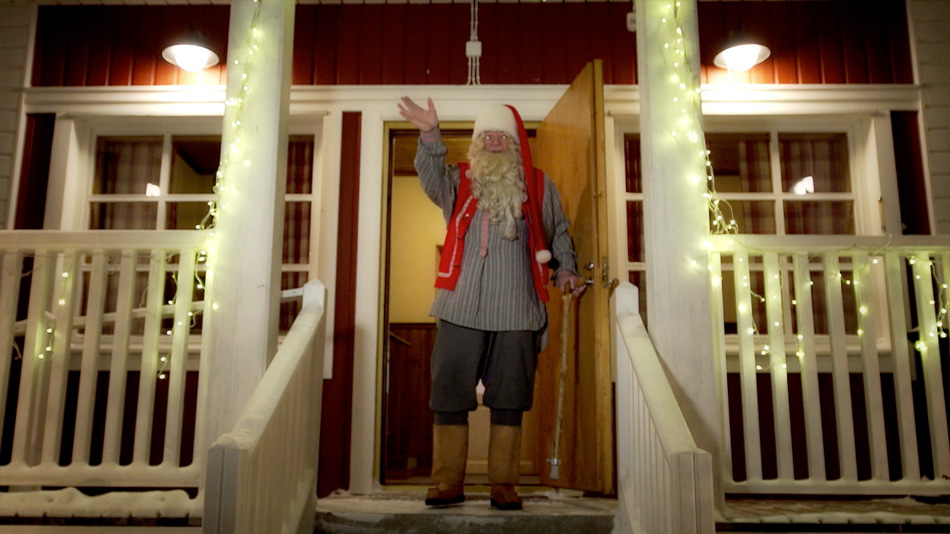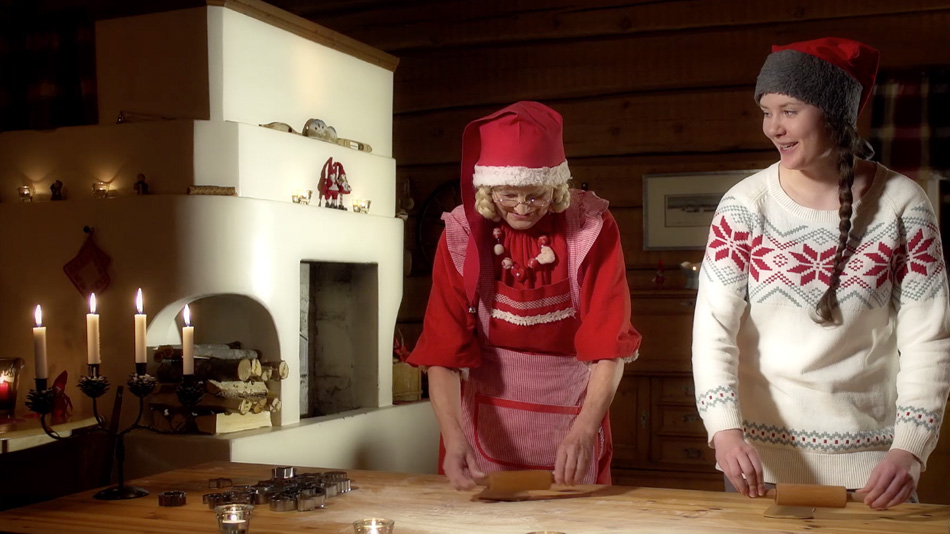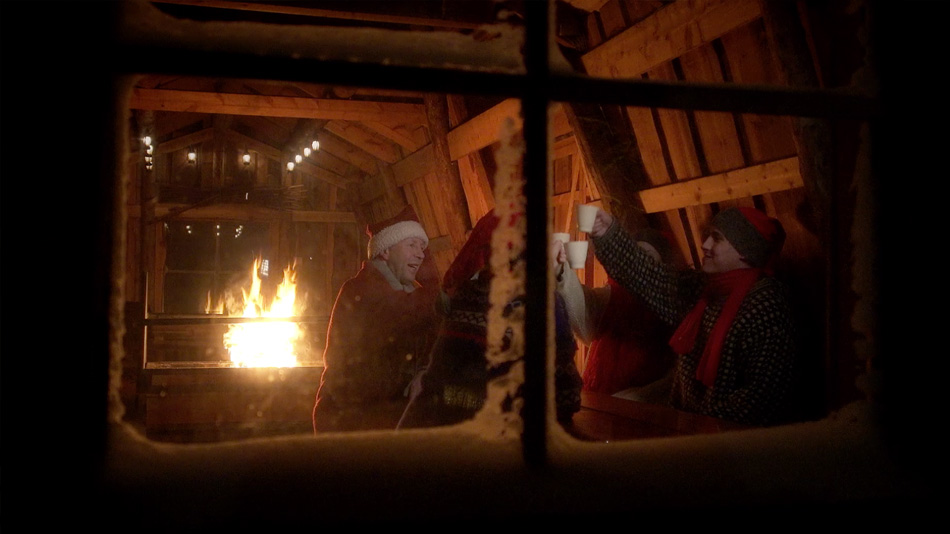 Ruka Village – right next to Ruka slopes
Ruka Village provides a wide range of accommodation options to cater for all tastes and budgets, from hotel rooms and guest houses to top class holiday apartments and cottages. The new Ski-Inn Hotel RukaVillage offers top class holiday apartments and suites which include their own kitchens and saunas and direct access to the ski lifts via a covered walkway.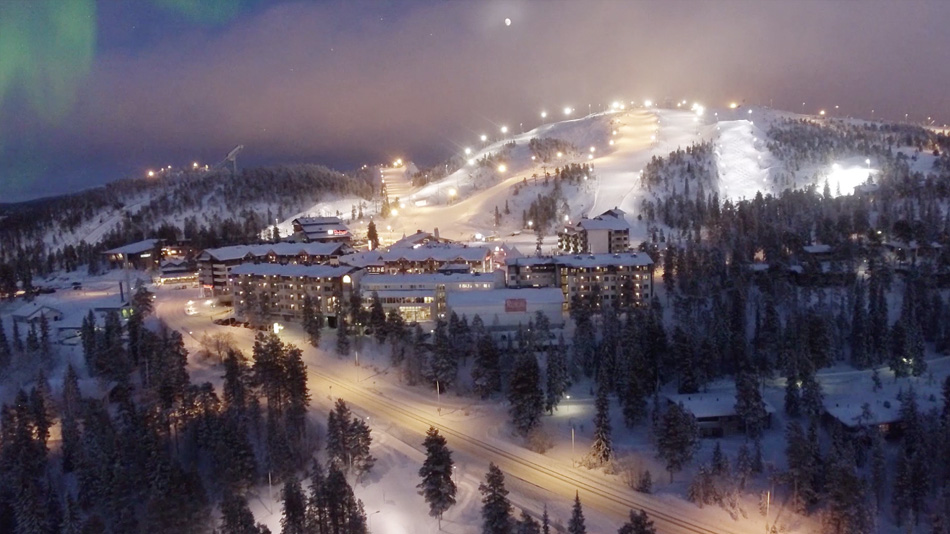 The restaurants in Ruka Village serve delicious Lappish and European cuisine, and is a paradise for shoppers with stores large and small offering a broad range of merchandise at surprisingly low prices.
Ruka Ski Resort is packed with winter fun and lappish experiences. One of Finland's best resorts, visitors enjoy well maintained slopes, efficient ski lifts and some of the most stunning views in Lapland. There are over 30 slopes, all illuminated, with the longest being over a kilometre. The ski season lasts more than 200 days. The multifaceted ski area is suited for children, adults, beginners and experts.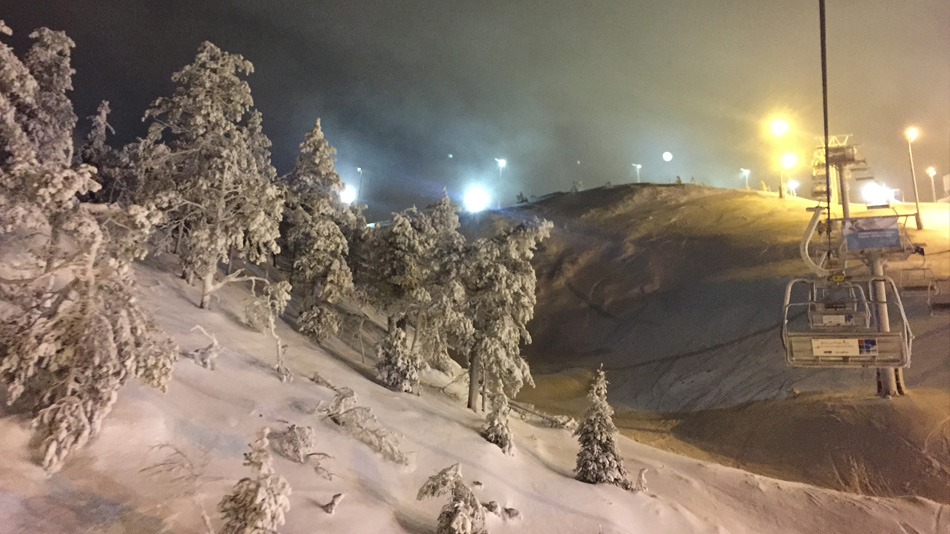 How to get there
Ruka and Kuusamo are easily reached by bus, car, train or plane. Visitors can take the train to Oulu, Rovaniemi or Kemijärvi, where there is a bus service to Ruka. Flights land at Kuusamo airport.