Kainuu is located in the Arctic Lakeland region, next to Lapland and bordering Russia. The region has long attracted summer visitors keen to experience its unique charms. The hilly landscape is dominated by the taiga forest and numerous rivers, rapids, and lakes, including Lake Oulujärvi which is the 5th largest in Finland. The most interesting holiday destinations in the region are Paljakka and Wild Taiga Kuhmo-Suomussalmi where visitors are provided with local and authentic experiences instead of mass tourism.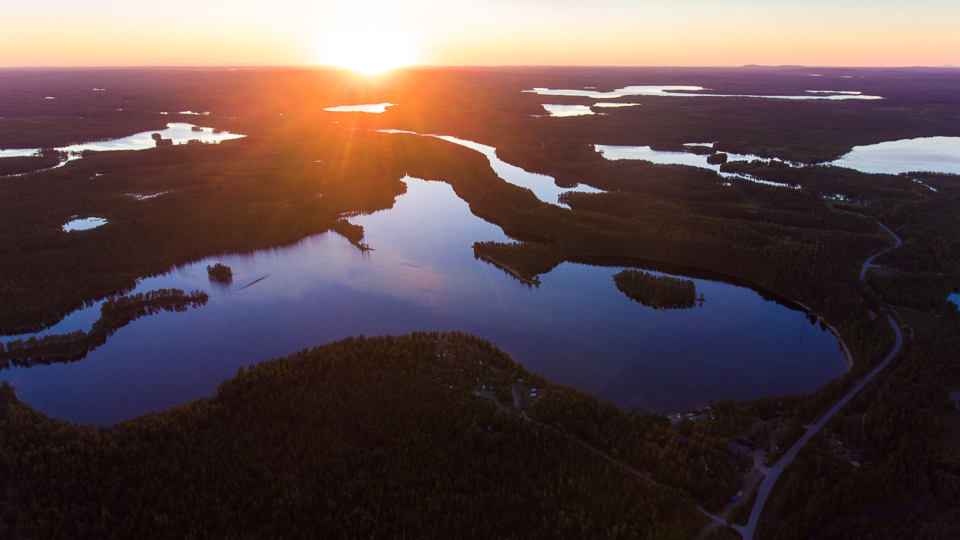 Hiking – Hossa National Park and Paljakka Nature Park

It is Arctic Lakeland's natural features that make it such an attractive destination for lovers of the outdoors, offering a wide choice of hiking and camping trails ranging in length from short excursions to hikes lasting several days. Trails in the National Parks and Nature Reserves are equipped with lean-to shelters and campfires, usually located in scenic spots.
Built around the Hepoköngäs waterfall, one of the highest in Finland, the Hepoköngäs Nature Reserve features a 600m footpath leading from a parking lot to the waterfall. A popular excursion, most impressive in spring and early summer when the melt water swells the river, when the roaring falls can be heard from several hundred metres away, and there are several viewing platforms for visitors. Hepoköngäs is located just a half hour drive from Paljakka.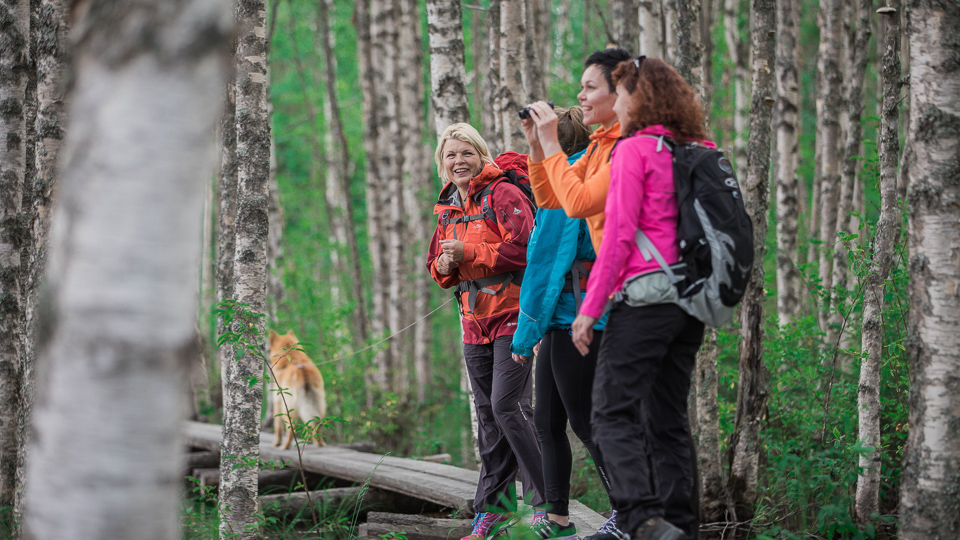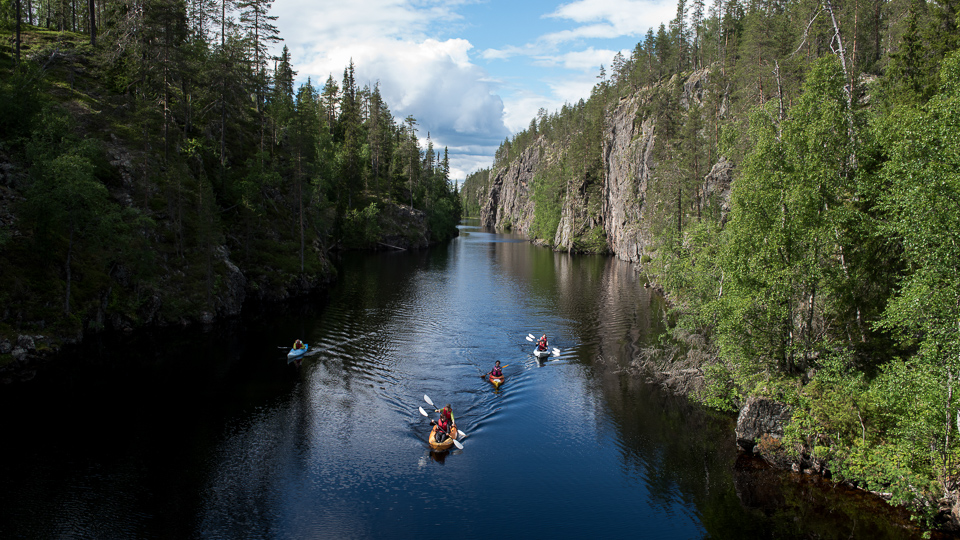 At Paljakka the hiking trails start also from the heart of the resort, with routes of different lengths and difficulty, the most popular being the 6km Kalastuspolku Fishing Path, the 10km Maisemareitti – Scenic route, the 14km Ilveskierros Lynx tour just by the strict nature reserve, the 20km Paljakan polku trail, and the 60km Köngäskierros hike for experienced hikers. The Paljakka Strict Nature Reserve is the only area in the Arctic Lakeland where there are still large areas of untouched forest, and is unique among Finland's strict nature reserves in that visitors are permitted.
Hossa National Park is perfect for both hikers and mountain bikers, with around 100 km of hiking and biking trails, most of which are easy to walk on, which run through the handsome esker and lake scenery, and which can be extended by combining circle trails with connecting trails. Don't miss the Värikallio rock paintings here, which are amongst the largest prehistoric rock paintings in Finland.
Bear Watching in Wild Taiga region
Wild Taiga region provides the best opportunities in Europe to see and photograph the wild predators of the north: the bear, wolf and wolverine. Visitors can experience the thrill of encountering these apex predators in their natural environment from the safety of a comfortable hide. Summer is the best time for large predator viewing and photography trips as there is enough light throughout the night. With luck you might see a bear and a wolf fighting each other for the same prey! The Bear Centre has 29 different hides suitable for both photography and observation; Arola Farm operates bear watching safaris; the Boreal Wildlife Centre provides first-class wildlife observation and photography services in Viiksimo, Kuhmo; Martinselkonen Wilds Centre, famous for the bear cubs in Suomussalmi, organizes guided wildlife watching and photography tours; Taiga Spirit in Lentiira specializes in offering tours to watch and to photograph wildlife, especially bears and wolverines. The best place to watch wolves is with Wildlife Safaris Finland.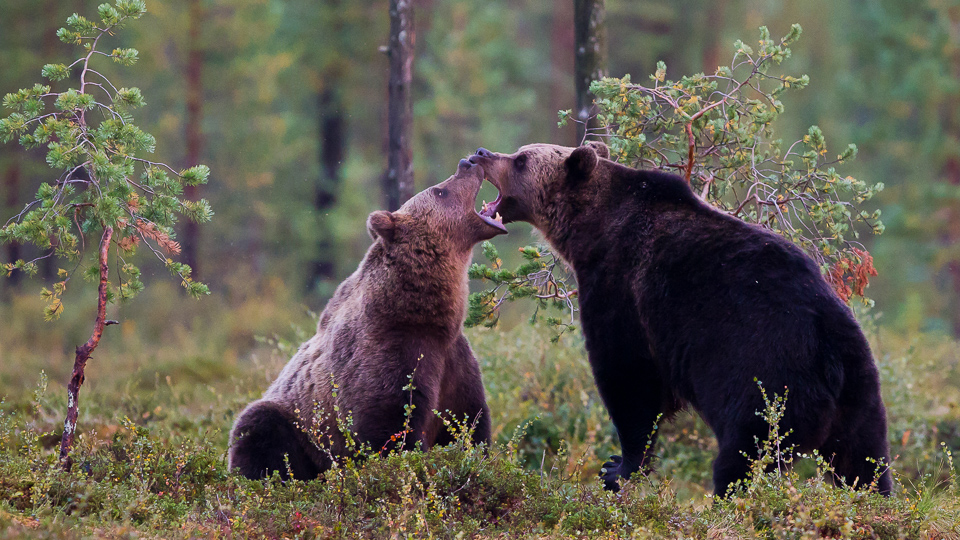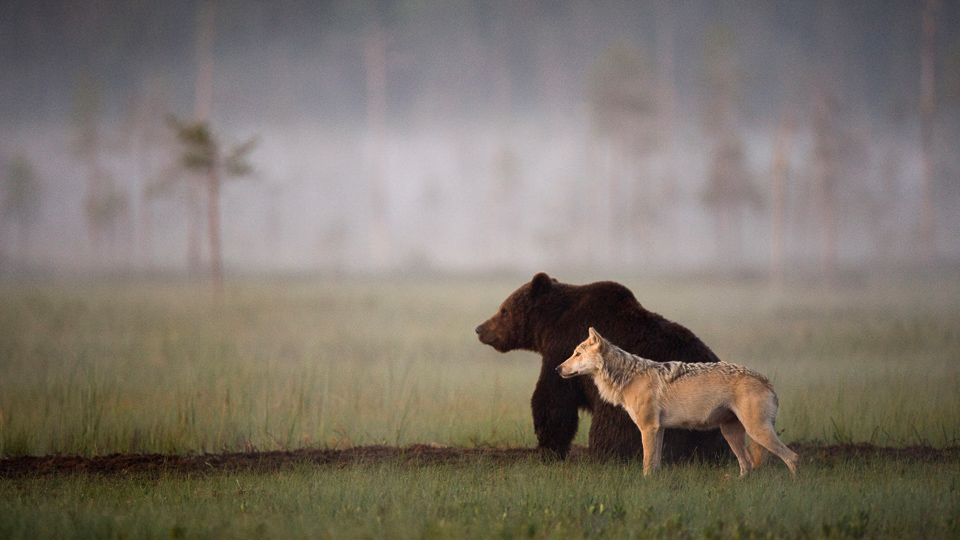 Fishing and Lake Activities
The numerous lakes are ideal for boating, kayaking, and fishing, while its many free-flowing rapids are perfect for kayaking and fly-fishing. Hossa National Park is ideal for kayakers and canoeists, and features the country's largest canyon lake. For those loving fishing, Paljakka Fishing Park also offers great routes for kayaking.
The lakes and rivers of Arctic Lakeland Kainuu region offer all the different types of Finnish fishing waters at once. The most common fish caught are trout, rainbow trout, grayling, pike, perch, and pike-perch (zander in Europe, wall-eye in the Americas). For fly-fishing head to Kuhmo, known as "the town of hundred rapids" – there are actually 118 suitable for fishing! Fly-fishing season starts already in April when winter stoneflies hatch.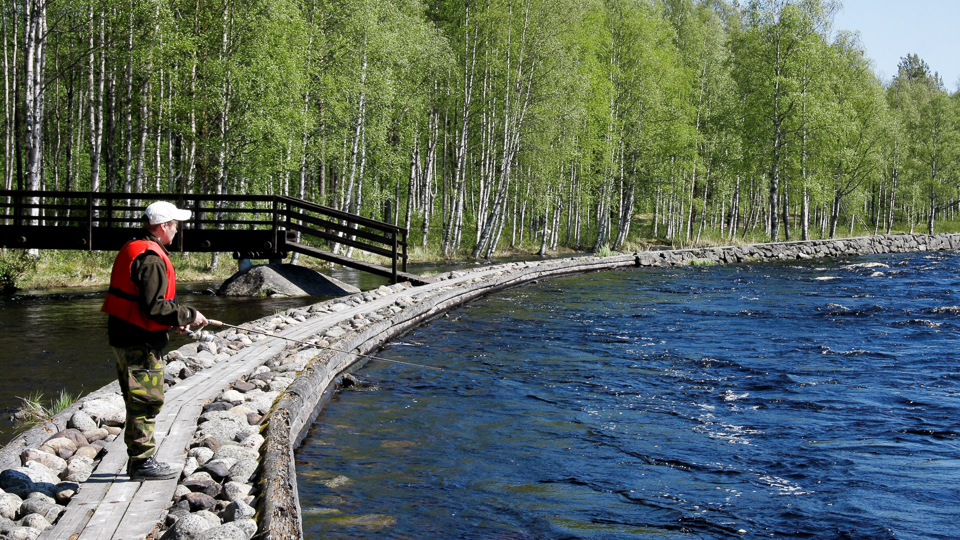 Paljakka offers even more variety, with brooks, rapids and lakes. A particularly good spot to fish is the Paljakka Fishing Park in the middle of the resort. This kilometre-long fishing park is surrounded by scenic hills, and contains four ponds crossed by two trout streams. Duckboards, bridges, and crushed stone trails make the park easy to access and to navigate, and it is equipped with nine fishing piers, three barbeque huts and lean to shelters, a picnic area and fish-handling facilities.
In the Hossa holiday centre, located among hills covered in pine-dominated heath forest, there are waterways consisting of lakes, rivers and brooks, as well as plenty of separate, crystal-clear kettle ponds. Fish are plentiful in the wilderness waters of Kuhmo, where trolling is a popular method of fishing.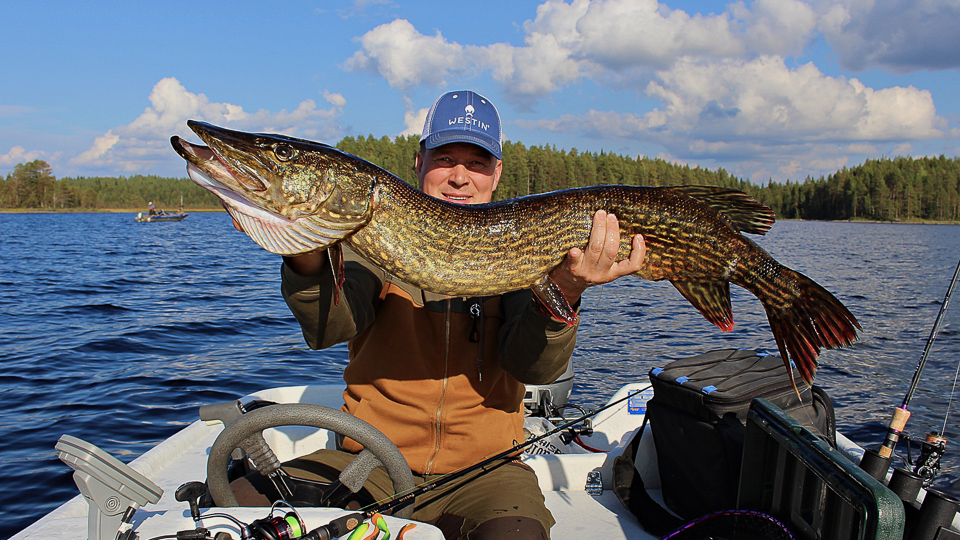 Wild Taiga´s Rich Cultural Life
There are a number of cultural events held here throughout the year. Kuhmo Chamber Music, held in July, is the most significant annual event in the region. The high-class and relaxed chamber music festival blends music and summer days and evenings in comfort without need of a tuxedo or evening dress. The ethno music festival Sommelo is held at the turn of June-July. Sommelo is based on Kalevala poetry and Karelian heritage, but the festival serves modern, live folk music from around the world.
The Niittykahvila Cafe of the Silent People offers an unforgettable experience for all motorists driving along Highway 5. Nearly a thousand figures dressed in summer clothing in the field are an impressive sight and appeal to everyone. The Silent People are redressed in new seasonal clothes twice a year, in early summer and autumn. If you wish, you can leave your own clothes for a character to wear. Stop over and try some Finnish pancakes in the Niittytupa café and enjoy the installation.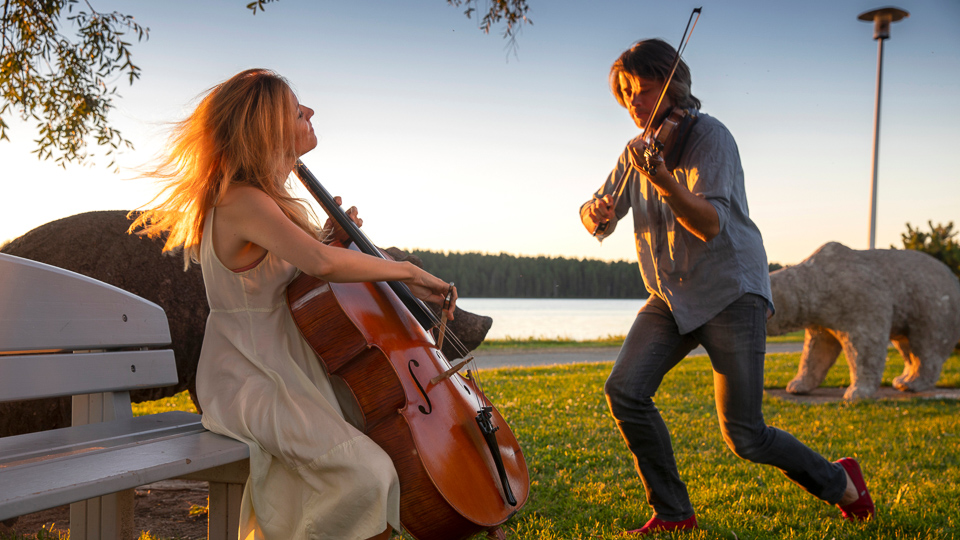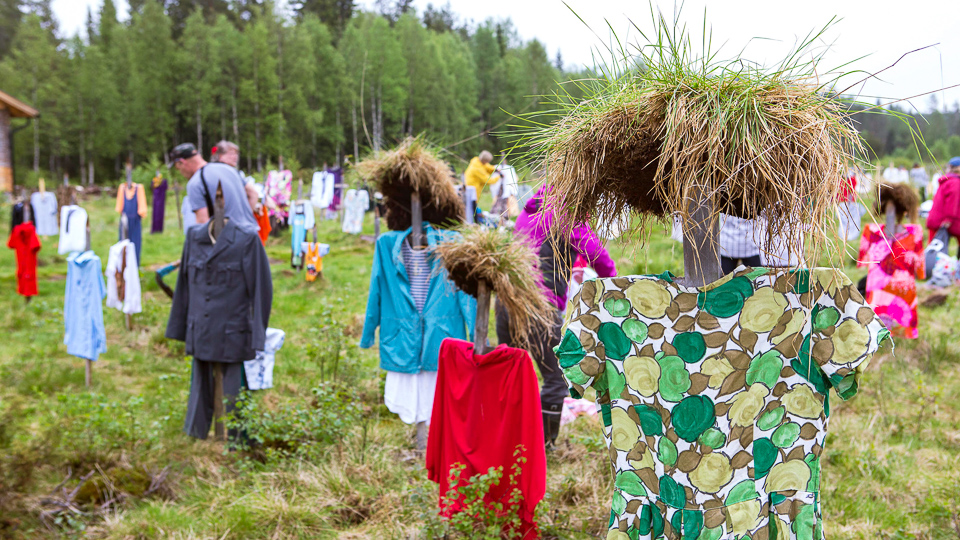 Accommodation in Paljakka and Wild Taiga

There is a wide range of accommodation available in both Paljakka and Wild Taiga, from rustic log cabins to luxurious hotels, with cottage holidays being particularly popular in the region.
In the Paljakka Holiday Resort, Hotel Paljakka provides everything needed and is within walking distance of the summer trails. The Paljakka Caravan area is located in the heart of the resort, and permits motorists and motorcyclists to set up tents. Cottage accommodation is offered by Karhunpesät, Paljakka Ski Villas, Paljakan loma-asunnot and KotiPaljakka.
In Wild Taiga there are two hotels to choose from: Hotel Kalevala is a high-standard, privately owned hotel, located in Kuhmo on the shores of the lake. Hotel Kainuu, also in Kuhmo, is close to Lake Lammasjärvi and the Pajakkakoski rapids. The Arctic Giant Bird house hotel Jättiläisenmaa offers memorable accommodation in its unique hilltop cabins, with majestic views over the wilderness. There are also B&Bs, Hossa wilderness cottage, the chance to spend a night in a hay barn, or even under the stars in hammocks! You can choose from more accommodation options here: https://wildtaiga.fi/en/productcategory/where-to-stay-and-eat/
Ready-made packages are available including all-round arrangements, as well as self-drive options that include accommodation and half-board.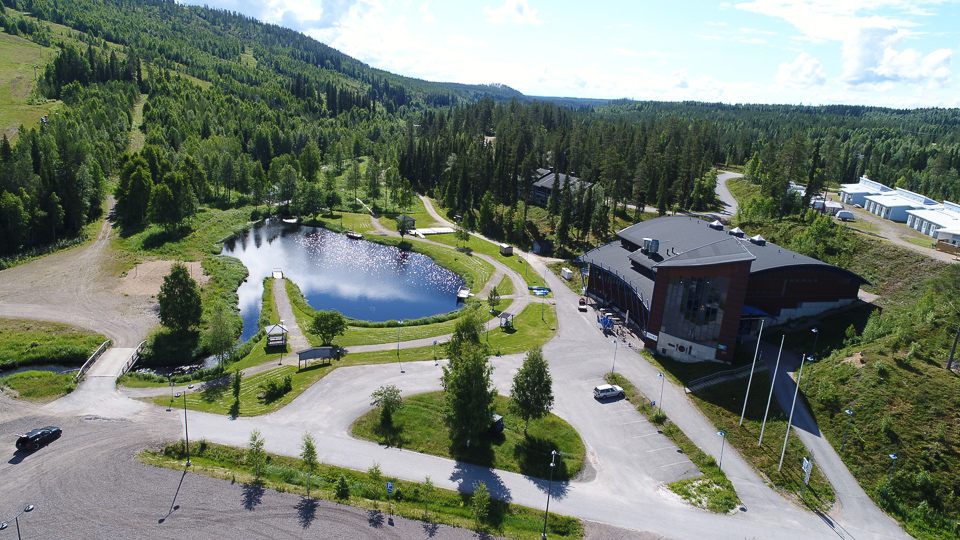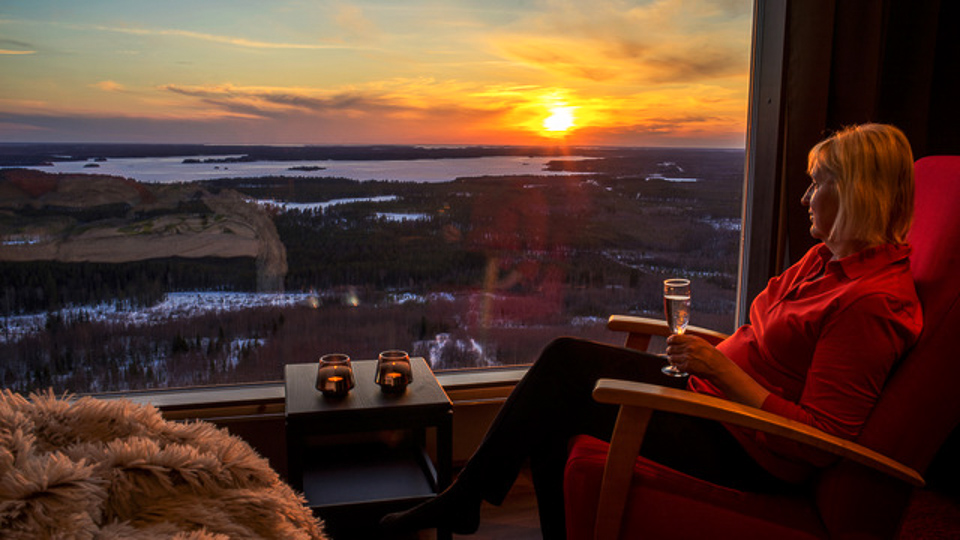 How to get there
There are flights to Kajaani, Oulu, Kuusamo and Kuopio from Helsinki. Kajaani Airport is at the heart of the region and allows easy access to Paljakka and Wild Taiga. Oulu, Kuusamo and Kuopio Airports are all roughly two hours from Kajaani by car. If you would like to see more of the Finnish landscape, you can travel conveniently from Helsinki to Kajaani by train.
Kainuu can be conveniently reached by car, with many attractions and places to visit along the road to Kainuu. The distance from Helsinki is 587 km to Kuhmo, 620 km to Paljakka and 660 km to Suomussalmi. It takes just over seven hours to get there.
Driving from the direction of Helsinki, you can enjoy the Road of Poem and Border. When driving from the direction of Oulu take Tervantie, Highway 22. Paljakka and Wild Taiga are located about 400 km closer than Lapland, you can use the saved travel time for authentic experiences and sights in rugged Kainuu.