Enjoy the peaceful surroundings of Paljakka, ideal for relaxation. In the clean air of Paljakka, in the middle of beautiful nature, the mind and body rest, thoughts calm down and everyday worries are forgotten. The hills of the evergreen forests offer tremendous hiking, biking, and horse trekking trails. For a day trip, it is worth heading to The Paljakka Strict Nature , one of the oldest protected spruce forests in Europe, and to Hepoköngäs Nature Reserve, which is one of the untouched nature parks in Finland.

Summer in Paljakka blends the beauty of Finnish Lakes with the ruggedness of Arctic Lakeland's wilderness. Summer days are long and the nights are bright; the traveller can enjoy walking around in nature from early morning to late night. In the summer, tourists will enjoy Kainuu's warmth and hospitality and its untouched nature.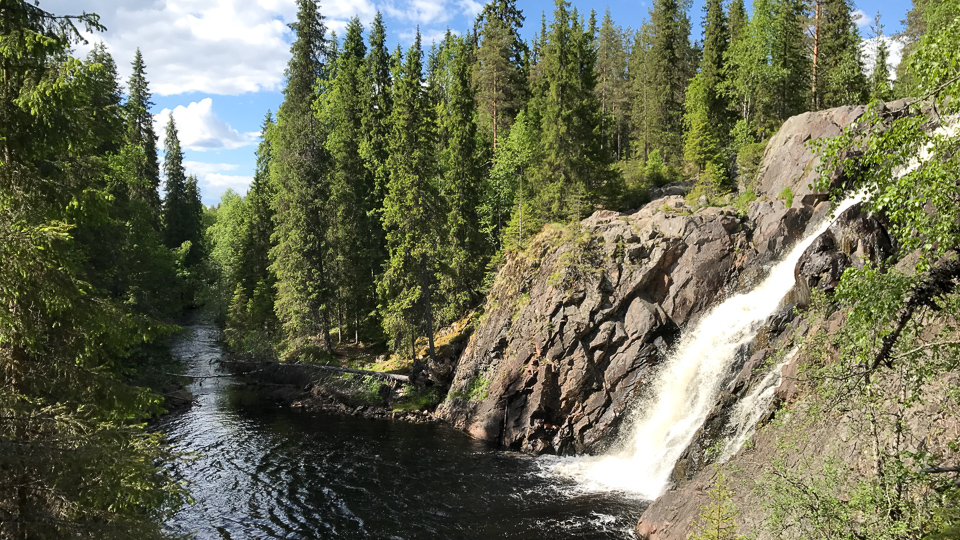 Summer routes for hiking, cycling and camping
At Paljakka, there are routes of different lengths (starting from 1 km) and difficulty (from easy to more challenging), which are easily accessible. Those suitable for beginners include Pirunkirkko (0.6 km) and the Hepokönkää Nature Trail (1.5 km), which leads to Hepoköngäs, one of Finland's highest free waterfalls. A more demanding route is the Maisemareitti scenic hiking route (10 km), which rises into the hills, and where there is a wilderness hut and a lookout point for resting at the end. The popular Ilveskierros – Lynx tour (14 km) passes over the hills through an almost untouched primeval forest. The Ilveskota – Ilves Hut along the route is a great place to stop to rest and enjoy a snack. The longest of the routes, the Köngäskierros (60 km) is the choice for experienced and seasoned rangers. Guided hiking trips are organized to Paljakka Strict Nature Reserve and to one of the most popular attractions in the area, the 24-metre-high waterfall of Hepoköngäs.
The charming hill scenery can also be enjoyed by cycling on a Fatbike.. At Paljakka, you can test your skills on tracks of all lengths suitable for all-terrain bikes and fat bikes, from demanding forest trails to pleasant cycling roads. Electric bicycles can be conveniently rented from the area.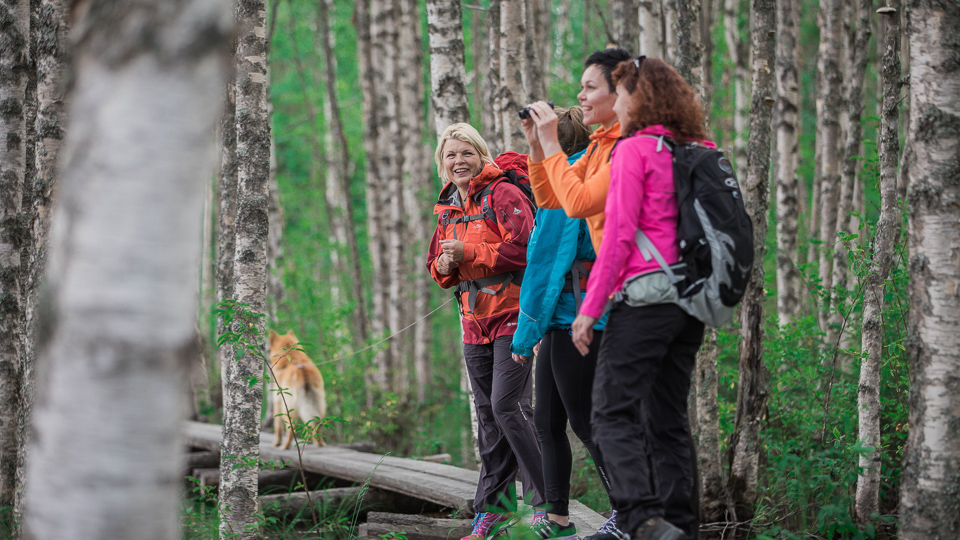 Fishing and canoeing in Paljakka's hilly forest scenery
You can find several areas to fish at Paljakka, with brooks, rapids and lakes to choose from. A good spot to fish is the Paljakka Fishing Park in the middle of the resort, in hill landscapes. The park-like area, which is about a kilometer long, has a total of four ponds at the intersection of two trout streams. The area is easy to navigate along the crushed stone trails, duckboards and bridges across streams. For the complete fishing experience, there are nine fishing piers, three barbeque huts and lean to shelters, a picnic area and fish-handling facilities. You can rent fishing equipment and take part in guided fishing tours with an experienced guide.
The Louhenjoki River starting from the Paljakka Fishing Park is perfect for kayaking. A canoeing trip in a slow-running river is a relaxing experience for all involved. You can take a short paddling trip or spend half a day, but there is plenty of river, even for canoeing all day long. You can rent a canoe for your own use or take part in guided canoeing trips.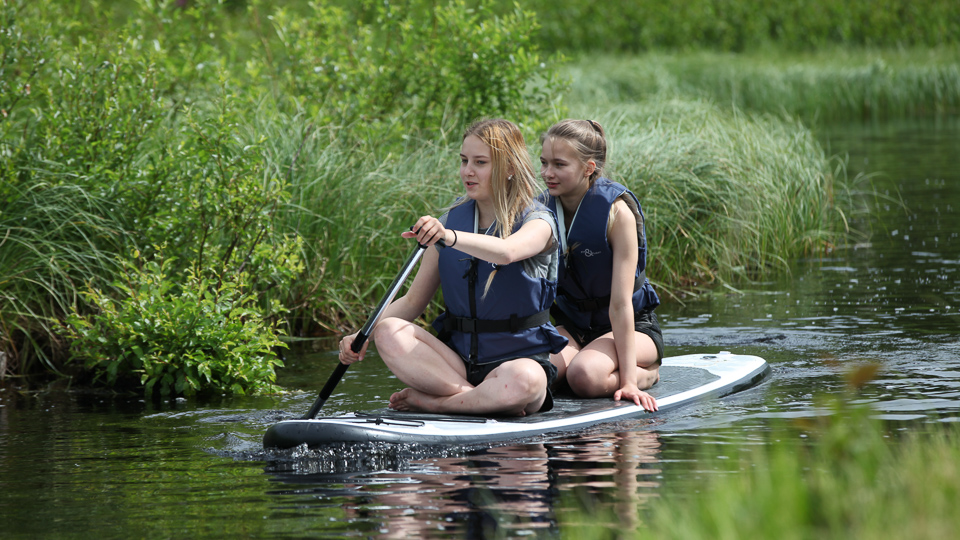 Riding with Icelandic horses
There are plenty of activities in Paljakka for the whole summer holiday. However, if you are looking for more experiences for your holiday, a good option is horseback riding and trekking with Icelandic horses.
In Paltamo, about half an hour's drive from Paljakka, you can learn about the breeding of Icelandic horses in the stables and take part in horse riding tours. Friendly Icelandic horses guarantee an unforgettable riding experience for both first-time and more experienced riders, and horseback riding always progresses according to the level of the group on forest roads, woods and hill terrain.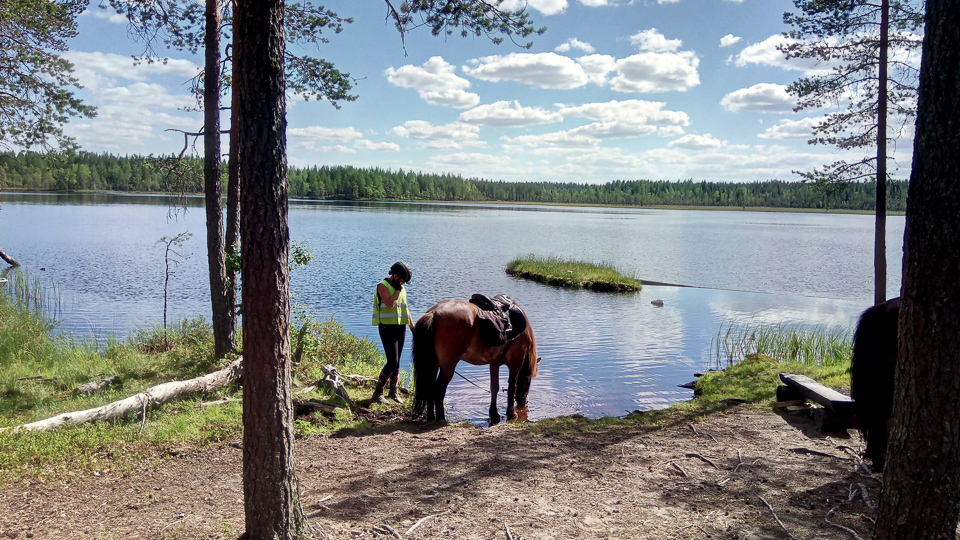 Summer in Paljakka holiday resort
The summer day in Paljakka ends with the steam of an authentic Finnish sauna. After hiking, biking, horseback riding, fishing and kayaking, the perfect way to end the day is with the warmth of the sauna interspersed with dips into the fresh waters of a cool, clean lake. You can end the evening enjoying sausage by a campfire and experiencing the bright night of midsummer.
You can find sandy beaches both in the heart of the Paljakka Holiday Resort and by Paljakka's holiday homes. The ponds and streams of the Paljakka Fishing Park provide a comfortable setting for SUP boarding.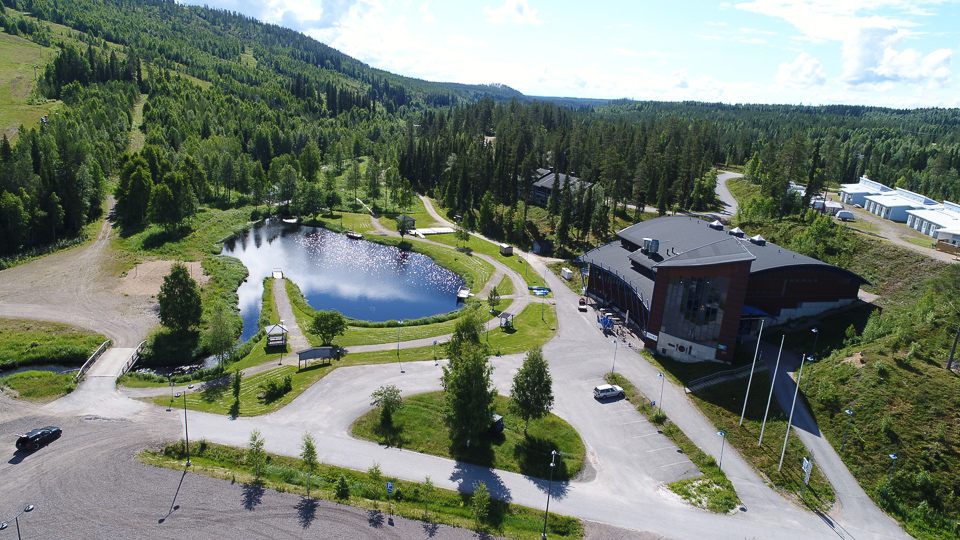 Also visit Puolanka
Paljakka is located in the municipality of Puolanka, which can be reached in about half an hour from Paljakka Holiday Resort. In Puolanka, there are more destinations and places to visit for the traveller. Have a coffee at the Puolanka Pessimism House or check out the Kumpula House, where you can get to know the youthful years of Isa Asp, the first female poet in Finland to publish in Finnish language.
How to get to Paljakka
If you are traveling to Paljakka by car, search for driving directions online with the keyword "Matkailukeskus Paljakka". If you come from the south, you reach Paljakka via Kajaani, those from the north drive from the direction of Puolanka. Driving instructions from Oulu (160 km), Kajaani (68 km) and Paltamo (48 km) can also be found on the www.paljakka.fi website. The distance from the Helsinki metropolitan area is about 600 km and you can drive to Paljakka in about 7.5 hours.
Those traveling by bus and train should travel via Kajaani. In Kajaani, the bus station is located in the travel centre connected to the train station. You can find bus timetables to Kajaani here: www.perille.fi. Train timetables: www.vr.fi. There are pre-order bus connections and taxi services from Kajaani
Train Station to Paljakka. The Kajaani-Paljakka bus ride takes about 50 minutes.
The nearest airport is in Kajaani. Driving time from Oulu and Kuusamo airports to Paljakka is about two hours. See timetables at www.finnair.fi. The connection from the airport to Paljakka is possible even by bus, taxi or rental car. You can ask about Paljakka's transport services from Kajaani railway station or airports here.