Although the brunch concept has been around since the late 19th century in Britain, and became popular in the 1930s in the US, it has only become a staple of Helsinki's weekend culture during the last decade or so. A happy marriage of breakfast and lunch, the popularity of brunch has seen a steady rise since it first appeared on the scene, and today there are numerous restaurants and cafés providing sumptuous feasts for locals and visitors alike.
The Finnish brunch is very much a fusion of local and foreign cuisine: alongside the traditional croissants, omelettes, cakes and preserves, you'll find the Finnish essentials of rye breads, Karelian pies, and porridge. Many of the venues providing brunch have their own unique signature dishes, with the focus changing according to the house specialties.
Just as there is a wealth of choices regarding the style of brunch on offer in Helsinki, so too is there plenty to choose from regarding the venues providing this delicious repast, from hip and trendy chic cafés to classic restaurants serving in historic settings. The same applies to the locations: hungry diners aren't restricted to the hustle and bustle of central Helsinki, but can find a table in virtually any of the surrounding neighbourhoods. This includes the upmarket Design District of Punavuori, the bohemian Kallio district so popular with students and younger tourists, and the more residential areas of Töölö and Kruununhaka.
This selection of Helsinki brunch venues is about as complete as we could make it. For convenience, we are listing them grouped according to price – from the less expensive to the more exclusive – but whatever your budget we're sure you'll find something to suit.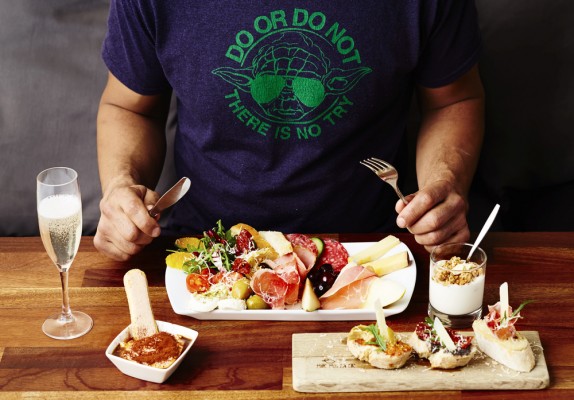 Cafe Talo : Hämeentie 2 b
Located just across from the Hakaniemi Market Hall and Market Square, Cafe Talo only serves brunch on Sundays from 11am until 3pm; 17€ for adults and 8.50€ for kids. Although walk-ins are always welcome, you can now make a reservation in advance.
Café Ekberg : Bulevardi 9
Café Ekberg doesn't serve a brunch per se, but instead offers an excellent Breakfast Buffet. On Saturday this is available from 8.30am until 1.30pm, and on Sunday from 9am until 1.30pm, for 17.90€. The buffet includes oatmeal, cereal, yogurt, eggs, oven scrambled eggs, meats, cheese, vegetables, fruits, jam, bread, croissants, sweet pastry, orange juice, coffee and tea.
Millie Mozzarella : Pursimiehenkatu 7 A
Millie Mozzarella is a catering company that only opens its premises to the public on the weekend to serve brunch from 10am until 3pm, for 18€. Their brunch is bruschetta, fresh brunch plate full of Italian delicacies, jogurt & granola, dessert, juice & coffee.
Kuja Bar & Bistro : Hakaniemenkatu 7
Served on Saturday from 11am to 12.30pm, with three sittings on Sunday at 10.30am, 12.30pm, and 14.30pm for 18€. The Kuja Bar & Bistro brunch buffet changes a little from weekend to weekend, with everything prepared that morning in their kitchen. All dairy products are lactose free, and there are numerous gluten-free and vegetarian options. For those with a sweet tooth there's the chance to make your own waffles with jam and whipped cream!
Qulma : Mariankatu 13 b
Served only on Saturday from 10am until 2pm for 19€, the Qulma brunch consists of baked potatoes with two toppings, Caesars salad, rolls from the local bakery with tapenade, a yoghurt buffet with goodies, fruit juice, vitamin shots, fruit salad, home made pie with vanilla sauce, tea and coffee.
Dylan Arabia : Hämeentie 153 B
Dylan Arabia serves brunch on the weekend from 11am until 3.30pm, for 19.50€ – kids are charges 1€ for each year of age!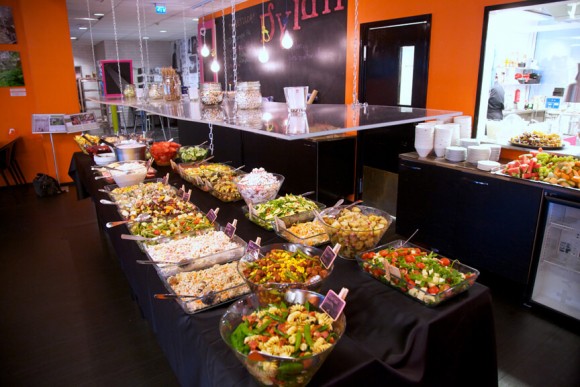 F8 Tema Stockmann : Aleksanterinkatu 52
Situated on the 8th floor of Helsinki's iconic Stockmann Department Store, Fazer F8 serves brunch on Sunday from 12 noon until 5pm. The brunch selection at Fazer F8 varies weekly, the price for brunch with starters and the dessert buffet costs 19,90€, and brunch with the main course is 26€. Brunch consists of variety of salads, cold cuts and bread. Coffee or tea is included.
South Park : Bulevardi 40
Located next to the Sinebrychoff Art Museum, South Park Restaurant serves its "Cali health kick brunch" on the weekend with seatings at 11am and 1.30pm for 19.90€. The Cali health kick brunch allows you to balance out your good and the bad. Start off from selecting from our breakfast bar . Make your own "super seed" muesli, move onto the seasonal produce salad bar, full of good things and fresh flavours. You can soak up the weekend excess with their Bossam – Korean style pulled pork, or with bacon and scrambled eggs. Those with a sweet tooth are not neglected as they provide a dessert selection to die for. Then wash it all down with our in house made fresh fruit juices. Reservations recommended
Ravintola Oiva : Porthaninkatu 5
The brunch served in Ravintola Oiva is on Sundays from 10am until 4pm, for 20.90€. The buffet offers a wide selection of meats, sausages, cheeses, scrambled eggs, yogurt and berries, a couple of salads, Karelian pies, bread cheese, fish, and home made bread rolls and meatballs.
Ravintola Sunn : Aleksanterinkatu 26
Located by Senate Square with a view of Helsinki Cathedral, Ravintola Sunn serves brunch on the weekends from 10am until 3pm for 23€. It consists of a selection of breads, croissants, butters & jams, salads, cold cuts and a cheese selection, quiche, muesli and yoghurt, fruit basket, Sunn's sweets, coffee, a selection of teas, With juice 26€, or with Prosecco 29€
La Torrefazione : Aleksanterinkatu 50
Better known as one of Helsinki's best coffee houses, La Torrefazione serves brunch on Saturday from 9am until noon, and Sunday from 10am until 1pm, for 21€. There are three choices available. The American selection includes a nut granola with marinated pear, sesame bagel, fried egg, bacon, avocado, smoked ham, fruit slices, La Torre raspberry jam, cream cheese, cream cheese and vegetables. The Finnish selection includes yogurts, La Torre muesli and berries, warm bread cheese with cloudberry jam, Karelian pies, boiled eggs, smoked salmon paste, Rousala bread, smoked ham, multi-grain bread rolls, cream cheese, butter and vegetables. The European selection includes yoghurt, mango, pineapple and melon, scrambled eggs, bacon, chipotle sausage, cream cheese, mozzarella cheese, toast, croissants, La Torre raspberry jam, butter and vegetables.
Moko Market Café : Perämiehenkatu 10 & Vilhonvuorenkatu 11
With two locations, in Punavuori and Sörnäinen,  Moko Market Café serves brunch on Saturdays with two seatings: between 10am and 11.30am, an between  noon and 1.30pm. Prices are 19.90€ and 21.90€, with children between 5 and 12 charged 10,50€. The brunch includes oven-fresh bread, Karelian pies, mini croissants, Nutella, butter & egg butter, cheese & smoked ham, Moko's own mixed berry jam and orange marmalade, brie & grapes, peppers, pickles, sausages & meatballs, spinach-feta omelette, chickpea hummus, salmon, shrimp or chicken salad and vegetable salad, salad dressing, curd cheese, natural yoghurt, Moko's own homemade crunchy granola, fruit-shots, fruit plate, homemade chocolate mousse, berry pie, apple pudding and vanilla sauce.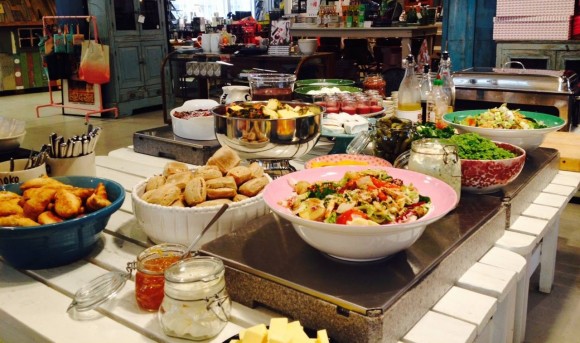 Karl Fazer Café : Kluuvikatu 3
The options vary from weekend to weekend at the Karl Fazer Café, which serves brunch on Saturday from 9am until 2pm, and on Sunday from 10am until 2pm, for 21.90€. That said, you can expect to choose from a rich selection of Fazer bread and rolls, mini croissants, small rice pies and egg butter, cheeses, cherry compote, smoked ham, vegetables, yogurt, granola, cereals, fruit salad, salmon, Skagen frankfurters, tarragon mustard and ketchup, Spanish omelette, a variety of salads, pancakes with garnishes, fresh juices and smoothies, coffee and of tea. For Easter brunch will also be available on the 25th and 28th of March, from 10am until 2pm.
Kiila Food & Bar : Kalevankatu 1
There are no details on the official Kiila site, apart from that brunch is served on Saturdays from 11am until 3pm, and on Sunday from 11am until 4pm for 22.50€, with kids charged at 10€ on Saturday or 11€ on Sunday. For Easter weekend there's the traditional Easter Brunch Marathon from Friday 25th through Monday the 28th Ma for 22,50€, and children 10€, with a competition for the best decorated eggs.
Primula : Laivurinkatu 10
Situated on the trendy Five Corners in Punavuori, Ravintola Primula serves brunch on Sunday with seatings at 11am and 1pm, for 23€. It includes eggs florentine, spinach, smoked salmon, poached egg, eggs benedict, French toast, Huevos rancheros, the Punavuori plate (toasted country bread, ham, a poached egg and Comte cheese), the Kungliga Segelklubben plate (toasted country bread, slightly salted beef, roe and sour cream), the Viiskulma omelette
(ham, onions, tomatoes and Comte cheese), and a Kids choice.
Café Köket : Aleksanterinkatu 28
Located close by Senate Square, Café Köket serves brunch on Saturday and Sunday from 10am until 3pm for 25€. The vast selection includes smoothies, natural yoghurt and honey, Köket granola, cereals and muesli (also serves gluten-free muesli), soy milk oatmeal, jams, butter and milk, home-made breads (including gluten-free bread available), Karelian pies with egg butter, assorted vegetables, boiled eggs, condiments, tzatziki, green salad, feta-vegetable couscous, potato salad with smoked salmon, cabbage and fennel coleslaw, nutty vegetable bake with blue cheese, weekend roast, herb-roasted potatoes, brie and golden syrup, fruits, pancakes with jam & whipped cream, cakes, also gluten-free and vegan options.
Fleuriste : Uudenmaankatu 13
Fleuriste is a charming and down to earth cafe which combines Parisian elegance with the scent of Grandma's baked goods. Specialising in home-made breads, mouthwatering cakes and tasty salads, Fleuriste serves a Saturday brunch between 10am and 2pm, for 24€ or 32€, with many of the main courses taken from their dinner menu.
Sandro : Kolmas Linja 17 & Tehtaankatu 34 D
With two locations in the city, Sandro serves a vegetarian and vegan brunch on Saturday between 10am and 4pm, and on Sunday from 10am until 4pm they serve their hugely popular Marrakech Madness brunch, for 26.90€. Seatings are at 10am, noon, and 2pm.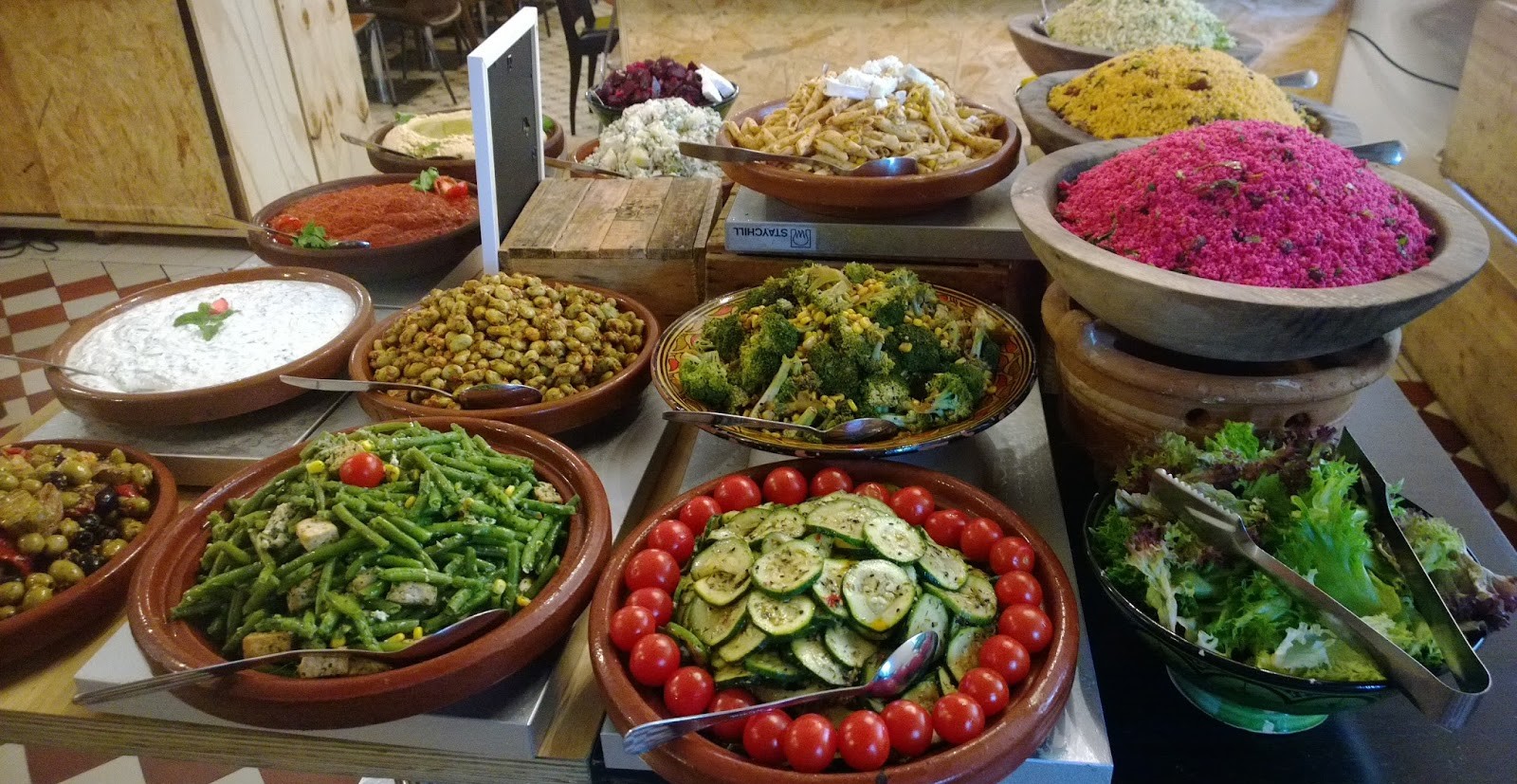 Pastis : Pieni Roobertinkatu 2
Restaurant Pastis describes itself as a "little piece of France in the heart of Helsinki city". Their aim is to offer French classic delicacies, which are hand made, fresh and tasty. Everything is made from hand-picked high quality ingredients from Finnish producers as well as from a selection of international producers. Brunch is served on Saturday from 11.30am until 3.30pm, and costs 29€
Töölönranta : Helsinginkatu 56
Located near the tip of Töölönlahti, just behind the Finnish National Opera House, Töölönranta provides a Sunday brunch between noon and 2.30pm, and again between 3pm and 5.30pm. The prices are 33.50€  and 37.00€, with a children's brunch available for 16.75€.  The buffet includes green salad and cranberry vinaigrette, Greek salad, forest mushroom salad seasoned with horse radish, Tabbouleh salad with shrimps, Herrings with mustard and Baltic herrings with lemon, Gravlax à la Töölönranta, roast beef with basil pesto, small blinis with red onion and roe mousse, pickled cucumbers with honey, scrambled eggs with chives, dill potatoes, and foccaccia with tapenade.
Klaus K / Livingroom : Bulevardi 2-4
Klaus K Brunch consists of high quality local produce. Brunch menu changes slightly every week according to seasons. Every dish is prepared with care and tenderness from the scratch. The atmosphere is relaxed and food offering is plentiful. Starters and desserts are served from the buffet and main courses are on display in carvery. You can choose the dishes and amounts yourself. Brunch is served on the weekend between noon and 3pm, for 35€.
Brasserie Kämp : Pohjoisesplanadi 29
The Brasserie Kämp brunch includes beetroot salmon, smoked beef, salads, cheeses, fresh fruits, delicious desserts… and more! It is served on Sunday and costs 39€, 45€ with a glass of sparkling wine, and children aged between 4 and 12 for 16.,50€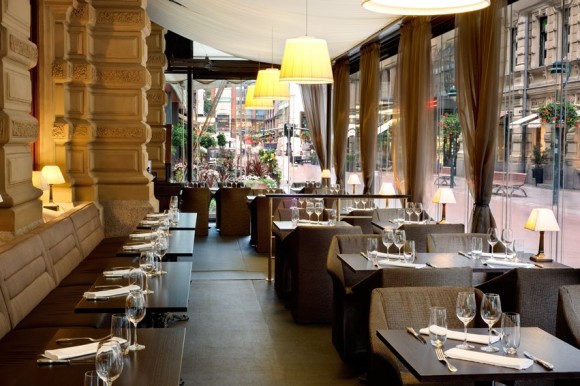 Lehtovaara: Mechelininkatu 39
Ravintola Lehtovaara provide a Sunday brunch from 1pm until 5pm for 39€. It includes a generous appetiser table brimming with traditional herring, raw pickled fish, smoked salmon, roast beef, country pâté and other delicacies with various trimmings and sauces. They offer three main course options served at the table. Dessert-lovers can fill their plate with cake, pies, confections and pudding. They also aserve their legendary Cœur de filet Provençale.