Located 150km above the Arctic circle in the municipality of Kolari, Ylläs is a popular year round family holiday destination in Finnish Lapland. Named for the seven fells that dominate the landscape, there are two villages here, Äkäslompolo on the north side and Ylläsjärvi in the south. Ylläs has long attracted visitors keen to experience its unique fell landscapes, and to explore the beauty of Pallas-Yllästunturi National Park nearby, Finland's most visited national park.
 which has the world's cleanest air. There are many reasons for choosing Ylläs for winter holidays in 2020-21, not least of which is that it was the winner of the Scandinavian Outdoor Travel Award for best destination earlier this year.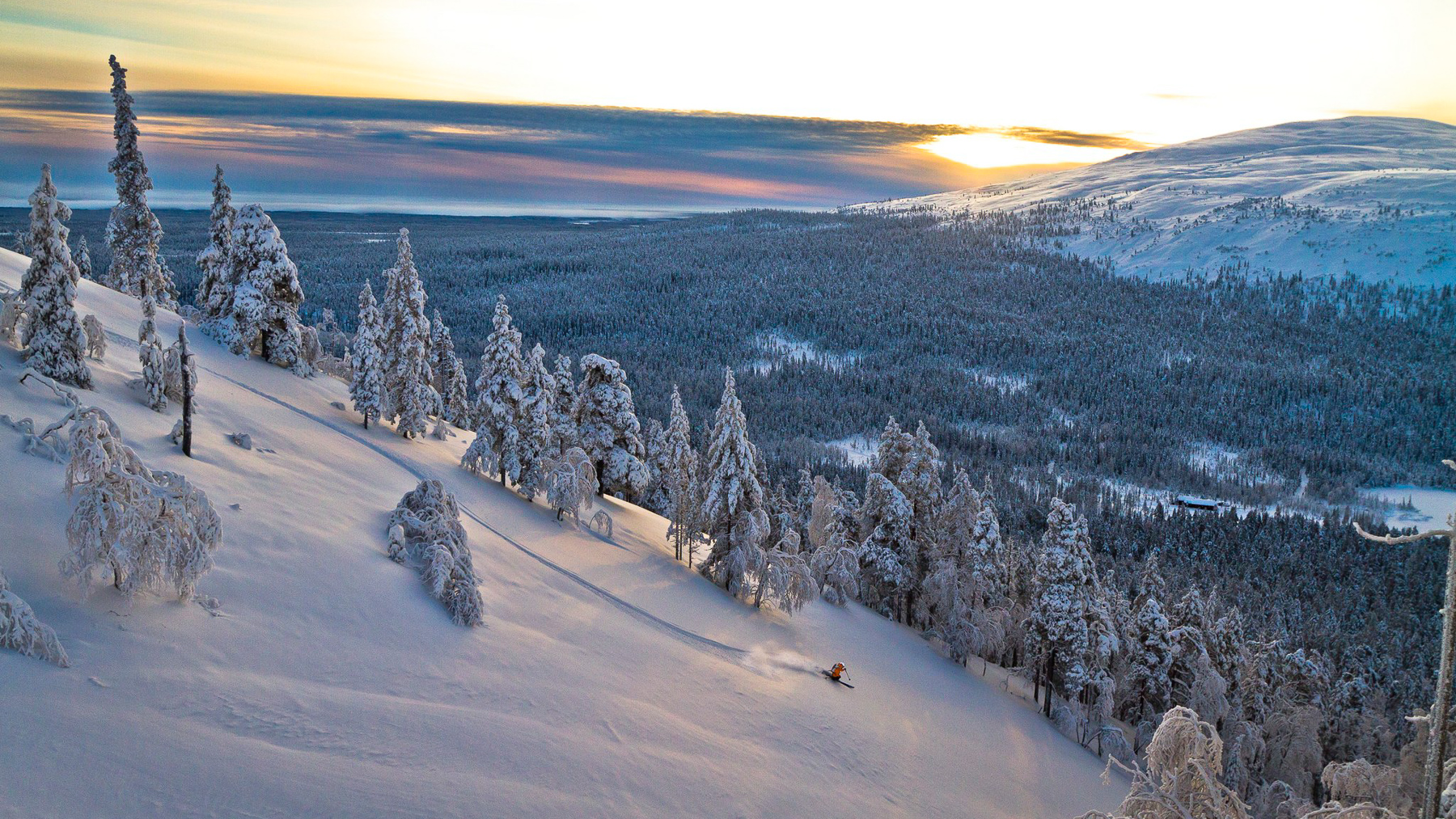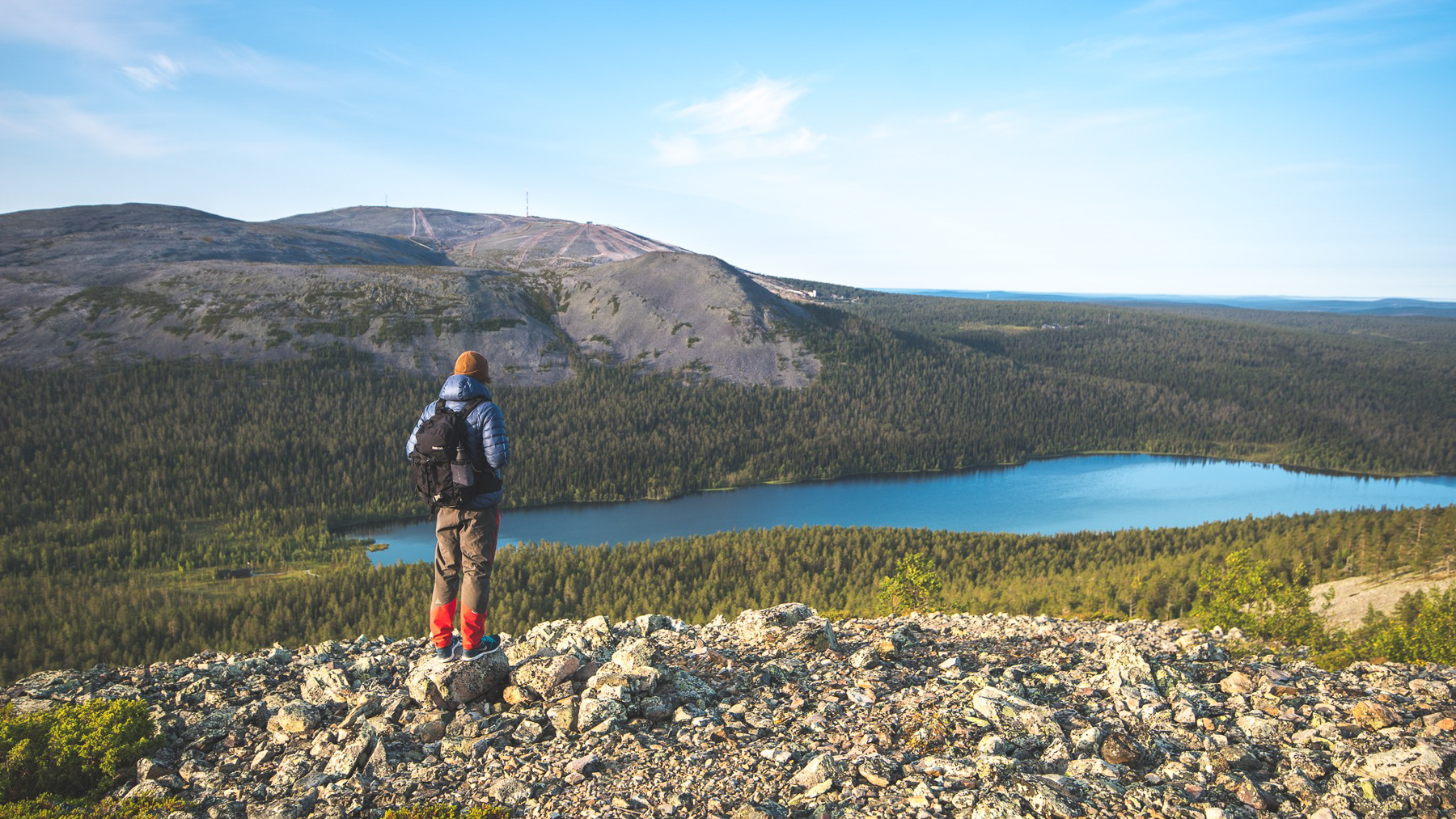 For those planning a trip to Ylläs, the Ylläs.fi site is the perfect place to begin, with a comprehensive guide to all the services, accommodation, activities, and events in the area. Ylläs has a large choice of accommodation and a total bed capacity of over 23,000, allowing guests to choose from a wide variety of different options, from cosy log cabins, luxurious apartments, or hotel rooms with convenient services.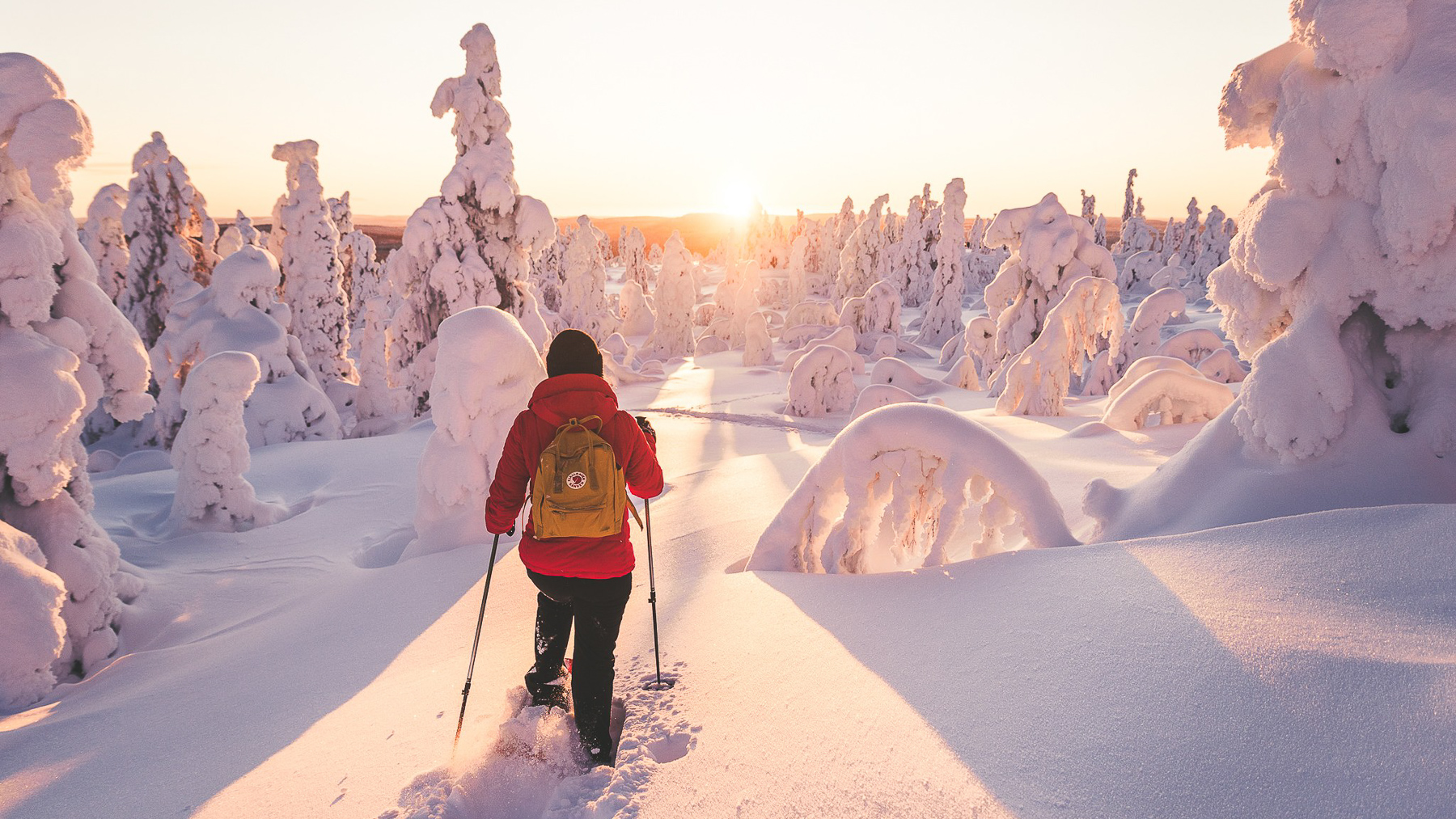 Winter Seasons Activities in Ylläs

Ylläs has 8 distinct seasons, with a range of exciting winter activities to enjoy during the First Snow, Polar Nights, Midwinter, and Early Spring seasons. These include skiing, both downhill and cross-country; winter biking, on fat bikes or E-bikes; aurora hunting, including ice-floating; snowshoe treks through the forests and Pallas-Yllästunturi National Park; snowmobile expeditions; husky-sledding safaris; reindeer-sleigh rides; ice-fishing; and sauna and winter swimming. There are also two interconnected ski resorts, Ylläs Ski Resort Äkäslompolo and Sport Resort Ylläs, which combined make Ylläs the biggest ski resort in Finland.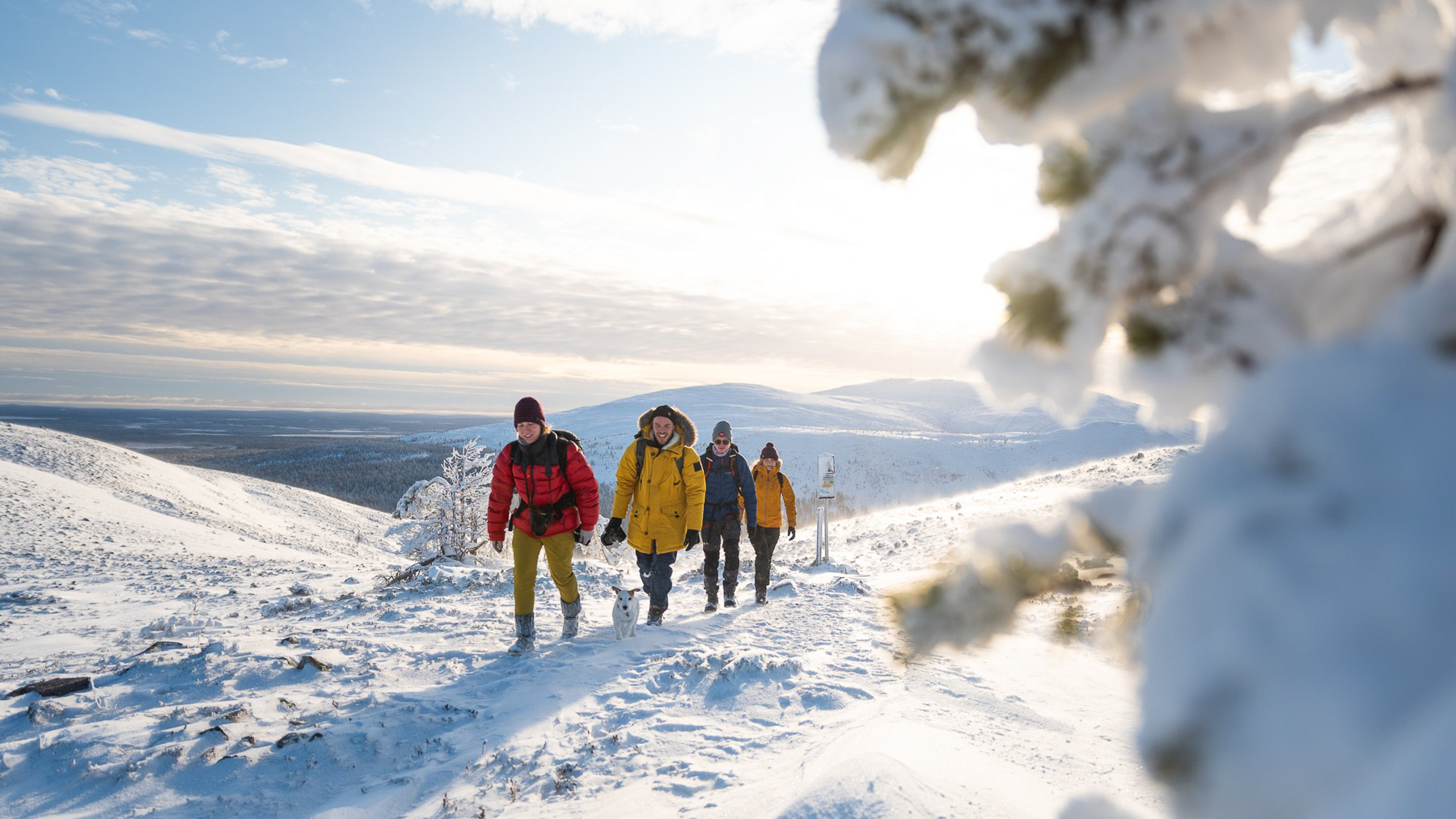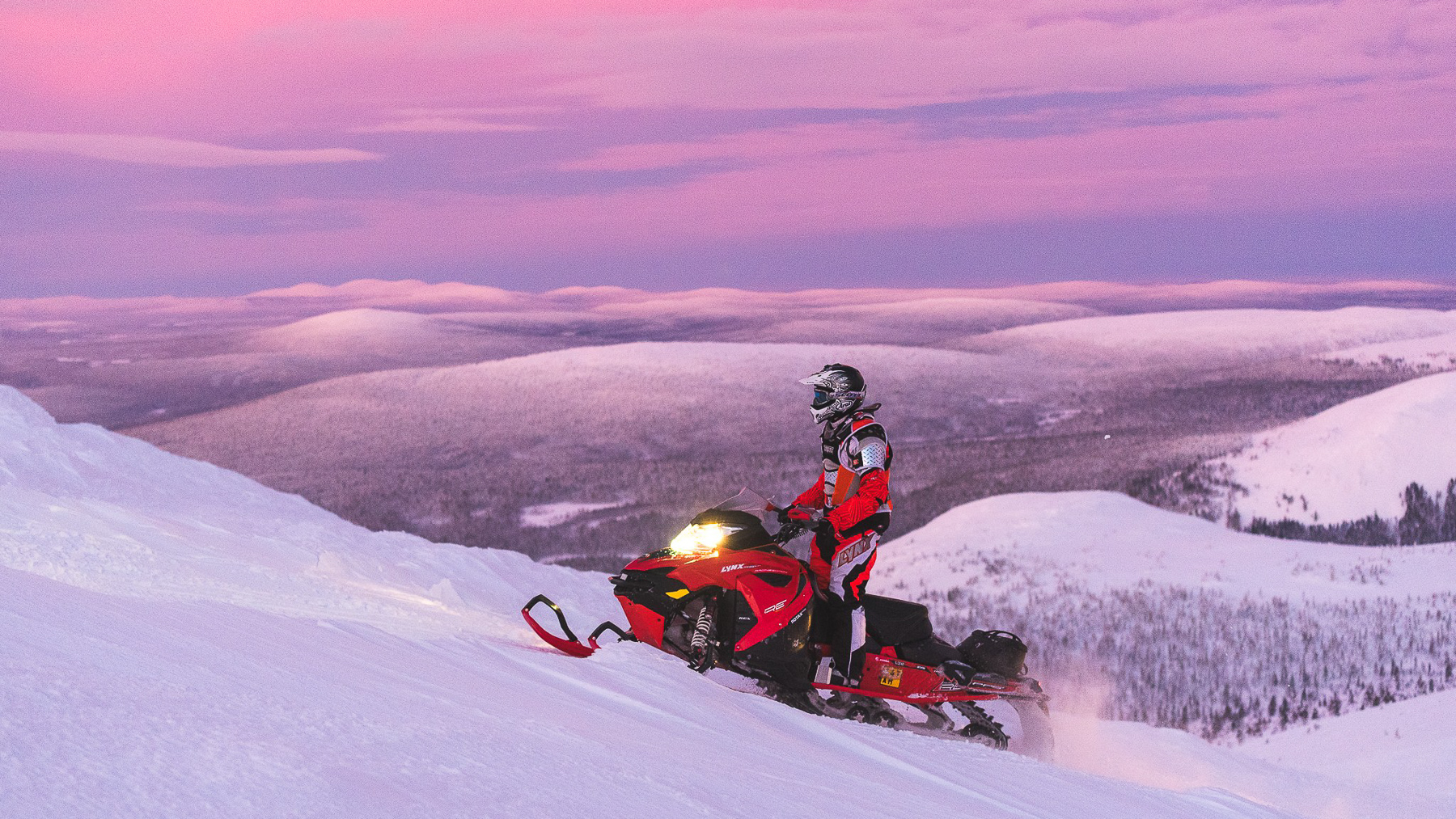 One of the region's top attractions is Lapland Hotel's SnowVillage in Lainio, just 10 km from Ylläsjärvi, a unique ensemble of snow and ice sculptures that includes an ice restaurant and ice bar, an ice chapel, and a snow hotel. 

Close by the village of Äkäslompolo, the Kellokas Visitor Centre is one of the three Visitor Centres in the Pallas-Yllästunturi National Park. Visitors can learn about the nature of the National Park and its wide range of hiking possibilities. The shop has maps of surrounding areas, books, local handicrafts and other products. The centre also has Restaurant Halla, Kellokas Gallery, Our gallery, Yllas Travel Association, Visit Ylläs information centre, the KinoKellokas cinema, and the Savottamuseo Logging Museum. Keen Instagrammers should definitely visit Ylläs-Swing in Äkäslompolo by the lake to take a selfie (search Instagram for #yllasswing to see why!).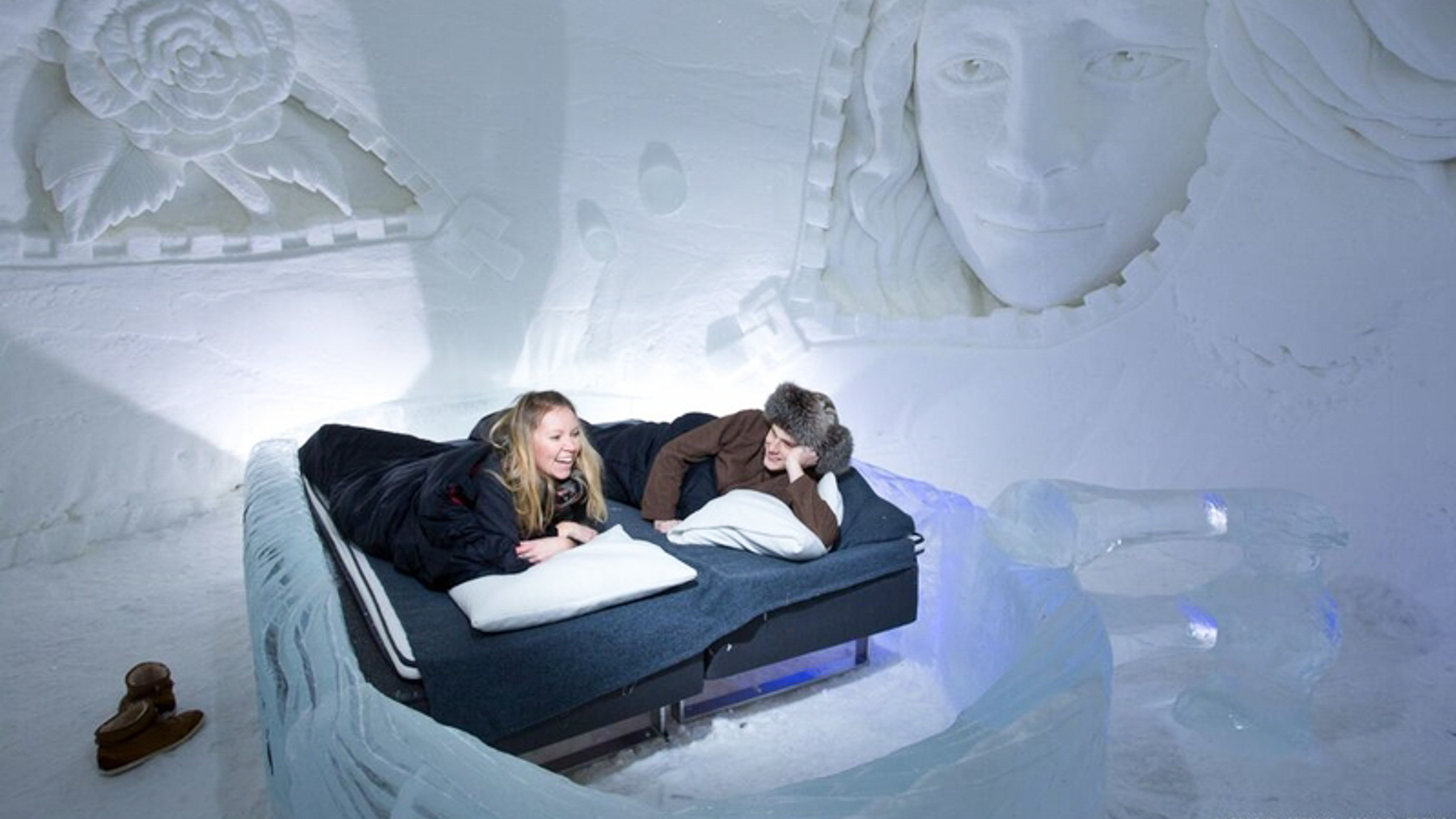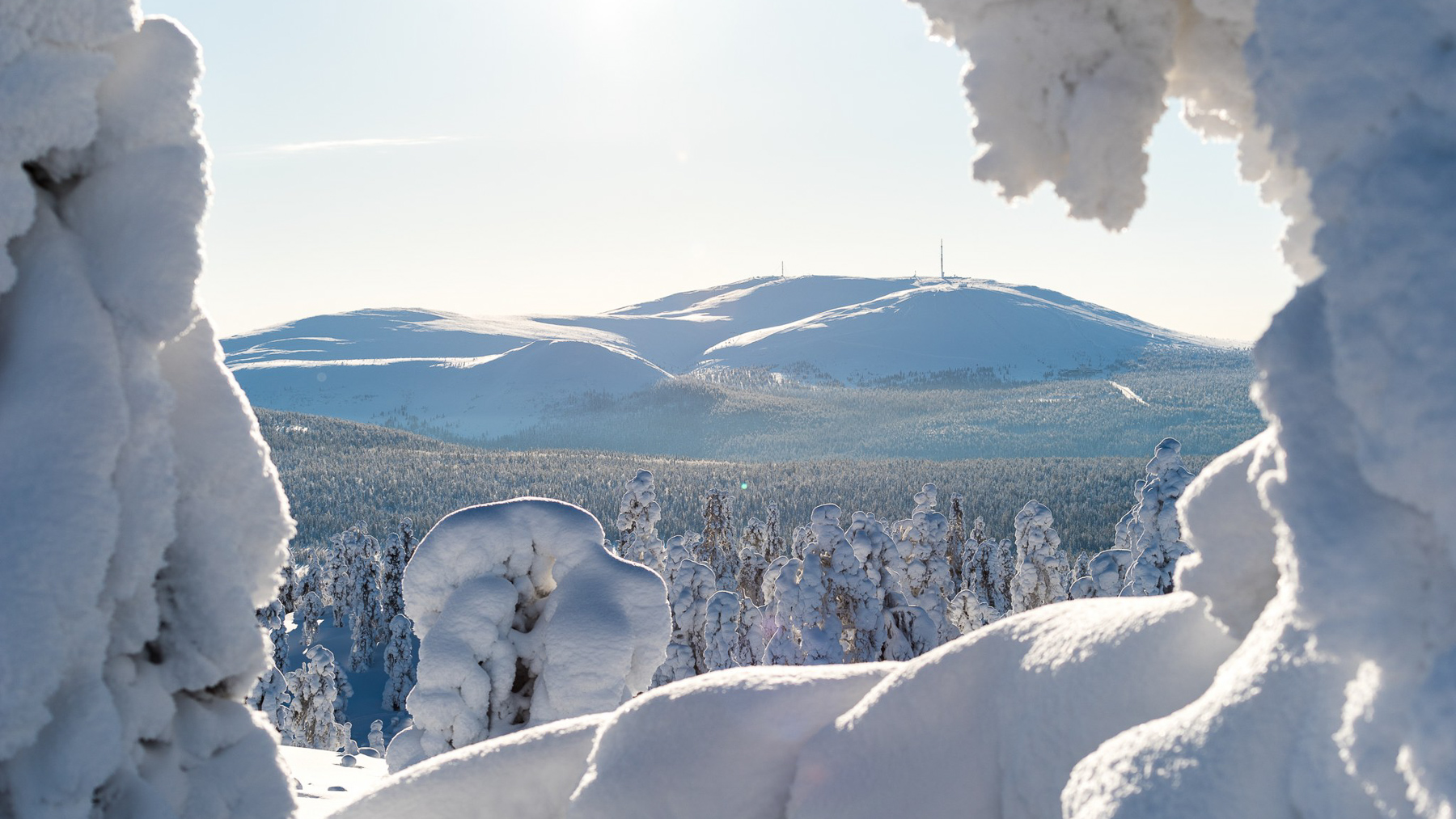 The Biggest Ski Resort in Finland
As mentioned, Ylläs Ski Resort consists of two resorts; Äkäslompolo Ylläs Ski Resort to the north and Ylläsjärvi Sport Resort Ylläs to the south of the fell, making it Finland's largest ski resort. There are a total of 63 slopes available, the longest is 3km and the longest in Finland, with the biggest elevation difference 464 metres and a gondola lift rising to the top. Visitors don't have to get off at the top, they can use the gondola lift simply to admire the magnificent scenery from the top of Ylläs fell. The round Ylläskammi restaurant, located at an altitude of 719 metres, is the highest restaurant in Finland. With the same lift ticket, you can conveniently ski all over the fell area. There is also a sauna gondola available to rent, the only one in Finland. Both resorts provide a wide range of services from equipment rental to ski schools and from slope restaurants to shopping outlets.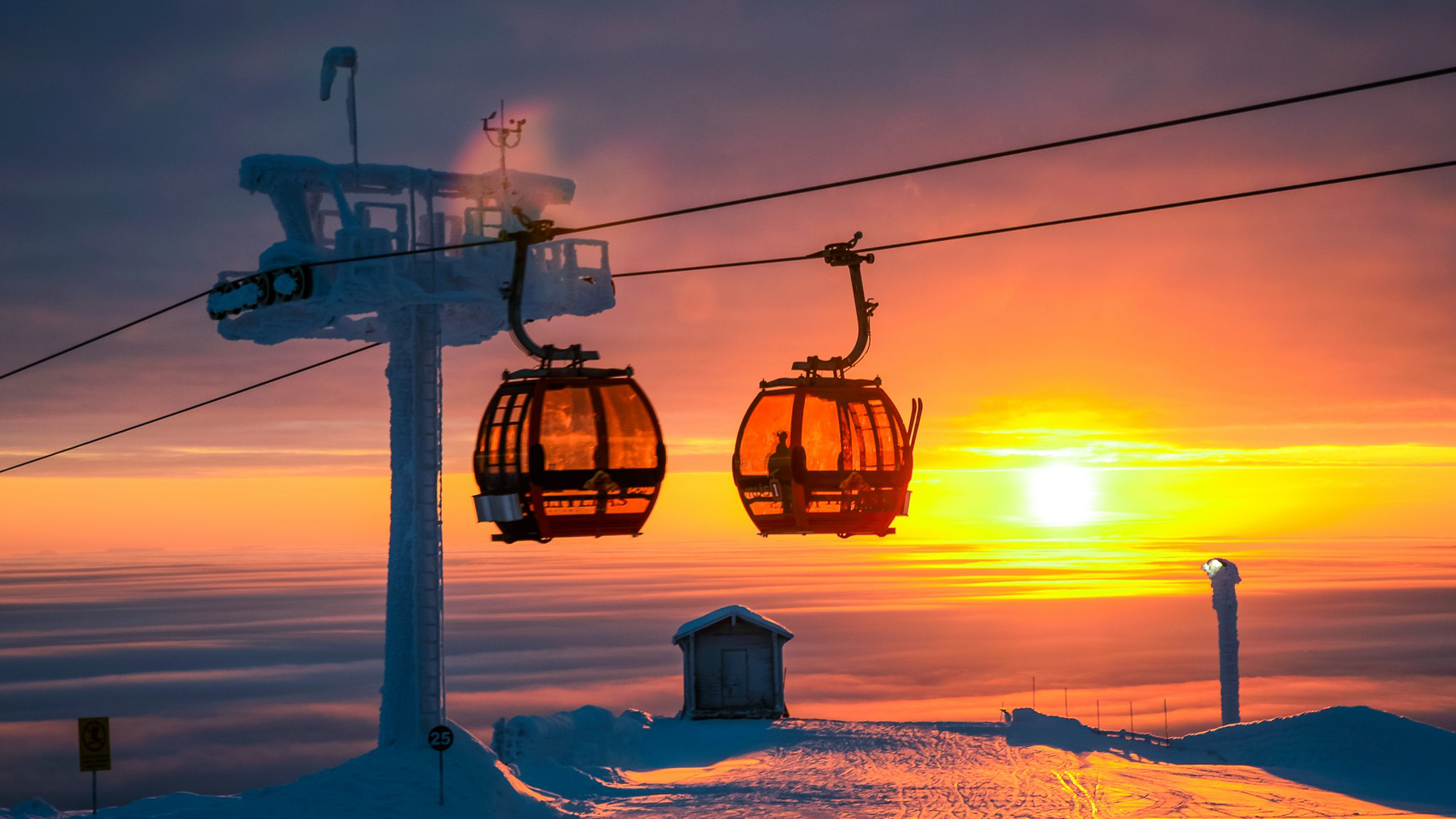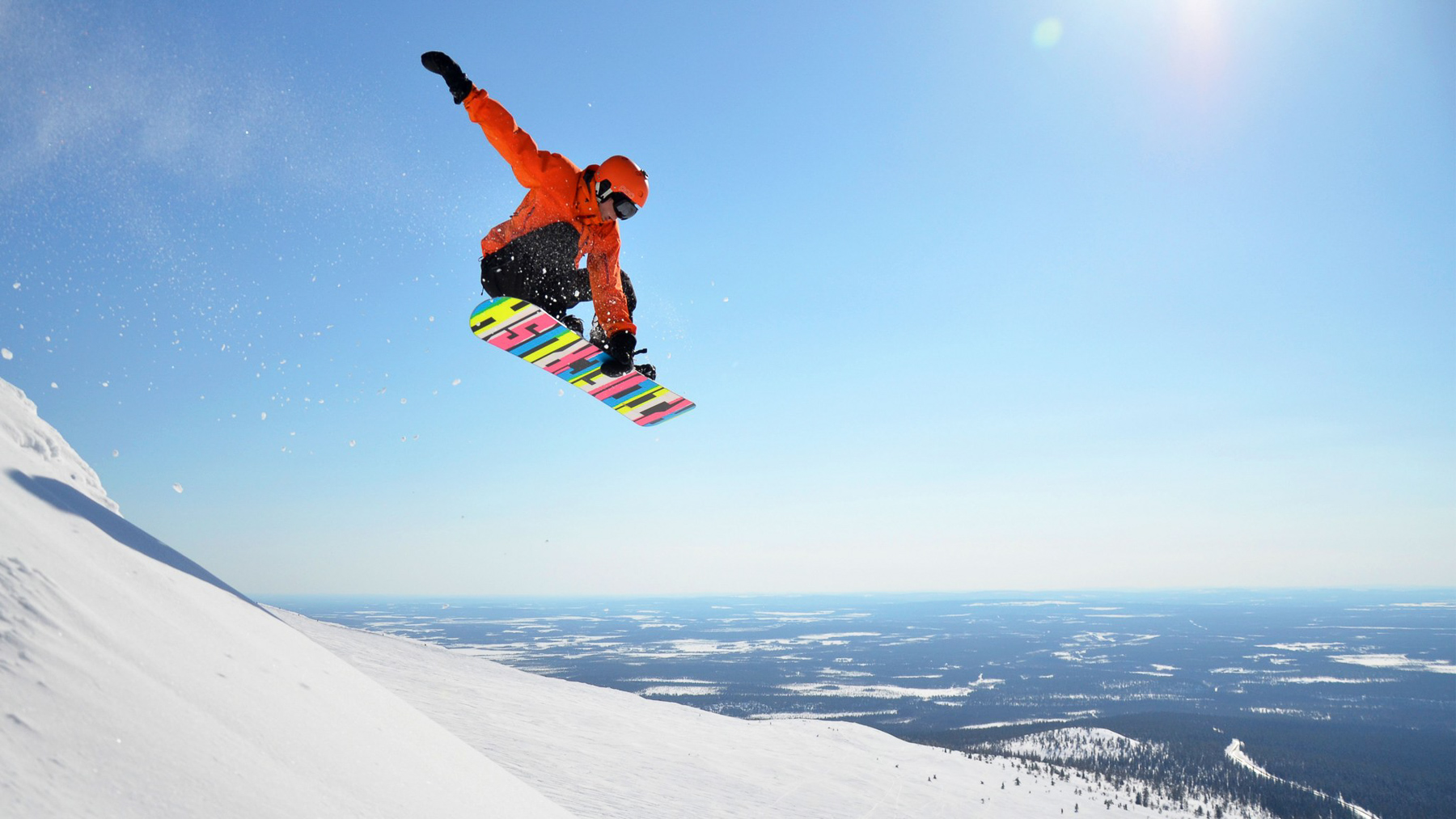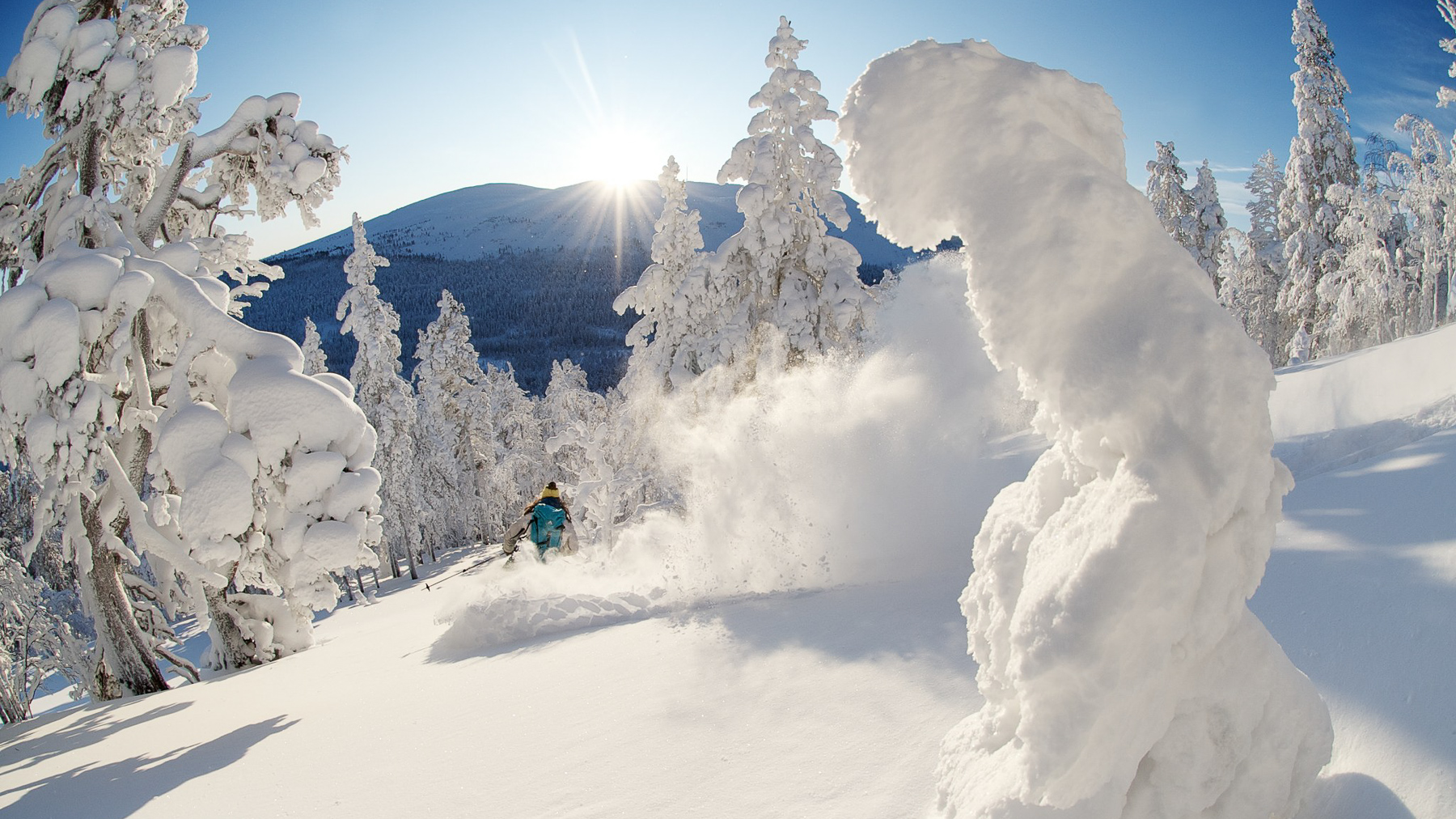 Ylläs is also a pioneer of winter biking, boasting a 100 km long regularly maintained winter trail network, that is perfect for fat-biking, snowshoeing, and hiking, as well as providing new ways to explore the magnificent winter scenery of Pallas-Yllästunturi National Park. From Ylläs equipment rental, visitors can conveniently rent snowmobiles, fat bikes and electric bikes, downhill, cross-country skiing, and snowshoeing equipment. Visitors can also enjoy husky and reindeer safaris or enjoy a more relaxed ride on good natured Icelandic horses. For cross-country skiers, Ylläs has Finland's longest, 330 km trail network, with a dozen delightful and atmospheric wilderness cafes along the way, where visitors can stop for snacks, coffee or cocoa, or just warm up at the fireplace.
Hotel Ylläshumina – True Spirit of Lappish Hospitality
Surrounded by seven rugged fells on the northern shore of Lake Äkäslompo, Hotel Ylläshumina provides everything a guest might need for relaxation and indulgence – excellent accommodation, a dining restaurant focused on its Finnish roots, a cosy pub, a wine bar, an Arctic Spa jacuzzi with saunas, a ski service and a wilderness safari house, all set in the incredible scenery of Finnish Lapland.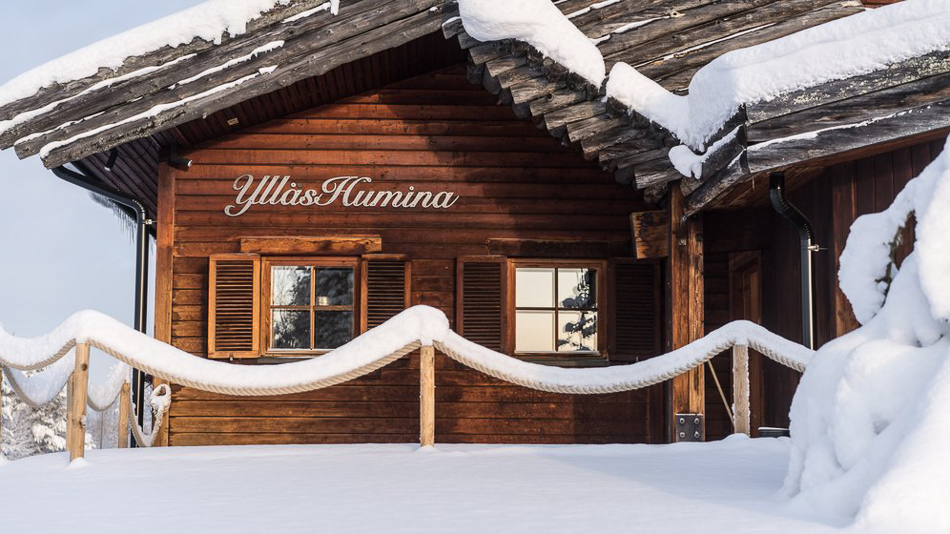 Hotel Ylläshumina has 32 hotel rooms, located in individual rustic log houses, each of which has four comfortable rooms, as well as seven semi-detached holiday lodges on the shores of Lake Äkäslompolojärvi.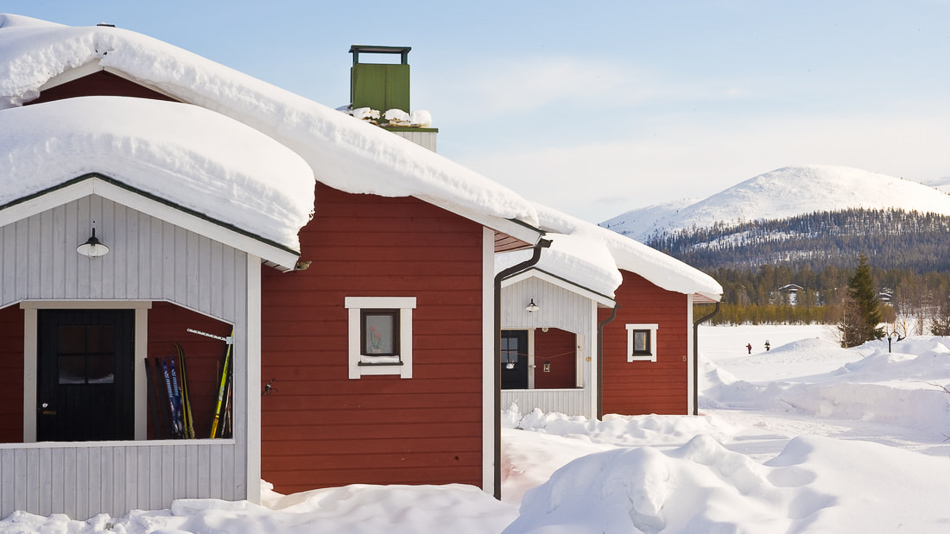 Humina Restaurant creates an atmospheric setting for wining and dining. The focus is on Finnish cuisine in particular, and menus feature the best of the culinary traditions of both northern and southern parts of the country, from traditional Lappish specialties to seafood dishes from the coastal regions. Humina Pub also provides a tasty range of pub snacks to be enjoyed with good drinks and company. The pub has a cosy Lappish atmosphere, with skiing paraphernalia tastefully decorating the walls and ceiling.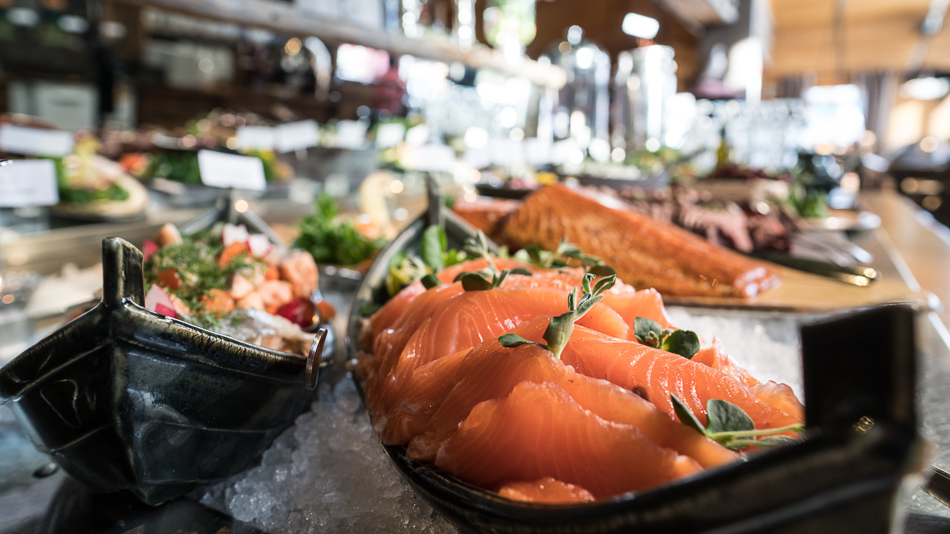 Q5 Safaris is a partner of Hotel Ylläshumina and their safari house is located right next to the hotel main building. Q5 Safaris provide access to all the adventures you want: an action packed snowmobile- or husky safari, snowshoeing, cross-country skiing or a reindeer ride under the Northern Lights!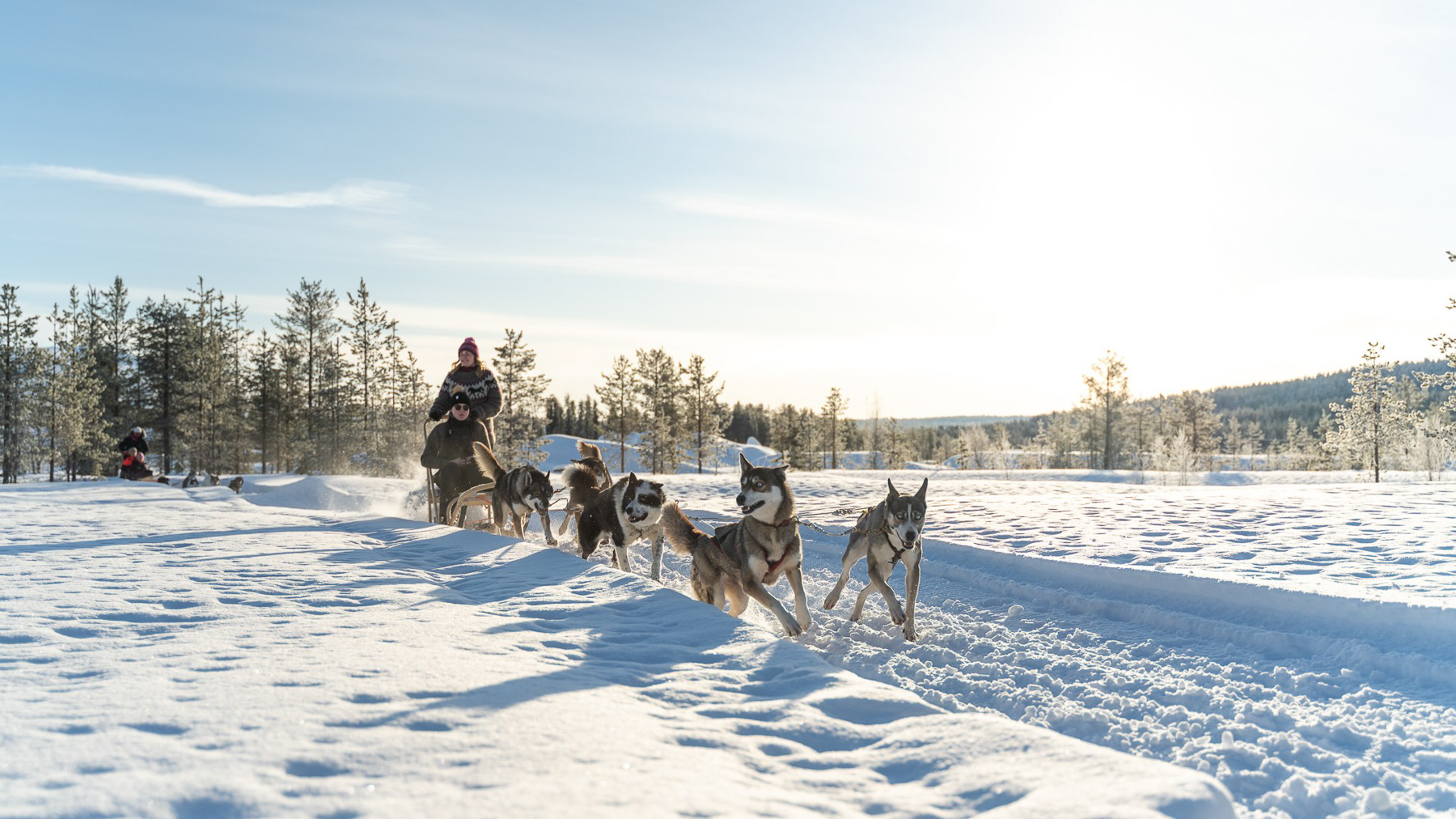 L7 Luxury Lodge- Exclusive Accommodation in Lappish Wilderness
Located close by Lake Kukaslompolo, bordering on Pallas-Yllästunturi National Park, L7 Luxury Lodge is surrounded by over 28 hectares of private forest. Although it is in the heart of the Lapland wilderness, it is still close to all the services and activities of Äkäslompolo and the Ylläs Ski Resort, just 6km to the south. The Lodge's authenticity, spirit and ambiance, history and the pure, untouched nature makes L7 Luxury Lodge a truly unique holiday destination! An ideal holiday destination and an arctic experience for both couples and small groups!.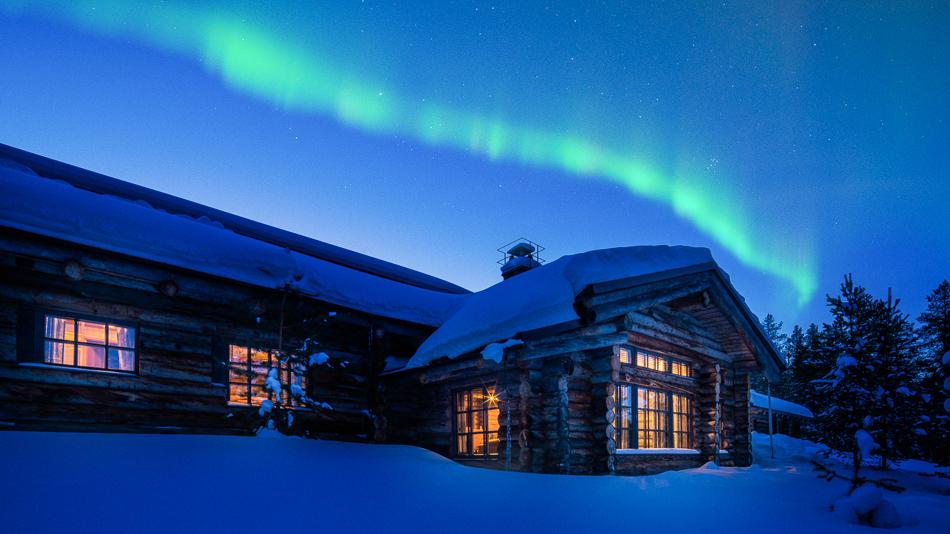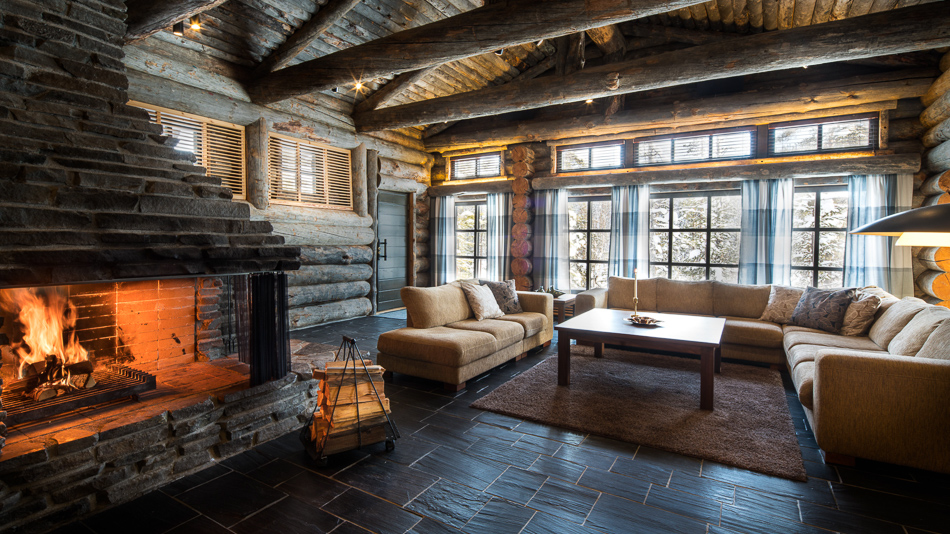 Getting to Ylläs
There are buses to Äkäslompolo from Rovaniemi, Kittilä, Kolari and Enontekiö. The nearest airport is in Kittilä, and there are several flights from southern Finland, with connections from Helsinki and Tampere. You can also reach Ylläs by train from Helsinki, with the nearest station located in Kolari, 35km to the west. Visitors can board the night train in the evening, arriving in Ylläs in the morning. You can board the train along the route, for example from Tampere or Oulu. There is a bus connection from every train to Ylläs.