Tampere Region Festivals – an oasis for culture lovers
Are you looking for cultural experiences on your trip? The Tampere region is an oasis for culture lovers, where diverse events and festivals attract people to the area all year round. Below are more details of the current events and experiences in the Tampere Region Festivals.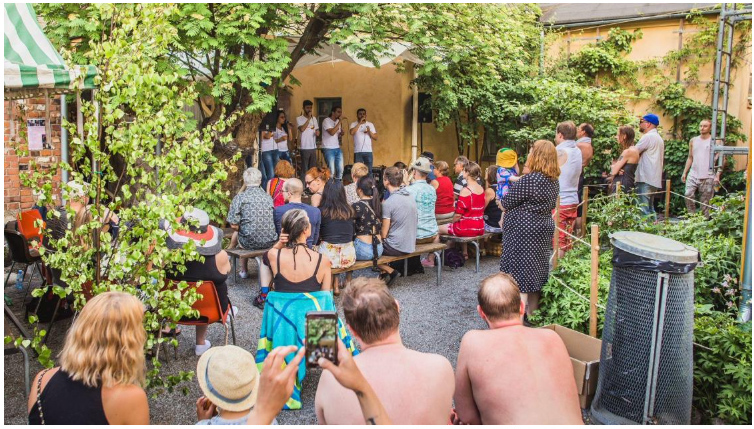 Tampere – Finland's capital of events
Tampere has established its place as Finland's most attractive city to live in, and tourists are also charmed again and again by Tampere's relaxed atmosphere and beautiful urban milieu, where it is easy to get around both on public transport and on foot. There are numerous attractive cafés and restaurants in the city, as well as wonderful nature sites on the shores of lakes and in parks,
Tampere can also be called the capital of events thanks to its packed calendar that includes several internationally known art and culture festivals, numerous major sports events, concerts, exhibitions, musicals and theatre performances organised in the city every year. The city's longest-running cultural events include the Tampere Theatre Week and the Tampere Film Festival, which have been bringing theatre and cinema gems to the city for over 50 years.
In summer, Tampere hosts the country's largest city festivals, Tammerfest and Blockfest, with other wonderful concert experiences offered by the likes of Tampere Jazz Happening, Fest Afrika, Tampere Guitar Festival, Tampere Chamber Music, Tampere Flamenco Week, Pispala Schottische, Lost in Music, Tampere Biennale and Tampere Vocal Music Festival.
The diverse range of events is complemented by the Annikki Poetry Festival held in the courtyard of the Annikki Wooden Quarter; the visual art event Finlayson Art Area which is spread over Finlayson's historic factory area; the Backlight Photography Festival; contemporary dance festival Tampere Dance Current; Tampere Kuplii Comics Festival; Tomatoes! Tomatoes! Stand Up festival; folk dance festival Tanssi Mania; Kirjalitta Children's Literary Art Festival; and the Mukamas international puppet theatre festival.
Events in Tampere Region and nearby municipalities
Tampere Region Festival extends to the whole region and has a unique collection of festivals – the network of 36 cultural events of Tampere Region Festivals extends also to twelve municipalities, where top events are held every year in the field of visual arts, literature, music, and opera.
The gems of the art city Mänttä-Vilppula include the  Mänttä Art Festival, one of Finland's most popular summer exhibitions, and the piano music festival Mänttä Music Festival.
Summer tourists to Sastamala are attracted by the traditional Days of Old Literature and Sastamala Gregoriana, known for its impressive church concerts, where the tunes of the Middle Ages, Baroque and Renaissance are played.
In Urjala, the annual Pentinkulma Literature Days held in the birthplace of Väinö Linna attracts friends of literature.
The Pirkkala Viking Fair invites visitors on a journey back to the Iron Age and offers interesting things to see and experience for everyone interested in history.
Suitable summer destinations for those who want enjoy music and festival atmosphere are Aitoon Kirkastusjuhlat Music Festival in Pälkäne, Workers' Music Festival in Valkeakoski, the Finnish popular music festival Tapsan Tahdit in Nokia and the Sata-Häme Soi International Accordion Music Festival in Ikaalinen.
For lovers of classical music are treated to the KesäVirratSoi Music Festival organised in Virrat, Art Festivo classical music and cultural event of Parkano and Kihniö, and the Hämeenkyrö FESTiwaalit providing opera performances on summer evenings.
Welcome to Pirkanmaa to enjoy art and events and enjoy the atmosphere close to nature! Read more at www.tampereregionfestivals.fi