Southern Finland
Messilä Ski Resort is the largest in Southern Finland, operated from within the grounds of the historic Messilä Manor, located a few kilometres west of Lahti. The resort provides a range of accommodation options, from traditional hotel rooms to log cabins with their own sauna. There are 5.7 km of slopes, all are illuminated, serviced by 9 lifts. The slopes range from easy to intermediate, with 2 slopes for children and a play area. Snowboarders have a Snow Park and Skicross Track with rails, boxes and moguls. Cross country skiers have 70km of trails available, with 20km of those illuminated.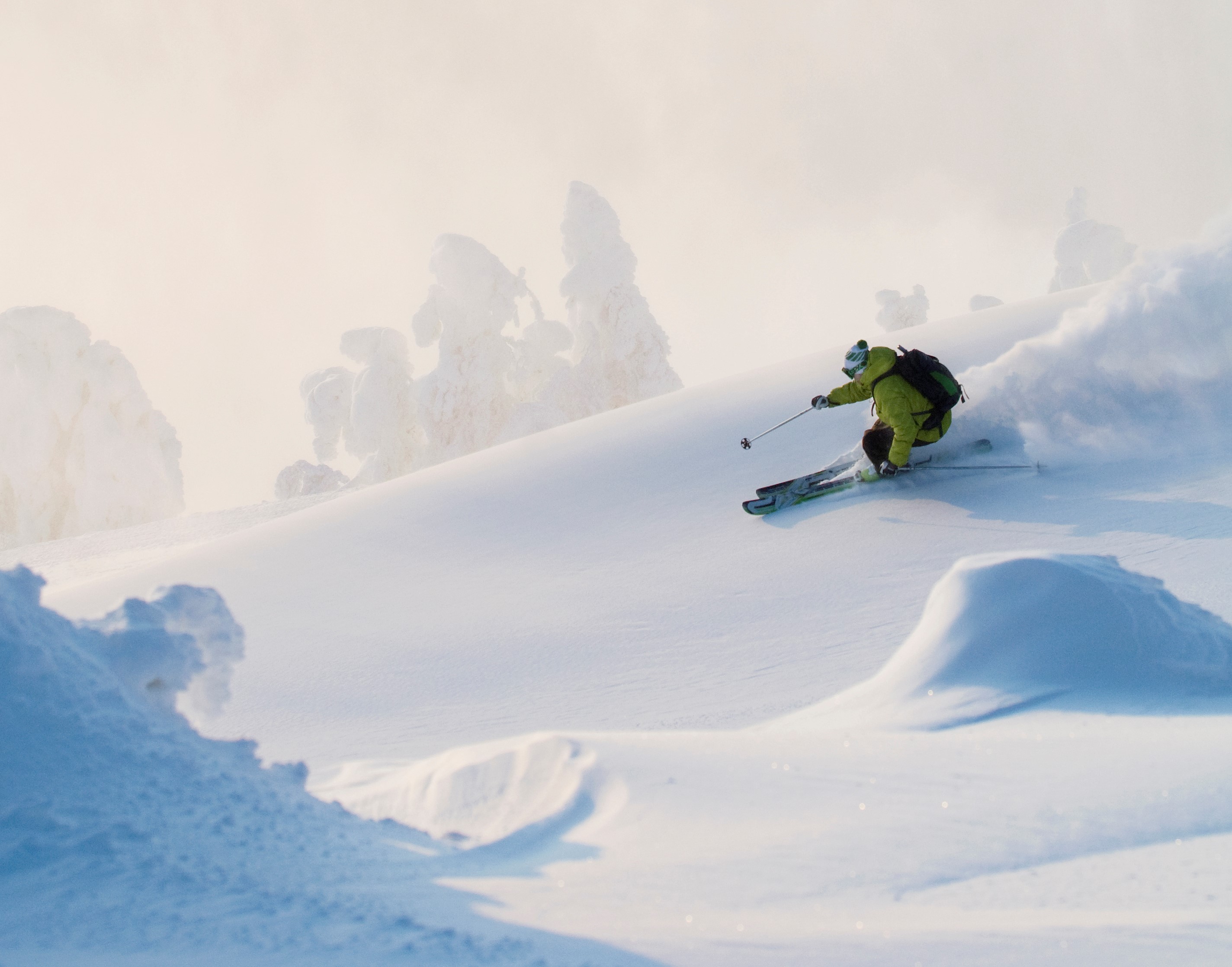 Sappee Ski Centre, located near the small town of Salmentaka some 50km east of Tampere, is one of the best in Southern Finland. There are 13 slopes altogether that are lit and always in good, well-maintained condition. The vertical drop is 120 metres and the longest slope 850 metres long. Some of the slopes are easy and perfect for children and beginners. There are also intermediate and more challenging slopes suitable for those who have already mastered the basic skills of skiing or snowboarding. Family Park is for beginners with 4 very easy slopes and a sledge hill. The Children's Funslope has turned out to become a kids' favourite, it offers brave skiers the possibility to try out their skills on the curves and jumps of an exciting cross-track. Alpine Adventure is a kids' slope that travels through the forest and lets them experiment with the various different alpine skiing disciplines. The Snow Park is regarded by snowboarders as one of the finest in the country, with skicross tracks, rails and boxes, and there are 14km of cross country trails available. Sappee has a large event centre, Huippu, which hosts concerts, there are a number of restaurants, and it recently opened a new apartment hotel called Sappee Chalet right next to the slopes.
Talma Ski Centre, located just 6km east of Kerava (with a free shuttle bus operating between the railway station and Talma daily) and 30 minutes from Helsinki centre, has gained something of an international reputation in the snowboarding world. There are just 8 slopes here, all illuminated, the longest of which is 450m, with 3 slopes for children. Their two snow parks have been designed together with Schneestern familiar from the X-Games and the Olympics, and offer a large number of different performance locations. The front snow park contains more challenging rail lines, jumps and a corner. Taka snow park is a relaxed mini-park where you can find easy rails and presses, jumps and on the other hand our biggest jump – a giant gap.
The Vihti Ski Resort, located in Ojakkala near the town of Nurmijärvi, is the largest in the capital region, with 15 slopes, all of which are illuminated and the longest being 650m. There are 3 children's slopes and a play area, and snowboarders will find a skicross track and rails and boxes. The slopes range from a Stenmark competition slope to easy beginner slopes, with the emphasis in Vihti being on family fun – there is a ski and sled carousel, and at weekends Winterland provides a range of activities to entertain the smallest ones.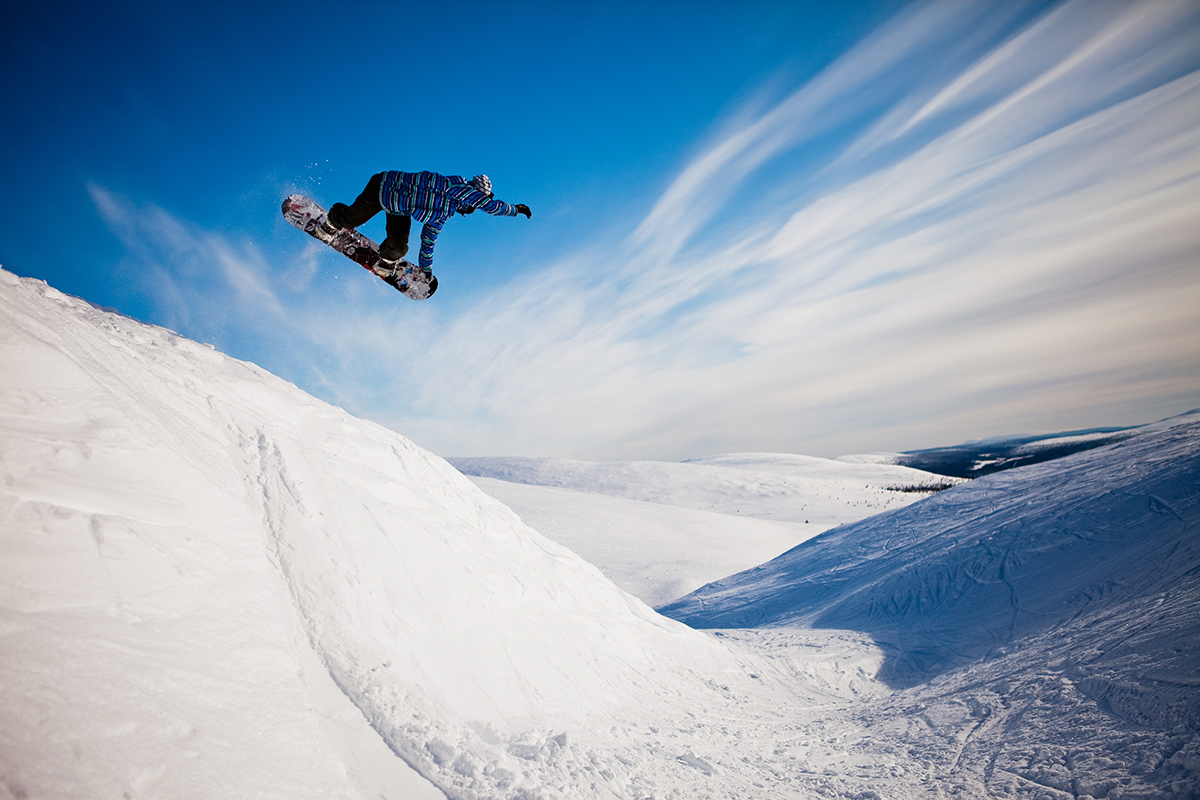 Central Finland
Located 10km from the town of Hankasalmi, the Häkärinteet Ski Resort has a fine reputation as a child-friendly holiday resort. Their 13 pistes, an offpiste and Häkä Snow Park offer wintry experiences to all ages from beginners to more experienced speeders. In the children's piste one can start off safely, and an expert skiing instructor is available to guide them through the basics. For the more experienced skiiers Häkärinteet has a highly praised street, that has Finland's biggest wallride and a brand-new offpiste with drops and a new mogul piste.
Himos is located near the town of Jämsä, south of Jyväskylä, and is one of the largest of the ski resorts in Central Finland with a total of 21 slopes, the longest being 950m. There are 21 slopes all of them illuminated. There are 4 slopes for children and a play area. For those who are interested snow parks, Himos parks offers alternatives for everyone. Beginner tricks are practiced on the Western slopes in Murrin Streetis' junior-level jumps and presses. Further challenges for more experienced skiers can be found at Mountain Dew Snow Park on the Western slopes and Mountain Dew Rail Park on the Northern slopes. Cross country skiers have 20km of trails to explore, with 6km illuminated.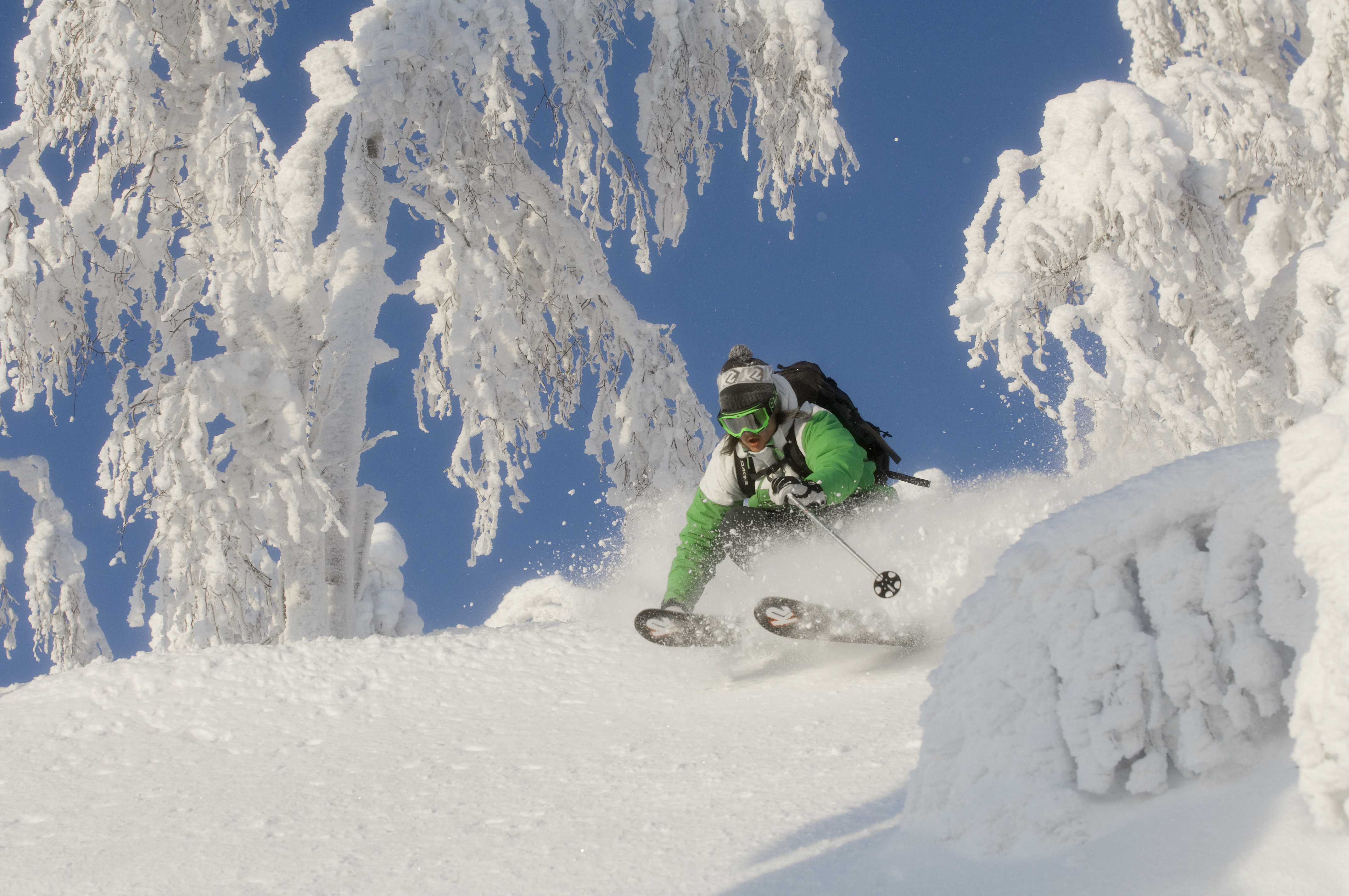 Situated due north of Joensuu by the northern tip of the beautiful Koli National Park, there is something for every type of skier at Koli. Between Ukko-koli and Loma-koli there are 7 slopes, 3 of which are illuminated and the longest being 1,500m, with 2 slopes and a play area for children. Koli also provides 60km of cross country ski trails, with 22km of these being illuminated.
The Laajis Laajavuori Ski Centre is conveniently located only 4 kms west of Jyväskylä, and provides 12 slopes (and a sledding hill), 6 lifts and 3 snowparks for all different levels at Laajis. The slopes are diverse from beginner-level to black diamond moguls slope. Laajis Snowland is a 2-slope combination fitting for beginners and smaller family members. In Snowland there's also a sledding hill. Snowpark Laajavuori is a combination of 3 different snowparks around the Laajis ski resort. The "original" Snowpark is situated at the Eturi front slope and is the spot for biggest jumps and longest rails. The easy, jib-friendly Junnuparkki (Youth park) can be ridden at the Auris slope. There are also some obstacles at Lumimaa area making up the Miniparkki for smaller and bigger family members to try out park skiing and snowboarding and getting the hang of basics.
Tahko Ski Centre, located at Tahkovuori, Nilsiä north of Kuopio, is the largest ski resort in Central Finland. Tahko is famous for its perfectly-groomed slopes. The downhill ski season here starts in November and lasts till April. The slopes of Tahko have different trails ranging from easy ones suitable for beginners to those where international competitions are held. The longest trail is over 1 km long, and the biggest vertical drop is up to 200 m. There are 15 lifts working for your convenience to bring you to the top of the slopes. If you prefer freestyle, Tahko Park and Jukulautastriitti street has rails and boxes for you to test your skills. For little guests, Tahko has prepared many safe and fun snow activities to make their holiday unforgettable as well. Guided courses and private lessons are organised daily for people of all ages, so don´t hesitate to contact Tahko Skischool for your own, fun guaranteed lesson.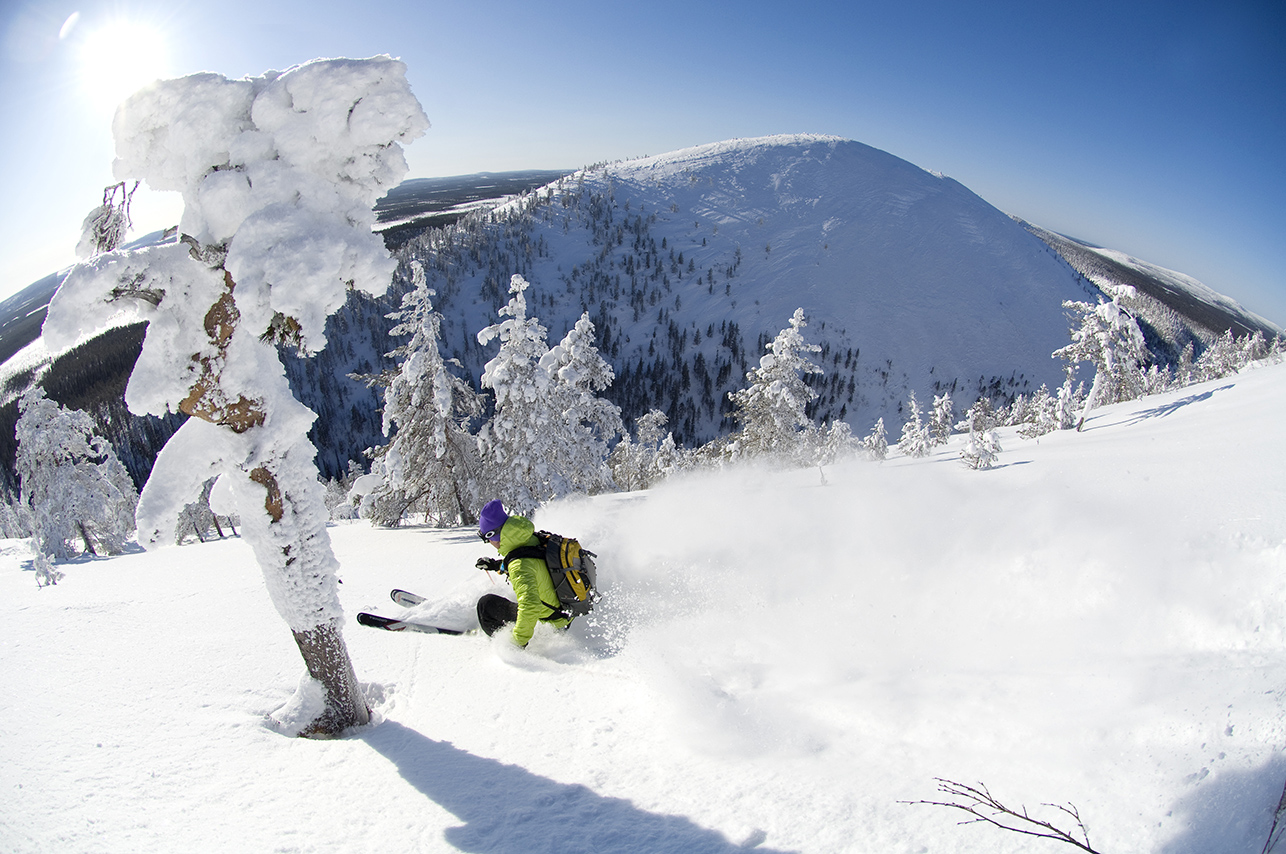 Northern Finland
Located close by Syöte National Park, 140km northeast of Oulu, Iso-Syöte ski area is located in the southernmost fell of Finland where you can ski on 17 perfectly groomed slopes. Whether you are a first-time skier or an advanced pro skier, there is a slope for you. The well over 2 km-long, Iso-Syöte SnowPark is one of the most versatile freestyle park in Finland.
With 44 slopes, the Levi Ski Resort near the Lapland village of Kittilä is one of the largest in Finland. Lots of category blue slopes for beginners, red slopes for intermediate skiers, and black slopes for the experts. Freeskiers and snowboarders can enjoy the kilometer-long South Park and Street, and backcountry lovers Levi's Freeski -freeriding areas. For the kids, Levi offers their own dedicated areas Kids' Land and Leevilandia with lots of fun and activities. There are 230km of ski trails, with 28km illuminated, 17 skitrack cafeterias and 12 lean-tos.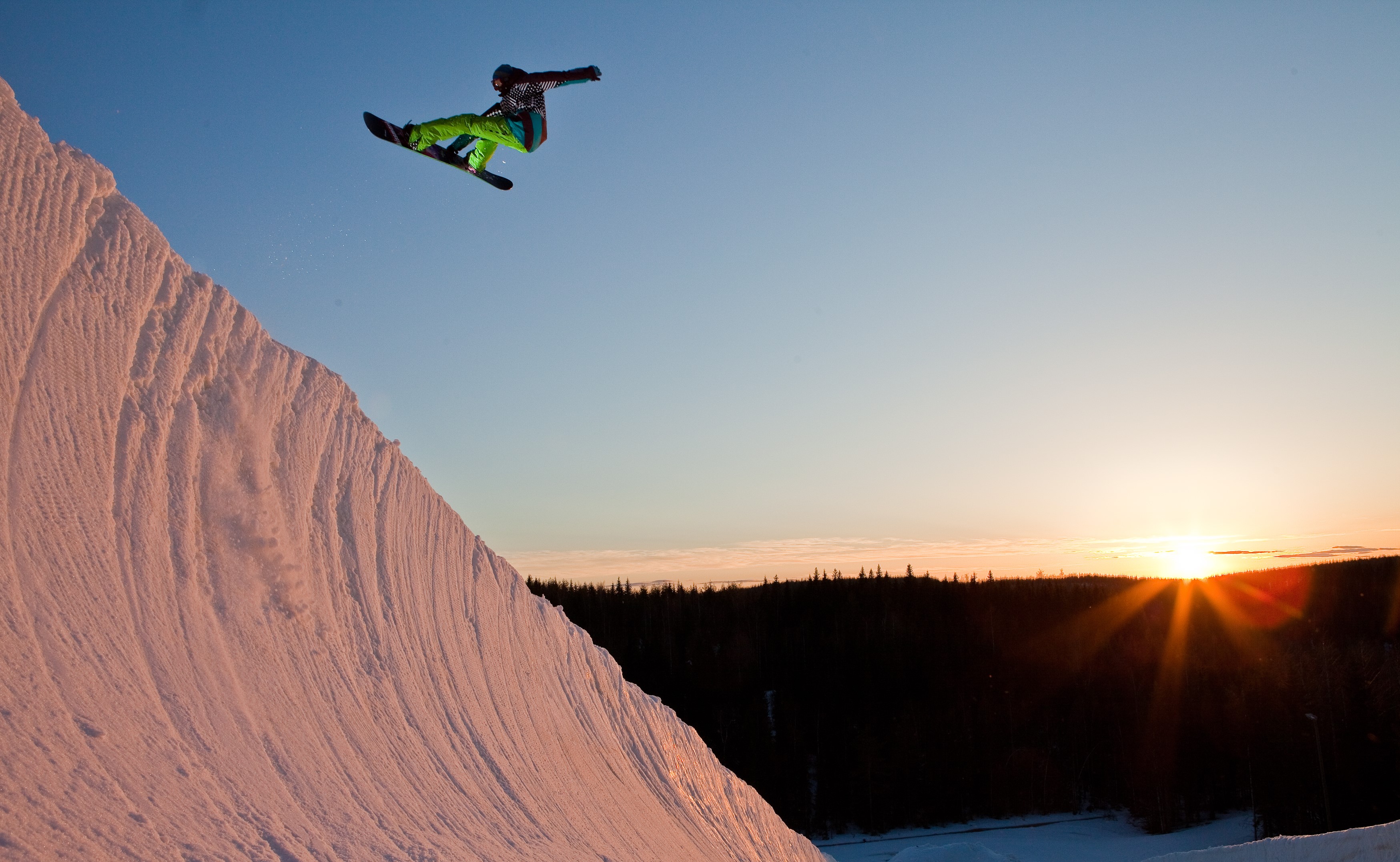 The twin resorts of Pyhä-Luosto provides a total of 21 slopes, at Pyhä there are 15 slopes, and 9 lifts; at Luosto Ski Resort there are 10 slopes and famous powder runs, serviced by two T'bar's, Platter lift and a Magic Carpet. There are almost 170 kilometres of cross country ski trails, with around 40km illuminated. From the Family Slopes-area you'll find also a Snow Tubing and Tobogganing tracks and Mini Park for the youngest heroes. Bigger Snow Park offers three jumps and several rails and boxes. These two fell resorts are situated between Sodankylä and Kemijärvi in Lapland, and feature modern hotels, cosy log cabins and spa facilities.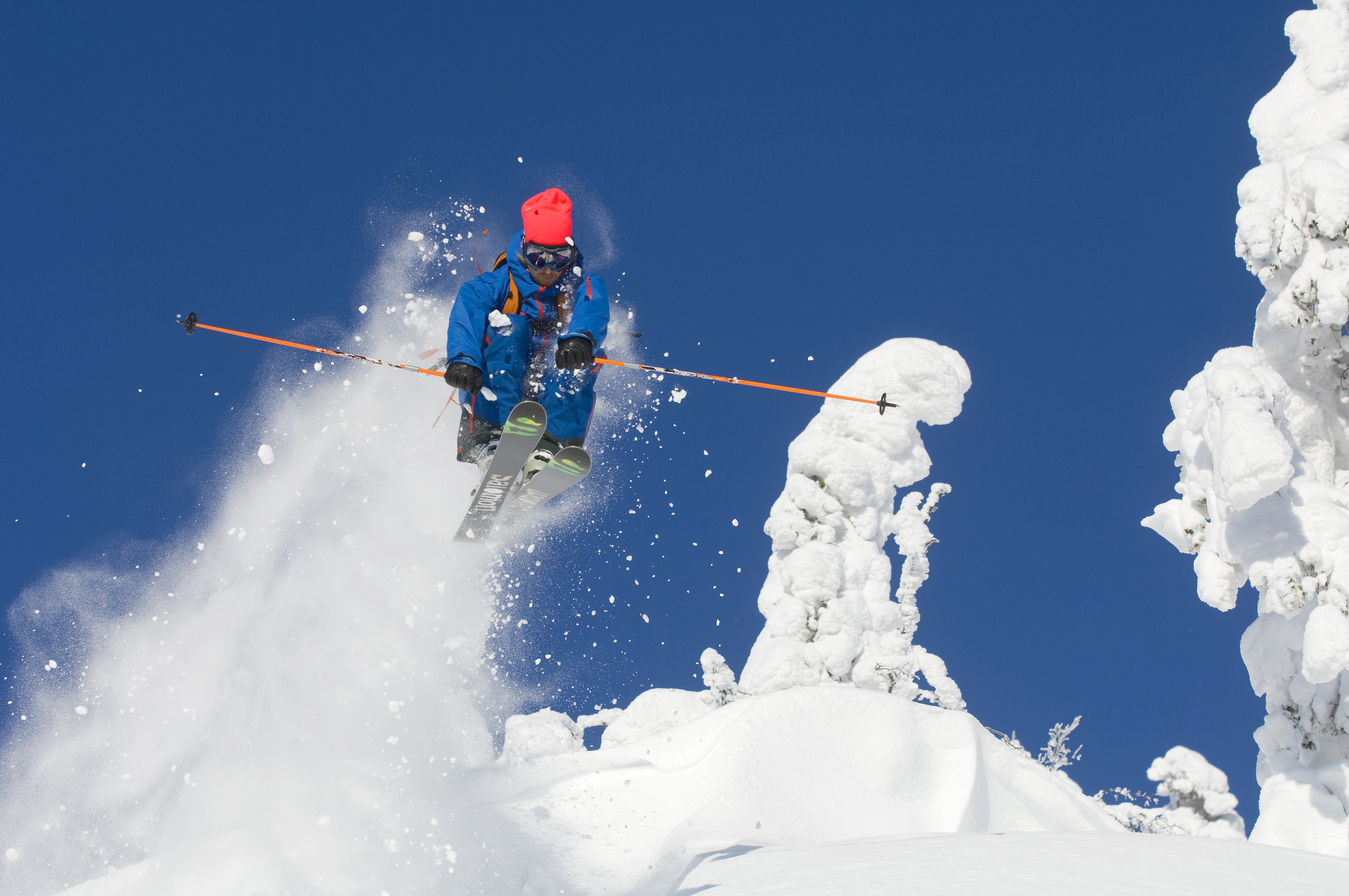 Located just 25km north of Kuusamo, Ruka Ski Resort is renowned for its fine slopes, and one of the longest seasons in Finland. There are 39 slopes, 22 lifts and over 200 days of skiing in a year. Ruka Ski Resort has been planned with the success of family holidays in mind. Located in Ruka East, the children's slope and beginners' area have magic carpet lifts, huts with toilets and relaxing areas and campfire sites. In addition to Rosa & Rudolf Family Park, sled slopes and campfire sites can be found in the vicinity of Mastorinne and Välirinne slopes in Ruka East and at the edge of Ruka village by the Kaltiolampi pond. Ruka Park includes several jumping lines in different sizes, as well as plenty of rails, presses and other obstacles – the setup varies as the season progresses, so there is often a newly built obstacle or a fun new line in the Park. In the spring, there is also a mini pipe. There are over 500km of cross country ski trails, with 214km of freestyle/skate tracks and almost 34km being illuminated.
The ski resort in Salla Ski Resort, a small town that proclaims itself to be "in the middle of nowhere" is located east of Kemijärvi near the Russian border. The resort offers suitable challenges for everyone from "little helmets" to skiing enthusiasts and from the snowboarding park to off-piste powder trails. In Salla, instead of waiting for the ski lift, you can fully concentrate on carving the peak condition pistes. Salla has an exciting Weekly Programme for children, which can be viewed on our Events and Activities page. On offer are fun competitions from sledging to downhill skiing for children of all ages. The tree ride area located next Salla's east slope and snowpark, promises tricks and advantages suitable even for junior skiers. You will find gently sloping gradings, wooden rails and bridges in the easily skiable and open forest. Junior Snowpark is the best place for snowboarders and freestylers, an almost one-kilometer long ride fitted with big jumps, boxes, and presses. Salla has cross-country skiing trails covering a total of 160 kilometres, 43 kilometres of which are illuminated, and there are 5 rest stops offering refreshments in various parts of the fells, with 10 lean-tos.
Ski Saariselkä can safely claim to be Europe's most northerly holiday resort, located in Northern Lapland a little south of the Sámi village of Inari, an important centre for Sámi culture and heritage. Ski Saariselkä has 20 slopes, 10 of which are lit and the longest being 1,300m, with 2 slopes for children. The Snow Park features rails, boxes and a quarter pipe, and there is the longest toboggan slope in Finland!.
Situated almost equidistant between Kolari and Kittilä by the southern edge of the Pallas-Yllästunturi National Park, Ylläs Ski is the largest ski resort in Finland. Almost half of the 62 slopes are more than 1 km long and the eight longest slopes are up to two or three kilometres. Altogether 28 ski lifts operate during high-season at the diverse slopes of Ylläs. There are FIS approved Downhill, Super-G, Giant Slalom and Slalom Slopes, and the resort is a particular favourite with telemark skiers as there are several fells of untouched snow. Ylläs welcomes families and children to enjoy the slopes, providing fun activities for children of all ages. The carpet lifts, gentle children's slopes and family slopes are a good place to start practising alpine skiing. The children's own areas Bouncy slope, Adventure forest, Formula hill, Ice age pipe, kids' and family slopes and training tracks ensure that the whole family enjoys their time on the slopes on both sides of the fell. Ylläs has four different Snow Parks: Pro Park, Junior Park, Fun Park and Mini Park. Ylläs is a great place to experiment with freeriding, because the diverse and extensive selection of the fell includes many off-piste slopes that are not groomed after snowfall. Skiers and snowboarders can also enjoy the powder snow on several unmanaged areas between or in the immediate vicinity of the marked slopes at their own risk.
Read more about Ski Resorts in Finland >>
Save